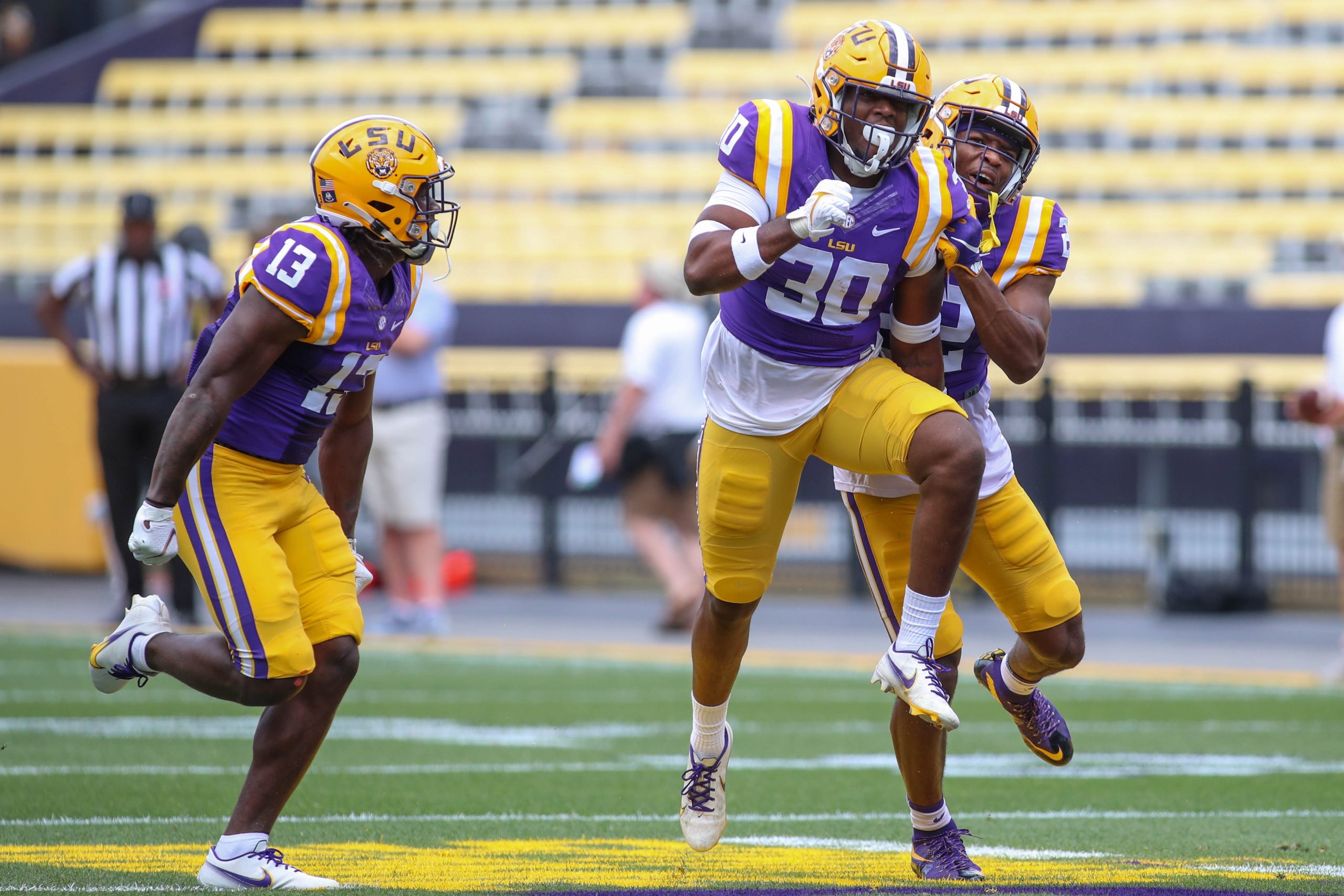 Some news, notes and observations from LSU's spring ending-scrimmage Saturday at Tiger Stadium …
   TALE OF TWO SIDES
LSU coach Brian Kelly liked how one half of his team started.
The other half, not so much.
"I thought our defense came out with the right mindset. They came out with good energy," he said. "I did not think our offense did. We had to get them thinking right at halftime, and you saw the result of that. They came out in the second half with a better mindset.
"You know, those are important things. You want to get those accomplished in this kind of (spring setting) scenario. I don't want to do that in the opener. So, from that perspective, you know, 'mission accomplished' in terms of trying to create this game (as) more than just a practice."
LSU opens its season Sept. 4 against Florida State at the Superdome in New Orleans.
   PLENTY OF TARGETS
Thirteen different Tigers caught passes Saturday for a total of 26 receptions on 49 targets.
But only returning receiver Jack Bech – who was targeted six times and had six receptions for 56 yards and two touchdowns with 24 yards-after-catch – had more than four.
   Kyren Lacy, a transfer from the Louisiana Ragin' Cajuns who worked mostly with the backups during the spring, was targeted a game-high nine times. He had only one catch for 19 yards, but most of the misses were because throws were off-target than they were because his mishandled them.
Kelly's impression of the receivers?
   "They can go get the football," he said. "They need to be a little mentally tougher play in and play out. But they can compete at a high level."
   THE LAST LINE
Strengthening the offensive line has been a point for emphasis for Kelly throughout the spring, and with good reason.
All of last season's starters from an injury-plagued line are gone.
Kelly seemed generally pleased with what he saw there, despite the fact LSU's defense came up with five 'sacks' – although quarterbacks actually were no-contact – through just the first four series of the offense vs. defense scrimmage.
   High school early enrollee Will Campbell started at left tackle, East Tennessee State transfer Tre'Mond Shorts at left guard, versatile but relatively inexperienced center Charles Turner at center, Florida International transfer Miles Frazier at right guard and often-injured Cam Wire (a four-game starter in 2021) at right tackle.
   "Campbell was really good," Kelly said. "I thought Turner was consistent. By and large I thought the offensive line got better as the game went on."
    The defense, which got a team-high 10 total tackles from safety Jay Ward, finished with six sacks in all.
The first two of them came from Maason Smith while Arizona State transfer Jayden Daniels was in at quarterback on the first drive of the day.
Smith, a defensive lineman from Terrebonne High in Houma who had four sacks in nine games as a true freshman last season including three in an early season win over McNeese, looks like a beast bound to have a super season as a sophomore.
"Defensively," Kelly said, "that front is really, really good."