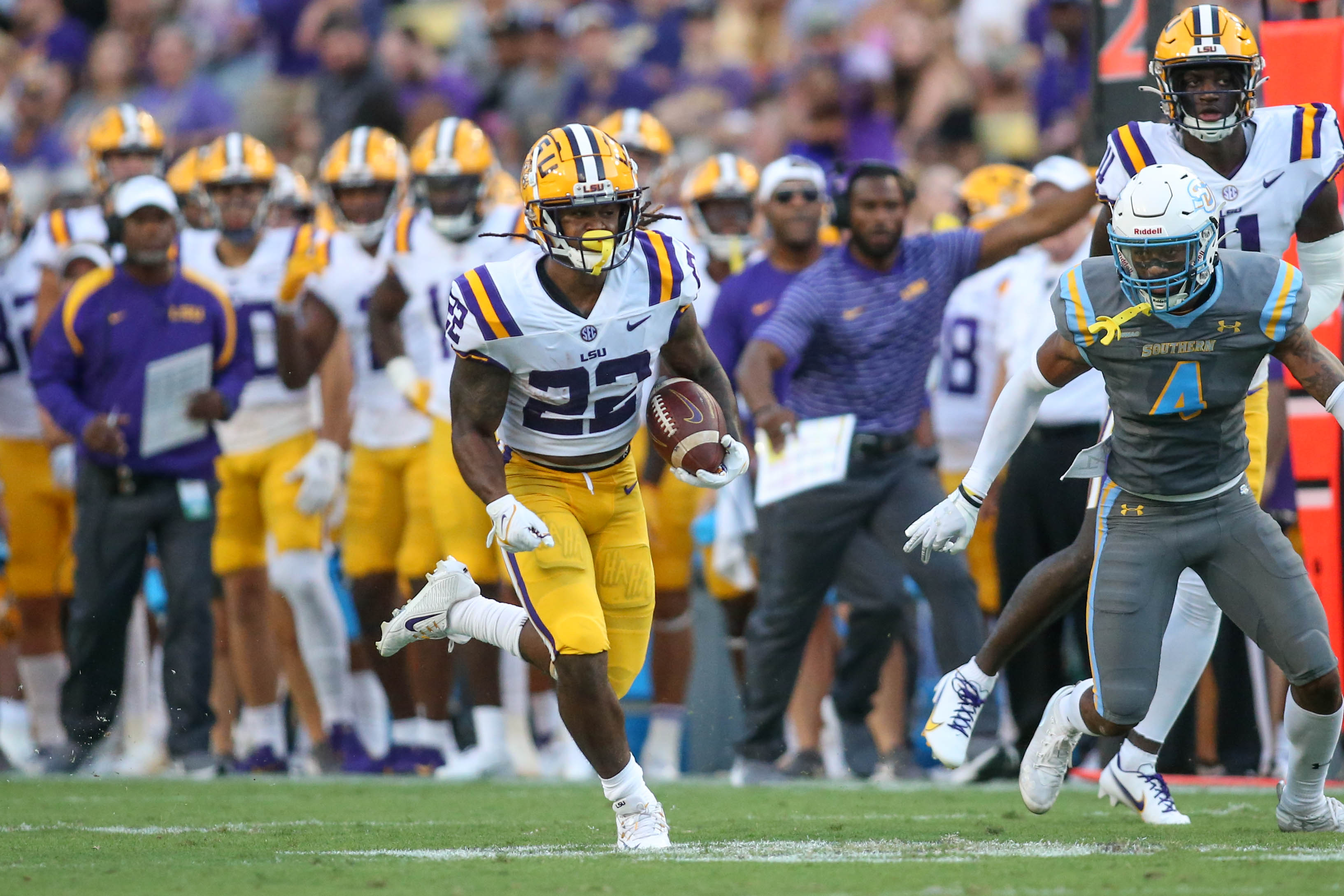 Southern University's Human Jukebox band commemorated the moment by literally spelling it out for everyone.
Before the world-renowned marching band's halftime performance at LSU's Tiger Stadium, they went into formation to spell out 51-0 – the actual halftime score – their team trailed by.
LSU (1-1) recovered the opening kickoff, proceeded to score touchdowns on four consecutive offensive series and produced four touchdowns off turnovers for an overwhelming 65-17 victory over Southern in the first matchup of the cross-town schools. For good measure, they also added a safety off a blocked punt.
The Tigers scored a school-record 37 points in the opening quarter and were never seriously threatened.
"It was an exciting day in Baton Rouge, playing Southern," said LSU coach Brian Kelly, who picked up his first win at the school before a crowd of 102,321. "We were excited about this matchup. It was great for the city, the community. Playing a traditional HBCU school. That meant a lot. We were happy we were able to get this game but more importantly our guys wanted to get back on the field the right way. This is start fast, play with great attention to detail. We played with effort and enthusiasm."
Quarterback Jayden Daniels threw three touchdowns to three different receivers in his quarter-plus appearance, leading the Tigers to a commanding 44-0 advantage before retiring to the sideline for the remainder of the game.
LSU's offense gained 550 yards with Daniels throwing three touchdowns and the Tigers rushing 36 times for 230 yards. Armoni Goodwin, who had a game-high 85 yards on 12 attempts, scored his team's final two touchdowns on runs of 2 and 1 yards, respectively.
The Tigers' point total matched the seventh best outing in school history which they obtained Northwestern State during the 2019 national championship season. It was also the third most total touchdowns scored in a game with nine, equaling the 2019 team's production against Oklahoma in the CFP semifinals.
"The things we talked about were getting off to a great start, playing with a sense of urgency," Kelly said. "It's our second game in eight days. We were going to be challenged in our preparation, but our guys bounced back and prepared very well."
Southern (1-1), which opened with an 86-0 demolition of NAIA Florida Memorial, averted a shutout down 58-0 with 3:45 left in the third quarter on a 94-yard interception return by Benny McCray.
Sage Ryan's fumble recovery on the opening kickoff, which was forced by Xavier Carter, led to LSU's scoring onslaught with Daniels stepping up in the pocket and scoring from 18 yards on a mad dash to the corner of the end zone 1 minute, 35 seconds into the game.
"I challenged the football team," Kelly said. "I said, "look, we're talking about a sense of urgency and starting fast', but it's going to start with either this kickoff return or kickoff. I challenged both those teams that they will essentially set the tone for this game."
LSU was just getting started.
The Tigers made a concerted effort to get All-American wide receiver Kayshon Boutte involved in the game and the junior caught five passes for 42 yards in the first quarter. He also added a 31-yard gain on an end around that led to Josh Williams' 5-yard TD run at the 11:46 mark.
LSU's defense, which yielded 262 yards, contributed to the scoring spree when senior linebacker Micah Baskerville returned an interception 29 yards for a touchdown nine seconds after Williams' touchdown for a 28-0 lead at the 7:07 mark.
Sophomore Desmond Little, starting in place of injured BJ Ojulari, recovered a fumble at Southern's 24 and four plays later, Daniels found sophomore wide receiver Malik Nabers on a 5-yard scoring toss with 4:44 still showing in the first quarter.
Baskerville impacted LSU's next score, this time with a blocked punt, that resulted in a safety for a 37-0 lead when Evan Francioni wasn't able to secure the loose ball before it exited the back of the end zone.
"We emphasized that we had to start fast all week, even in our practice schedule," LSU defensive tackle Mehki Wingo, who started in place of injured Maason Smith. "We wanted to do more team drills up front. We were upset that we left a lot of things out on the field, and we felt that if we had those corrected, the outcome could have been different. But we learned from it."
Daniels converted a third-and-10 on his team's next series following the free kick, a 16-yard completion to Kyren Lacy. He later spotted sophomore Brian Thomas Jr., who made a nice adjustment on the underthrown pass for a 44-yard scoring pass after extending the ball across the goal line on the second play of the second quarter.
That ended Daniels' night, having completed 10 of 11 passes for 137 yards and three scores.
"Coach Kelly was preaching it all week, we learned to start fast, go out there and really just show the standard that we set," Daniels said. "That was the biggest thing for us, to go out there and start fast."
Redshirt freshman Garrett Nussmeier made his debut and played the next two quarters, leading the Tigers on a scoring drive near the end of the second quarter for the 51-0 halftime lead.
He overcome an interception a series earlier to connect with Nabers for 60 yards to Southern's 20 and junior running back Noah Cain plowed ahead for a 2-yard TD with 1:06 left.
Nussmeier finished 13 of 23 for 183 yards and a pair of interceptions before true freshman Walker Howard finished up the fourth quarter.

LSU's defense produced the third of four turnovers when a forced fumble by Ali Gaye, who returned to action after sitting out the first half because of targeting last week, which Greg Penn III recovered at Southern's 9 and two plays later, Goodwin scored from two yards out for a 58-0 cushion with 8:42 left in the quarter.
"We're, we're trying to come up with an identity as a football team," Kelly said. "And that identity needs to be we can't think about everything that we do. And this game has to be played fast, free and physical. And I felt like I've maybe gotten away from that a little bit.
"In the first week, they thought a little bit too much about all the things that we've been working through their process with," Kelly added. "And as the game wore on, they played a little bit more free, fast and physical, and we saw the results. So, it was really about emphasizing playing with a sense of urgency, playing fast, free and physical and trusting their teaching trusting, but not overthinking and letting these outstanding athletes go play, go play without being apprehensive. That was really the message all week."