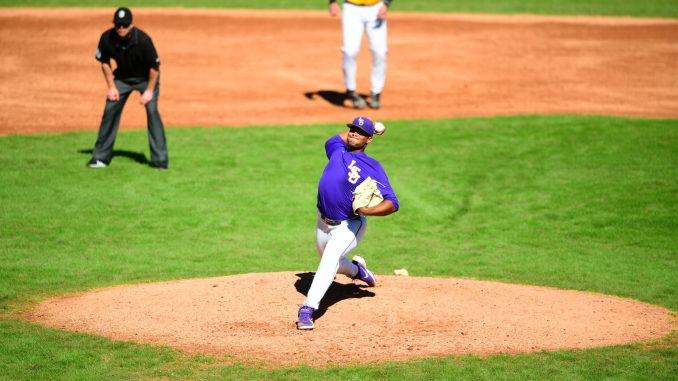 LSU right-handed pitchers Christian Little and Aiden Moffett combined for 10 strikeouts over five innings Sunday, helping the Purple team to a 3-2 win over the Gold to sweep LSU's fall baseball world series and conclude the team's fall practice.
The Purple took a 2-1 win in the series opener on Friday.
Little, a transfer from Vanderbilt, started and didn't allow any earned runs. He yielded two hits and struck out seven and Moffett came on to work two innings of scoreless relief with three strikeouts.
The Purple grabbed a 2-0 lead in the bottom of the first inning as right fielder Jake Brown lined an RBI-single, and shortstop Michael Braswell III, a transfer from South Carolina, lifted a sacrifice fly.
The Gold tied the contest in the top of second when freshman shortstop Steven Milam drew a walk and designated hitter Gavin Guidry was hit by a pitch, both with the bases loaded.
The Purple reclaimed the lead in the bottom of the second when center fielder Mic Paul delivered a run-scoring single.
Junior left-hander Justin Loer, a transfer from Xavier (Ohio), topped the Gold's pitching effort by recording seven strikeouts in 2.1 relief innings.
Purple 2, Gold 1 (Game 1): Pitchers Sam Dutton, Nic Bronzini and Fidel Ulloa combined to allow just one run on three hits through seven innings Friday in the first game of the series.
Bronzini, a redshirt freshman left-hander from San Ramon, Calif., had seven strikeouts in three hitless innings and didn't allow a run.
Dutton, a junior right-hander from Southside, Ala., kept the Gold scoreless through the first two innings with three strikeouts.
Right-handers Kade Woods, Dylan Thompson and Will Hellmers each pitched effectively for the Gold, surrendering just two runs on three hits in seven innings. Hellmers recorded three scoreless innings with two strikeouts.
The game was scoreless until the top of the fourth inning, when Purple third baseman Ryan Kucherak lined a two-run double, scoring right fielder Jake Brown and left fielder Zeb Ruddell.
The Gold narrowed the gap to 2-1 in the bottom of the sixth when right fielder Paxton Kling was hit by a pitch with the bases loaded.
LSU, the reigning national Champion, opens the 2024 season on Friday, February 16, versus VMI in Alex Box Stadium.