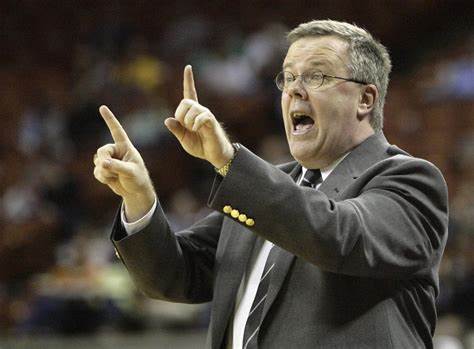 Nearly a year ago, when LSU announced that it had hired Kim Mulkey, more than 400 miles away Bob Starkey watched the introductory news conference on a laptop in his office at Auburn.
Starkey was a couple of weeks into a new job, having left Texas A&M for Auburn, listening with great intent when Mulkey explained her rationale for leaving national power Baylor where she had won three national championships. She grew up about a half-hour from LSU's campus in tiny Tickfaw and the lure of returning to her home state proved a powerful vehicle when the school's athletic director, Scott Woodward, made his pitch to revive his own program.
Mulkey carefully navigated her way through her address, eventually pointing above to the rafters of the Pete Maravich Assembly Center, bringing attention to the five banners that reflected the highwater mark of LSU's programs with five straight trips to the Women's Final Fours, an era that featured such great players as Seimone Augustus, Temeka Johnson and Sylvia Fowles.
She also pointed out the obvious omission of a national championship, a glaring hole in LSU's tradition that Starkey was part of for 13 years as an assistant, including on all five of those Final Four teams, to captivate the attention of not only those gathered, but Starkey as well.
"She pointed to the banners and talked about the great tradition and talked about some of those great teams," Starkey said. "Then she stopped and said there was one banner that's still not hanging up there yet and that's the one I'm going to get. There's a lure for me to come back and help her do that, maybe finish what we started."
The 62-year-old Starkey, with more than three decades of college coaching experience in the SEC, where he's regarded among the game's top tacticians, returns to LSU, where he spent a total of 22 years on the men's and women's coaching staffs (1989-2011). He'll join forces with Mulkey who will represent the third Naismith Hall of Famer he's coached under along with at LSU with Sue Gunter and Van Chancellor.
He replaces associate head coach Sytia Messer who left last week to become head coach at Central Florida.
"Kim's an elite coach that's done it at the highest level for a long time," Starkey said. "She has a formula from recruiting, to teaching to creating the culture and it's a perfect marriage for her to come back to Louisiana and do that. It's the perfect storm. My primary function when I get into the office will be to listen and learn from her, listen and learn from the staff and listen and learn from the players. They do have it going in the right direction and they're doing it the right way. I love watching them play."
Once word trickled out about Starkey's return after Mulkey's announcement at Monday's team banquet, it became evident this wasn't your ordinary coaching transaction.
Starkey's timeline on his Facebook page became filled with congratulations from those with LSU roots, heralding the return 'home' of the Charleston, West Virginia native.
"We spent 25 years of our life in Baton Rouge. That's the longest amount of time I've ever lived anywhere," Starkey explained. "A big part of that is (his wife) Sherie's battled multiple sclerosis/breast cancer and the circle of people that helped us get through that are friends and family in Baton Rouge. We may have left Baton Rouge physically, but never emotionally. It's always been a part of us so the chance to come back home is really special."
Starkey got an up-close look at Mulkey's first team at LSU that went 26-6 and advanced to the second round of the NCAA Tournament. LSU rebounded from a nine-point home loss to eventual national champion South Carolina with a convincing 76-48 win on the road Jan. 9 against an Auburn team that went on to double (10-18) its win total and defeat its first top-five team (Tennessee) in 25 years.
It was before the game, though, when Starkey poured out his feelings during a pregame talk with Mulkey and the job she had done reconnecting with the program's past players, not only with trend setters such as Augustus and Fowles.
"I made sure to thank her from the bottom of my heart to how she was treating our former players," Starkey said to Mulkey. "Whether it was a phone call, a text message, or whether I was having lunch somewhere, all of them told me I had no idea how coach Mulkey has made us feel. There's some people that don't do that. There's some people who give it lip service but it's a genuine love Kim has for those players that have already been there and did what they did."
Mulkey moved quickly in replacing Messer, getting permission last week from Auburn head coach Johnnie Harris to talk with Starkey, who was attending the Final Four in Minneapolis. Auburn had shown signs of a turnaround in one season under Harris, who Starkey said he's enjoyed working. But it took one conversation with Mulkey, who knows something about returning home, and a discussion with his wife to decide on another stay in Baton Rouge.
Starkey began his career at LSU, spending nine years as an assistant on the staff of Dale Brown and he worked with All-American Shaquille O'Neal. He then made the transition to coaching women's basketball and joined the staff of Gunter, where he was a part of the program for the next 13 years.
LSU went on to make 12 straight trips to the NCAA Tournament, eight appearances in the Sweet 16, seven Elight Eight trips with a then record five straight trips to the Final Four, including a stint as the team's acting head coach in 2007. The Tigers went 326-105 for a 75.6 winning percentage during that span.
Starkey, a member of the A Step Up Assistant Basketball Coaches Hall of Fame, went on to spend nine years on the coaching staff of Blair and the past year at Auburn, where he's been a part of 780 wins, 24 NCAA Tournaments and five Final Fours. He's also authored books on The 2-3 Matchup Defense and Motion Offense and serves on the Board of Directors on the Kay Yow Cancer Foundation.
"The fact that I'm coming back home speaks to how important it is for me to do this," Starkey said. "I told our Auburn team on Monday, (UConn's) Geno (Auriemma) could have called and it would have taken me two seconds to say, 'I appreciate it Coach, but I'm happy where I'm at'. There's only place in the entire world I would have left Auburn for, and I'm going back to LSU. I'm going home."