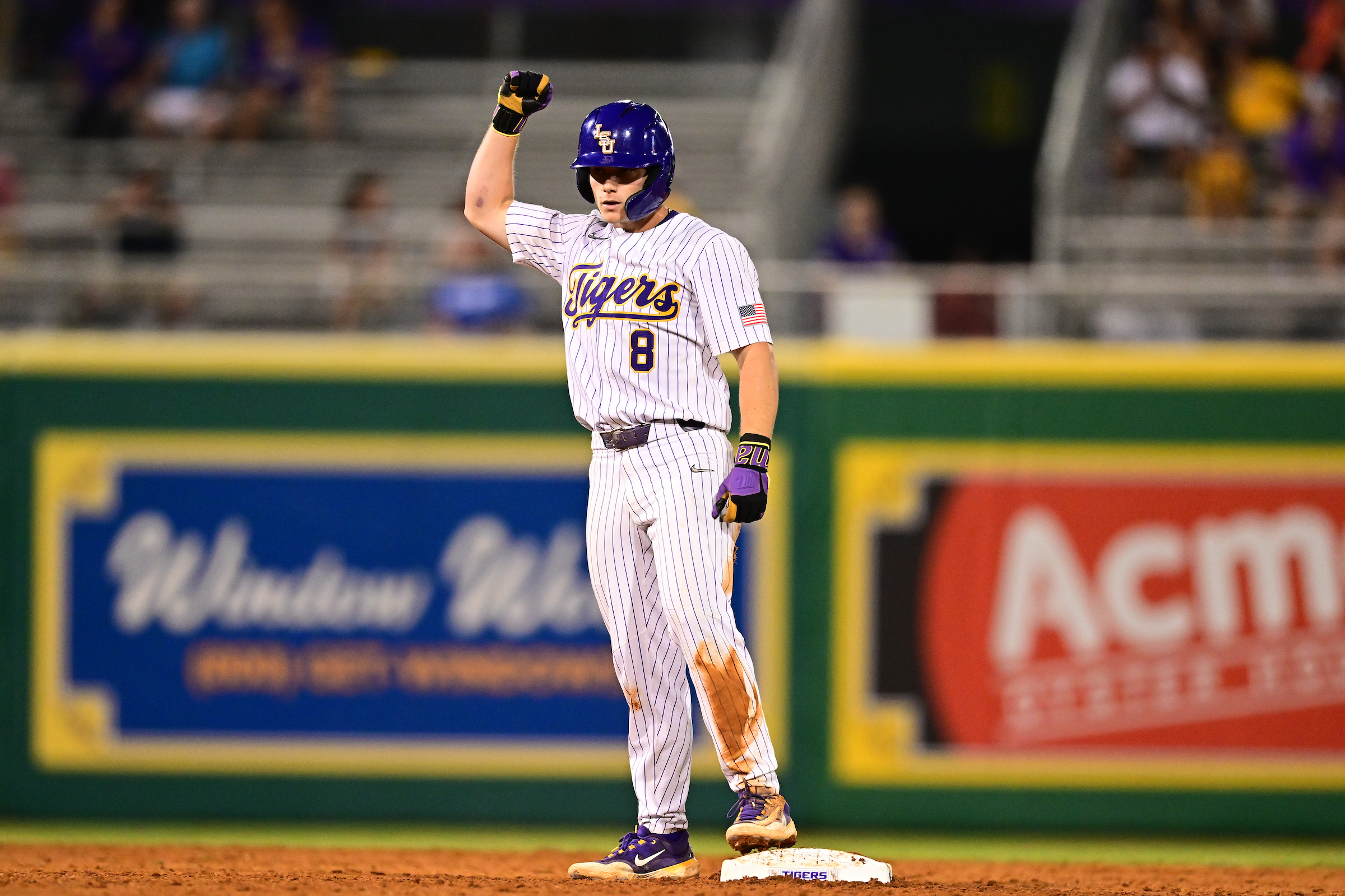 Tommy White's two home runs and five RBI, coupled with Gavin Dugas' 3-for-3 hitting with three RBI, led No. 1 LSU as it 10-run-ruled Nicholls State, 12-2, on Tuesday night at Alex Box Stadium, Skip Bertman Field.
It was LSU's nation's-leading 10th run-rule win of the season.
LSU freshman designated hitter Jared Jones cranked out a monster solo home run, his ninth of the season. His home run to left field was measured at 432 feet with an exit velocity of 106 mph.
Dylan Crews' 26-game hitting streak, though, came to an end for the first team All-American. Crews was walked twice and has reached base in every game this season. He also scored two runs.
Gavin Guidry (1-0) picked up the win for LSU (25-4).
The Tigers return to action at 6 p.m. Thursday at South Carolina in Game 1 of a three-game SEC series at Founders Park. The game may be heard on affiliates of the LSU Sports Radio Network, and it will be streamed on SEC Network +.
White's three-run blast in the third inning and two-run dinger in the seventh paced LSU's offensive output. He now has 10 homers and 50 RBI on the year.
Oppo Taco Tommy Tanks Tuesday @tommywhite44 | SECN+ pic.twitter.com/Z4QBtyLiUP

— LSU Baseball (@LSUbaseball) April 5, 2023
Guidry earned his first career collegiate win, entering the game in the third inning and working 1.1 scoreless innings with no hits, no walks and three strikeouts.
"I knew we would need to play well to win this game, because Nicholls has strong program and is in first place in their conference," LSU coach Jay Johnson said. "We needed some guys to step up on the mound, and I couldn't be more excited about what the pitchers did tonight."
LSU starter Christian Little, along with Guidry and relievers Will Hellmers, Thatcher Hurd, Bryce Collins and Micah Bucknam combined to limit Nicholls (17-14) to only two runs on four hits with 13 strikeouts.
"Gavin Guidry was the story of the game," Johnson said. "He came into the game against one of their best hitters, got a big-time strikeout to end the inning and then followed with a clean inning. That was outstanding; Gavin has a unique pitch mix that we can really use on our staff."
Cole Poirrier (0-1), who was charged with the loss for Nicholls, started the third inning and allowed two runs on no hits with two walks and no strikeouts.
Trailing 1-0 in the bottom of the third inning, LSU struck for five runs in an outburst highlighted by White's three-run homer and sacrifice fly by Dugas. The Tigers also scored in the inning when right fielder Paxton Kling raced home on a wild pitch.
LSU added two runs in the fourth inning when catcher Alex Milazzo delivered an RBI single and Dugas produced a run-scoring double.
Jones' solo monster blast in the fifth inning put the Tigers up 8-2.
LSU widened the margin to 10 runs in the sixth on White's two-run homer, an RBI triple by Dugas and first baseman Tre' Morgan's sacrifice fly.