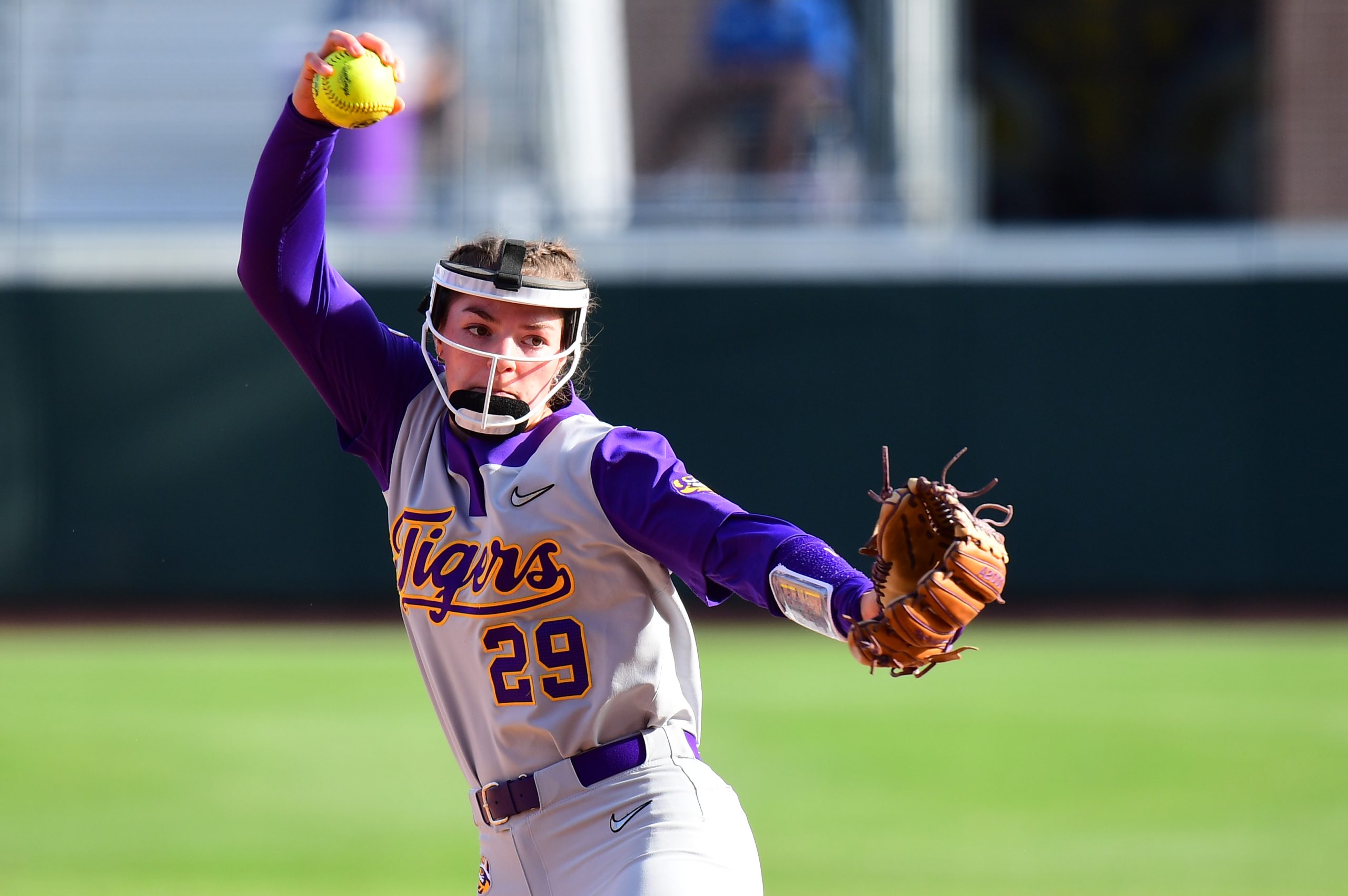 No. 14 LSU softball turned to pitcher Sydney Berzon in relief and the Tigers snapped a 2-all tie with four runs in the fourth for a 6-2 victory Saturday over Louisiana Tech in the Purple & Gold Challenge at Tiger Park.
Berzon (11-2) came into the game in relief of starter Ali Kilponen and slammed the door shut on the Bulldogs. She retired all 10 of the 11 batters she faced over 3.2 innings and struck out four.
LSU (30-6) closes out play in the round-robin event at noon Sunday after North Carolina State. It marked a season sweep for the Tigers who took a 3-1 win over the Lady Techsters in Ruston on Feb. 21.
"We did a good job of making adjustments throughout," LSU softball coach Beth Torina said. "We were able to change pitcher to pitcher and still create pressure. We did a good job getting the leadoff hitter on and scoring runs throughout the game."
Second baseman Karli Petty and third baseman Danieca Coffey each had two hits to lead LSU's nine-hit attack. Petty led the Tigers with a pair of RBIs along with Ciara Briggs.
LSU opened the game with a 2-0 lead in the first against La. Tech starter Emma Hutchinson. The Tigers loaded the bases on Coffey's single and consecutive walks to Ciara Briggs and Ali Newland when after a double play, Petty singled home two runs to right field.
Kilponen (3.1 innings, 4 hits, two runs, 2 walks, 2 strikeouts) allowed single runs in the second and fourth innings. Kylie Neel had a solo homer in the second and followed Kate Cooper's double with a RBI-single in the fourth to tie the game.
Right fielder McKenzie Redoutey made it 3-2 with a single that drove in Raeleen Gutierrez and Savannah Stewart stretched that lead to 4-2 with a RBI-triple to right-center field. Following a bunt single from Coffey, Briggs drove in two runs with a single past shortstop and into left.