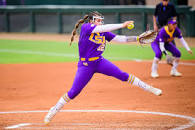 One of two freshman pitchers that showed promise in her first season for LSU softball has transferred within the Southeastern Conference.
Alea Johnson confirmed on her social media account Tuesday that she's returning to her home state where the native of Fairhope, Alabama has transferred to Alabama.
"Sweet home Alabama," Johnson said in an Instagram post. "So excited to start this new journey!"
The 5-foot-9 Johnson, the No. 23 rated prospect out of high school, was part of a pitching rotation in 2023 that featured graduate student Ali Kilponen and freshman Sydney Berzon topping the Tigers in number of innings pitched.
Johnson went 7-1 – the staff's third highest number of wins – with a 1.41 earned run average which ranked second overall. She finished with 31 strikeouts and 27 walks in 44.2 innings over her 12 appearances.
She had a pair of complete games and a shutout, earning her only win in Southeastern Conference play with 5.1 innings of relief, allowing three hits, five walks and a strikeout in a 10-4 victory over Mississippi State on April 22.
Johnson, who matched a career-best six strikeouts against Southeastern Louisiana and Nicholls, also experienced a highwater mark in a 3-0 home setback against two-time national champion Oklahoma. She was part of a combined pitching effort with two scoreless innings of relief in the sixth and seven innings. She pitched once in the postseason, taking the loss in a 7-4 setback against UL-Lafayette on May 21, allowing three runs on four hits in 1.1 innings.
Johnson was the two-time Class 7A Pitcher of the Year in Alabama. She was 15-2 as a senior with 204 strikeouts in 102 innings with nine shutouts, two no-hitters and a perfect game.
LSU's scheduled to have Berzon (14-8, 1.91 ERA, 127 Ks) along with juniors Emilee Casanova (2-0, 1.34, 14 Ks) and Raelin Chaffin (6-1, 2.74, 33 Ks) back for the 2024 season.