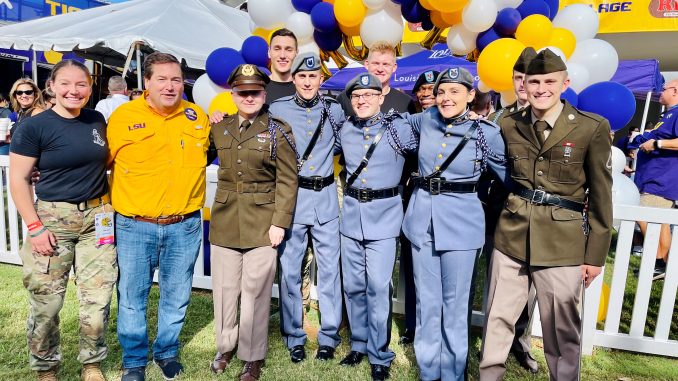 Come one, come all.
That's the message from Louisiana's Lt. Governor Billy Nungesser to all of LSU's alumni looking to visit family and reconnect with friends before Saturday's LSU-Florida home game at 6:30 p.m. in Tiger Stadium.
Nungesser's office, in conjunction with the Louisiana Department of Tourism and the state's Seafood Promotion Board, will sponsor a gigantic tailgate beginning at 3:30 p.m. at the Pete Maravich Assembly Center near Mike the Tiger's cage.
"It's hundreds to thousands of people coming through, grabbing a bite, getting a drink," said Nungesser, who was re-elected to the Lt. Governor's office for a third term in October. "It's a perfect location as the band comes down (Victory Hill). To be able to show the value of LSU in all sports, with the state, kind of highlights that. We're glad to do it. It's a great crowd.
"LSU is already a great boost for the economy and tourism in Louisiana," Nungesser continued. "We got the idea to do one event every year at every university and LSU is our biggest one. We invite all of the alumni that ever went to LSU for a Louisiana seafood tailgate."
Nungesser accentuated the far-reaching virtues of an LSU home game.
Hotels are booked, both in Baton Rouge and the surrounding areas, restaurants are jammed and the lines at the gas stations are continuous.
Nungesser said he recently cut the ribbon at Tigers Trail RV Resort near L'Auberge Casino Hotel, creating another venue for LSU's out-of-town fans to stay.
"The people that come into town to be part of the celebration for LSU football is incredible," Nungesser said. "We continue to grow out from Baton Rouge, and it affects all of the communities and towns as well."
Nungesser discovered the passion of LSU home games during his days as a student and later learned the draw tailgating had.
"I grew up on the Westbank in Algiers and we would go tailgating at the RVs and half the people would never make the game," Nungesser said. "People from the Westbank looked forward to those tailgates. It brought people together. We made friends from across the state and even out of state. They would come back for the games, and they would last a lifetime. This has led to lifelong friendships that we made at Tiger Stadium."
Nungesser said the power of a good tailgate was never more evident than when LSU faced Wisconsin at NRG Stadium in Houston in 2014. Not only did the Tigers rally in the second half for a 28-24 victory, but the overwhelming aroma of seafood and other Louisiana delicacies won over a faction of die-hard fans from Wisconsin.
"I tell people all over the world that the best thing about Louisiana and the record numbers of tourism is we treat strangers like family," he said. "People leave here with a friend for life and people keep coming back for more. Even at this game, we'll meet people from Florida. They'll come eat some of that big roasted alligator and they'll continue to come back because of the way we treat people here."
Charbroiled oysters from Drago's are among the headliners waiting LSU alumni to descend on campus Saturday for an event that also doubles as a recruiting tool when it comes to trying to land conventions and conferences for the state.
"We use that as a tipping point when they're looking at other cities and states," Nungesser said. "When you feed them Louisiana seafood, they end up coming back year after year because no one else gives them that option when they go to other states."