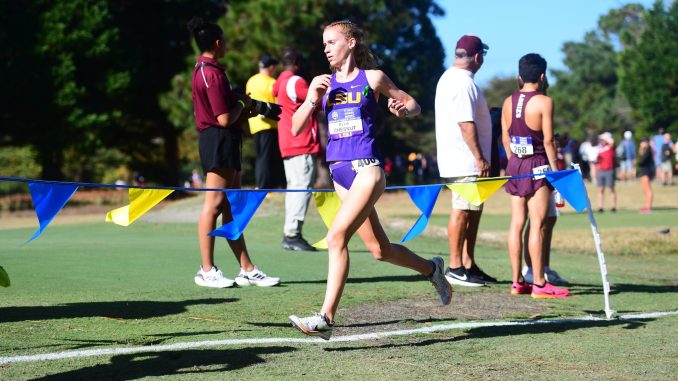 The moment has been six months in the making.
Since the end of LSU's outdoor track season cross country coach Houston Franks said talk of his women's team reaching the NCAA Championships for the first time in program history began to evolve.
The Tigers, led by the trio of Lorena Rangel-Batres, Michaela Rose and Elle Chesnutt, are now primed to act upon their season-long goal when they take part in Friday's NCAA South Central Regional.
The 6K meet is scheduled to begin at 10:30 a.m. at the University of Arkansas' Agri Park. The top two teams over advance to the Nov. 18 NCAA Championships in Charlottsville, Virginia.
"We have focused on this from the get-go," Franks said. "Not that we didn't want to be great at SECs because we always do. Even when we didn't have a great day, we knew the big one was still in front of us. It's been business as usual. We know what we've got to do. We've just got to go execute it."
Franks said because of a litany of injuries the LSU men will not run.
"We've got three guys banged up and they'll help us in track," he said. "We decided not to piece something together. It's not worth risking those guys for track season when you don't have a chance to qualify."
LSU's women finished in third at last year's South Central Regional – the best for the program – with Rangel, Rose, Chesnut and Addy Stevenson finishing between 20-41.
Sophomore Montana Monk, junior Callie Hardy and junior Sophie Martin comprise the remainder of LSU's lineup with graduate Adele Broussard serving as an alternate.
"If everybody does their part and we have a very good race from everybody, it doesn't have to be their best cosmic day," Franks said. "We're right in the mix. We could do that and a team or two could beat us if they have a cosmic day. If we have a really great day, I would bet on us from the standpoint our track talent is better. We count on a lot of mid-distance girls and we're asking them to go 6,000 meters. That's a tough ask, but I think if we have a really good day we're right in the mix."
Rangel-Batres has returned to 100% health since suffering from back spasms at the Southeastern Conference meet that forced her out of the race and contributed to LSU dropping from fifth or sixth in the race to 10th.
Chestnut was the team's highest finisher in 35th place at 21 minutes, 3.3 seconds followed by Rose in 42nd (21:16.2), Monk in 50th (21:28.3) and Hardy in 76th (21:53.2).
"She's perfectly fine," Franks said of Rangel-Batres. "She was having some mild back spasms the day before (the SEC meet) and didn't really say anything. She had it worked on a little bit and didn't feel good warming up. She was sore for a few days, but the trainers did a great job of getting her back."
Arkansas, which is ranked No. 11 nationally, is the region's top-ranked team followed by American Athletic Conference champion Tulane, Texas A&M, SMU and Texas.
"Arkansas, if they have at least a good meet, going to win," Franks said. "The second spot's up for grabs. We definitely have to run better than we have at 6K. The SECs was going pretty well as planned through 4 ½ K until Lorena had to drop out. But that's part of it and didn't work out. We've got to keep everybody up right this week. If anybody goes down, someone's got to step up."
"I think a lot of it will be determined at the beginning of the race," Franks said. "I don't think anybody's going to come from way behind. All the teams are going to have to be courageous and brave and stick their necks out there. It's going to be a little bit of feast or famine. You're going to have to be aggressive early. There are too many good teams to get in a deficit. The first half of the race will be pretty critical to us."