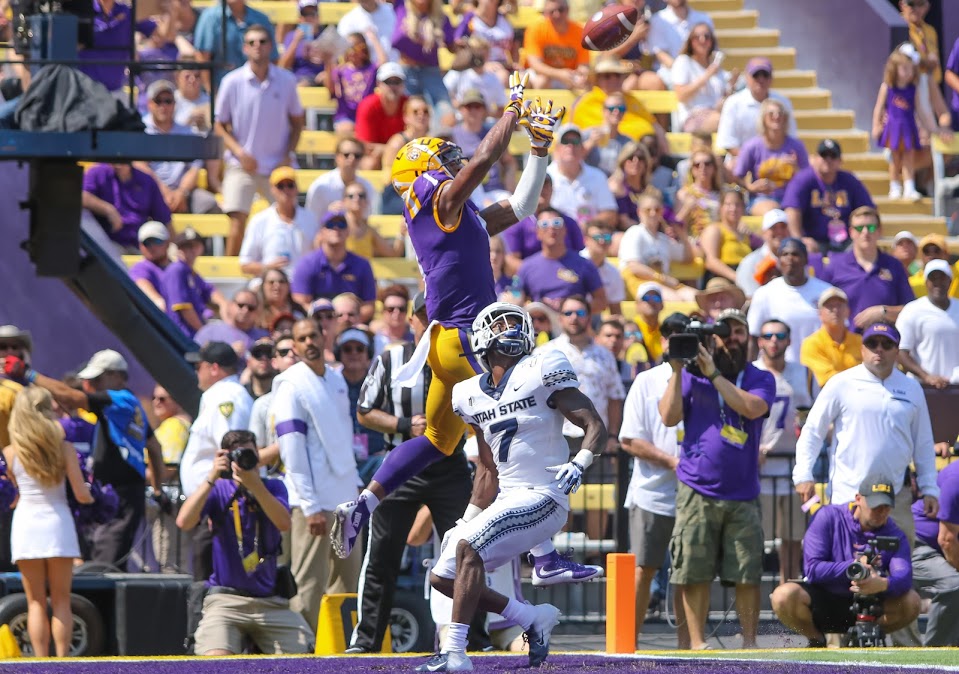 While LSU's game against Utah State was universally billed as a potential shootout, the Tigers clearly didn't get the message.
The No. 5 Tigers (5-0, 1-0 Southeastern Conference) controlled the pace of the game in a way on-lookers had yet to see in a 42-6 victory in front of a modest morning crowd in Tiger Stadium.
In a game reminiscent of a not-so-distant reality, LSU controlled the ball for more than 41 minutes and allowed the Aggies to tally only 159 yards of total offense.
"We went out there and played probably our most complete game," said LSU head coach Ed Orgeron after the game. "We wanted to run it and control the clock. We kept the ball away from their offense, our defense tackled well in space and I thought we played lights out on defense."
The obvious difference between the LSU that Utah State met Saturday and teams of the recent past: More than 600 yards of total offense.
The game played out in the way head coach Ed Orgeron pitched the offense during the offseason: a near-50/50 split between rushes and passes.
LSU quarterback Joe Burrow had another landmark day, completing 27 of 38 passes for 344 yards and five touchdowns with an interception off the hands of receiver Justin Jefferson in the first quarter. In doing so, he became the first quarterback in school history to throw for more than 300 yards in four consecutive games.
"We can be as good as we want to be," Burrow said. "The only team that can slow us down is us. As long as we don't turn the ball over in SEC play, we'll be fine. But you have to give credit to Utah State, they played hard, their sound in their scheme and they're a good football team."
Meanwhile LSU had four rushers with more than 40 yards on the ground, including running back Clyde Edwards-Helaire who tallied 72 yards on 14 carries and Burrow who rushed 10 times for 42 yards and a touchdown.
In the first half, the Tigers ran the ball 25 times for 126 yards and a touchdown while Joe Burrow completed 16 of 22 passes for 217 yards and two touchdowns.
LSU entered the locker room at halftime leading 21-6, and despite dominating the half in a fashion much like the Tigers of old, many watching the game seemingly didn't know how to process it.
Things only went better for the Tigers in the second half. After the defense forced a three-and-out, Burrow and Co. held the ball for another 4:15 and reached the end zone on an 11-play, 53-yard drive capped off with a 4-yard touchdown pass to Justin Jefferson
Jefferson would catch another touchdown pass from 39 yards near the end of the third quarter and the Tigers' defense held steady, allowing LSU to take a 35-6 lead going into the final period.
The Tigers put the game in cruise control in the fourth quarter after Burrow hit tight end Thaddeus Moss for his first touchdown in an LSU uniform.
Both of LSU's freshman running backs had solid outings.
John Emery rushed for 43 yards and eight carries and caught four passes for 34 yards, though he did lose a fumble in the third quarter on a drive that would have helped the Tigers put the game away even earlier.
Tyrion Davis-Price also received 11 rushes for 53 yards.
LSU's secondary lived up to the "DBU" moniker, tallying three interceptions as a team, a season high. Derek Stingley pulled down the first with a jump ball in the second quarter that prevented a touchdown, Kary Vincent got one in the second quarter that helped put the Aggies out of reach and Grant Delpit nabbed the third in the fourth quarter just for fun as the game was well in hand at that point.
"This was a statement for ourselves," said LSU linebacker K'Lavon Chaisson, who returned to action nearly a month after suffering a knee injury against Texas. "Not really so much about anyone else. We know ourselves that we weren't playing to our level, so we felt like we needed a game that we could build off of going forward."
The game was far from perfect for the Tigers, however. The offense started too many plays from behind the original line of scrimmage.
"I feel like I should play perfect every time," Burrow said. "I missed throws today, had an interception, put a ball on the ground. That wasn't my best performance."
None of the Tigers' faults ultimately hurt them too badly, as it converted 10 of 14 third down attempts, but five first-half penalties for 41 yards in the first half alone will likely be something the coaching staff will bring up Monday.
The Tigers also put the ball on the ground three times, including fumbles by Burrow and Edwards-Helaire that were luckily recovered by LSU linemen.
But ultimately, Saturday marked a complete victory against a solid team, which is exactly what the Tigers needed going into a battle with SEC East rival Florida next week.
Despite the Orgeron saying he would start during his meeting with the media Thursday, left guard Ed Ingram came off the bench and saw his first snaps in two years during the third drive of the game.
Orgeron said Ingram — whose more-than-year-long suspension ended after sexual assault charges against him were dropped two weeks ago — struggled with some finer details later in the week which led to coaches ultimately deciding to ease him back in.
"He was going to start," Orgeron said. "Because of some pass protection stuff that he wasn't used to doing and some blitzes we thought (Utah State might use), we thought we wouldn't start him and play him as the game went on."
Photo Credit: Terrill Weil