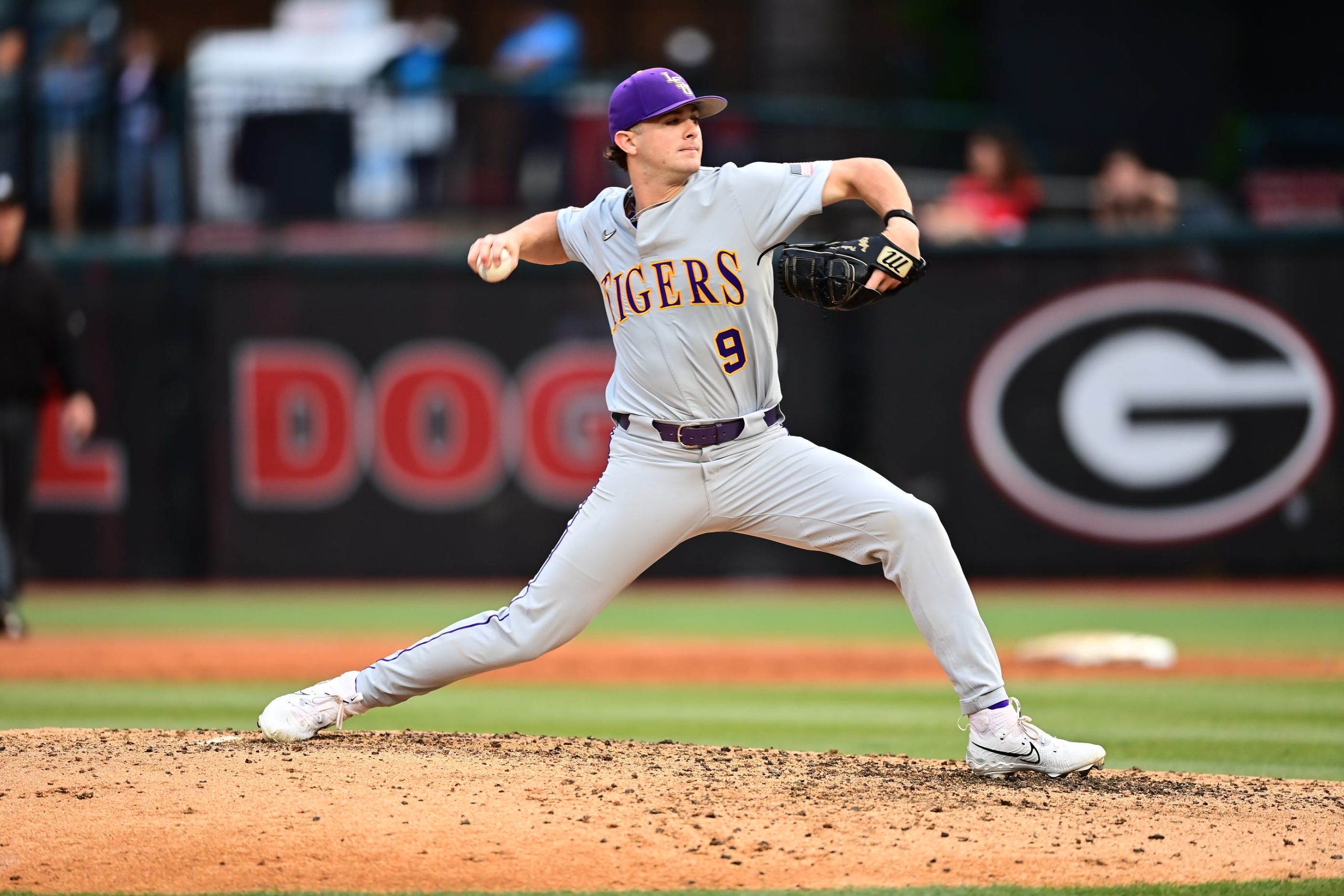 A rematch of contrasting styles and approaches to the game loom on Saturday in an SEC showdown at the Baton Rouge Super Regional when Kentucky and LSU clash at Alex Box Stadium, Skip Bertman Field.
First pitch on Saturday is scheduled for 2 p.m. Central, weather permitting. Sunday's game time is to be determined, and Monday's start time, if necessary, is also still undecided.
There is a 60% chance of rain, and weather could play a major role in determining who wins the Super Regional and advances to Omaha.
That's because LSU needs – more than anything else – for ace Paul Skenes to be able to pitch at least seven innings and for No. 2 starter Ty Floyd to go at least six innings. Floyd is undefeated in 14 starts this season, but, more importantly, the Tigers are undefeated when Floyd goes six innings.
 In other words, when Skenes and Floyd do their thing, it provides relief to LSU's bullpen and that's what the Tigers need to do more than anything to get back to Omaha for the first time since 2017.
The last thing LSU needs this weekend is for weather to delay action and limit the innings Skenes or Floyd can pitch.
No. 12 seed Kentucky will be looking to avenge a 2-1 series loss at Alex Box Stadium earlier in the season.
Unlike LSU, which went 3-0 in its regional, the Wildcats got pushed to the brink of elimination against Indiana in the Lexington Regional. The Wildcats score 34 runs in its three wins.
That kind of success will likely be tougher against LSU's pitching staff, but Kentucky does have one thing going for it: It's one of the few teams that has made Skenes look semi-human this season.
Skenes did beat Kentucky in Baton Rouge, but he gave up seven hits and four earned runs with 13 strikeouts. LSU coach Jay Johnson expects a more polished version of Skenes this time around, he said.
"He's great at evaluation and given that that was two months ago, he's in a different place than he was at that time and they're a different team," he said. "We'll look at it and he'll look at it and look at any adjustments that need to be made."
Floyd, who will likely get the start on the mound on Sunday barring weather throwing a wrench into things, praised the Wildcats' lineup.
"They're a very scrappy team," he said. "They put up good at-bats, have some good lefty sticks and some older kids. It'll be a really fun weekend. I trust (pitching) coach Wes (Johnson) and coach Jay because they're doing scouting all the time, so I just listen to what they say."
Johnson also pointed out how many viable arms the Wildcats have in the bullpen.
"Strength of them is the number of guys that can contribute for them on the mound," he said. "Their pitchers have done a good job. They know who they are."