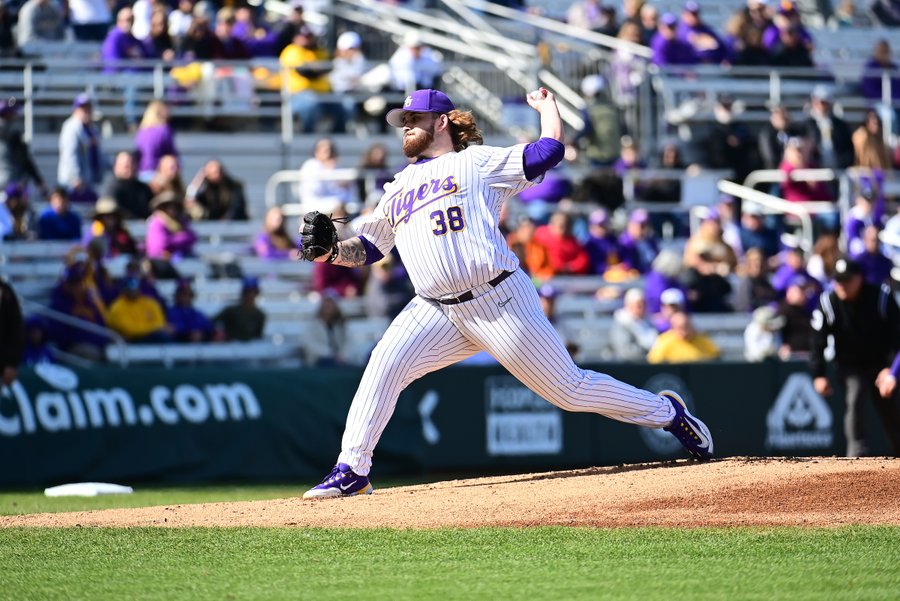 Junior left-hander Riley Cooper recorded 5.1 hitless innings Saturday in his second career LSU start, and the top-ranked Tigers posted a 5-3 win over Western Michigan in Alex Box Stadium, Skip Bertman Field.
Meanwhile, fifth-year senior Gavin Dugas hit a monster solo home run in the first inning and freshman designated hitter Jared Jones continued his hot hitting to start off the season of his career.
The teams conclude the series at 12:30 p.m. Sunday in a game that will be broadcast on affiliates of the LSU Sports Radio Network (98.1-FM) and streamed on SEC Network +.
Cooper picked up the win for LSU (2-0), throwing 71 pitches over 5.1 innings, allowing no hits and no runs while striking out seven and walking two.
"Riley can throw four pitches for strikes" LSU baseball coach Jay Johnson said, "and when you're a hitter, that's a lot to deal with. I don't think they really took a good swing on him all day, and that's a credit to his location, his movement and his changing speeds."
Left-hander Nate Ackenhausen entered in the sixth in relief of Bryce Collins, and he pitched the final 3.1 innings to earn the save. Ackenhausen limited the Broncos to one run on one hit in 3.1 innings with one walk and two strikeouts..
It was Ackenhausen's first appearance at LSU after transferring from Eastern Oklahoma State.
Dugas led off the bottom of the first inning by hammering a pitch deep over the left field wall to give LSU a 1-0 lead.
Dugas, who had eye surgery in the off season, started at second base and hit his first home run of the year.
"Gavin is a great player when he's healthy," Johnson said, "and it's nice that he's healthy and seeing the ball well. He plays hard, his teammates love him, and it's great to see him at his best."
Jones, who batted clean-up, drove in Dylan Crews from second base moments later to cap a two-run first inning.
Crews drew a full-count walk with one out and then reached second on a wild pitch. Jones then slapped a 2-2 single to left field to score Crews.
Jones is 3-of-6 with three RBIs after his first two college games. Dugas and Jones each had two hits for LSU. The Tigers had seven hits as a team.
Defensively, LSU committed no errors for the second game in a row.
LSU scored two runs in the fourth and one in the eighth after Western Michigan (0-2) scored two runs in the top of the sixth.
Freshman right fielder Paxton Kling tripled to right center to drive in Brady Neal from first after he had drawn a full-count walk to start the bottom of the fourth. Kling scored from third two pitches later on ground out to second by Ben Nippolt.
Collins relieved Cooper in the sixth inning with one out, but gave up two runs after hitting Will Morrison on his first pitch and then allowing back-to-back singles to Jimmy Allen and Gavin Doyle and a sacrifice grounder to second base by Sullivan.
Ackenhausen relieved Collins at that point.
"Nate's performance was not a surprise to us," Johnson said. "He's poised, much like Riley, and he throws every pitch where he wants to. He threw strikes that weren't easy to hit, and I'm really proud of his performance today."
LSU added an insurance run in the eighth when left fielder Brayden Jobert led off the inning with a double, and Josh Stevenson, running for Jobert, scored on pinch-hitter Josh Pearson's RBI groundout. Sullivan belted a solo home run in the ninth for the Broncos.