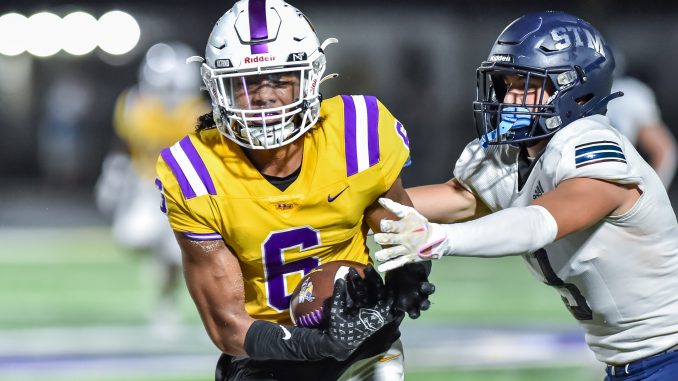 The Sept. 1 season opener already had a sour taste in the mouth of Denham Springs' Da'Shawn McBryde.
Denham Springs, which made a historic trip to the Division I non-select state quarterfinals in 2022, opened the '23 season with a 38-7 home loss to Mandeville.
With a pall already cast over the entire team, football coach Brett Beard gathered his Yellow Jackets in the end zone and amongst his postgame laundry list of items to correct was the team's leadership or lack thereof.
His criticism was directed toward any one player, but it certainly resonated with one in particular.
McBryde, a four-star safety, one of the nation's top safeties and LSU commitment, perked up at his coach's directive.
"He talked about how we didn't have any leaders," McBryde said. "He doesn't know this, but I do take everything personal. I took that heart and tried to the best I could as a leader for the team. I knew the leaders last year were good leaders. I knew a couple of us would have to step up as leaders. I wasn't a real leader (in 2022) but seeing how we were in the first part of the season, I realized that I needed to step up on the team as a leader."
The traditionally low-key McBryde not only spoke with his play on the field, but also at practice and in the weight room.
Beard implored his best player, McBryde, to set the example for younger players to follow and the result was three consecutive victories before running into Class 4A's No. 1 team St. Thomas More, 35-3, last week.
The Yellow Jackets' growth, though, has positioned them for another run at the District 5-5A championship which they shared a year ago. They host arch-rival Live Oak at 7 p.m. Friday.
"The kid's really grown up. He's been more vocal," Beard said. "He has become everything we needed. The growth of our program has a lot to do with him and his attitude and the way he's been carrying us.
"You can't ask for anything better. He's an unbelievable kid," Beard added. "He's everything you want. He's a great student, great teammate. I think he's starting to recognize that this needs to be his team and that he can talk a lot more because when he does people will listen. He's a special kid in everything. Not just football."
Denham Springs defensive backs coach Stephen Prescott noticed in position drills that McBryde's voice had become more prevalent. A year after his own meteoric rise to national recruit, benefiting from the tutelage of his coaches and some of his older teammates, McBryde decided to pay it forward and provided insight into playing defensive back after drills.
"The biggest thing, he's taken a step forward now and is teaching instead of just being a player," Prescott said. "That's where he's grown the most as a leader. Last year was his first full year starting. He was still learning himself."
Adding to his workload
Beard acknowledged the 6-foot-2, 200-pound McBryde, a sprinter and horizontal jumper in track, could be one of the state's top wide receivers.
That wasn't part of his job description in 2022, so McBryde's sole focus was as the hammer of Denham Springs' defense. An athlete so instinctive and strong, he didn't mind getting his nose bloody in run support and wound up with 51 tackles and four behind the line of scrimmage.
"We noticed him my first spring we came here," Prescott said. "(Running back) Ray (McKneely now at Memphis) looked like he was going to get the edge and get a first down. Da'Shawn came over and gets low enough for an open-field tackle. That's been his game. He comes up and sets the edge and makes a lot of tackles either at the line of scrimmage or for one-yard gains. When you see him go against fast players you realize he's very quick getting down the field."
Where McBryde truly flourished, though, was in pass coverage. His length and long strides made it impossible for opposing receivers to find open space, leading to a school record nine interceptions, three defensive touchdowns and nine pass breakups.
On top of those defensive attributes, McBryde took on the added responsibility of wide receiver this season, a two-way role made more difficult by this region's unseasonably hot and humid conditions.
"I don't have any problem with helping my team out," McBryde said. "Whatever they need me to do, I'll do. Playing receiver also helps the offense besides me being a leader. Anything to help my team.
"Coming into the year and knowing it's my last year, I'm really trying to enjoy being with my teammates," McBryde added. "I love these guys, just being with my teammates and playing each play 100%. Giving it my all."
McBryde is a big-play threat with the ability to stretch defenses vertically. He caught two passes for 84 yards from quarterback Jerry Horne against St. Thomas More and also drew a pass interference penalty.
"Realistically you don't want to have to use him a lot early on because of the heat," Beard said "But he gives you a chance to win football games and he wants to win football games and he wants to do it. I'm not going take that away from him."
One of the nation's best
McBryde skyrocketed from a seldom-used player in '21 to one of the nation's top safeties by the end of the '22 season. He's risen to the nation's No. 3 safety and No. 73 overall prospect by 247 Sports, while On3 Sports ranks him the nation's seventh-best safety and No. 73 overall player.
He's ranked No. 124 on ESPN's top 300 players in the country and holds the spot of the No. 7 ranked player on Tiger Rag's Dirty Dozen of the state's top prospects.
Those gaudy have come with a huge dose of respect for McBryde who went the entire St. Thomas More game without a target. They're not the first team to avoid McBryde and won't be the last.
"Patience is my key right now," McBryde admitted. "Getting nine picks last year and coming into this year, I doubt they'll try and throw my way. I'll always keep my head on a swivel and always be patient when the ball's in the air."
Beard understands the price McBryde pays for being an LSU commitment and one of the best at his position.
"He's just such a long athlete in the middle that can make up a lot of ground," he said. "There hasn't been a whole lot of testing him this year. Last year he was still an unknown and had a lot of situations where he could make picks. This year people know who he is and you're going to go after other guys out there."
Despite the lack of activity with passes aimed in his direction, McBryde remains engaged in defensive game plans and is among the team's leading tacklers.
"We still rely heavily on him in our run support," Prescott said. "He still has to be up there when he's the force guy to make the tackle. He's still very much a big part of our defense. They may not be throwing the ball toward him, but they're still going to run side to side, and I think that's where he's getting better each and every week."
Getting a head start at LSU
McBryde grew up in Salt Lake City, Utah before his family moved to Louisiana when he was 9. He didn't enjoy the prototypical childhood of kids growing up in Louisiana, one that was awash in purple and gold with frequent trips to Tiger Stadium.
But he certainly discovered the lure LSU could have on a prospective football player and his family living in the region.
When McBryde made the leap onto the national scene after his junior season, LSU was among the schools that took notice. The Tigers, with assistant coaches Kerry Cooks and Joe Sloan serving as the lead recruiters, offered a scholarship which led to McBryde's commitment to head coach Brian Kelly on April 22.
He selected the Tigers over Tennessee, Ole Miss, Florida and Mississippi State.
"I try to make it known that it's a hard commitment," McBryde said. "I'm really devoted to going to LSU. I love coach Kelly. The way he goes about his business. I went to one of their practices and he made it feel like family. He's really welcoming. He'll play anybody."
McBryde's part of Class of 2024 that's ranked No. 10 nationally by both On3 Sports and 247 Sports. He's shared text messages with his future teammates and spent time around the group, along with LSU's coaches, during preseason practices and an unofficial visit for the Grambling State game.
"I saw the culture," McBryde said. "They knew they were going to blow them out (72-10 win). I watched how they kept their foot on the gas the whole game. They didn't put in the twos (backups) until later. I liked how they went about their business.
"Every week coach Sloan checks in to see how I'm doing and who we've played," McBryde said. "Coach Cooks has come to one of my games. They're checking in on my family, not just me. I liked that."
Cooks presented McBryde with the option of graduating early from Denham Springs and enrolling at LSU for the spring semester. That would enable him to not only adjust to the college academic workload but leave one of the state's top strength and conditioning programs under Denham Springs assistant Joe Ryan for his first offseason with the Tigers and prepare for spring football.
"Coach Cooks talked about the people that come in early get an advantage and that's really what I wanted," he said. "When I heard the word advantage from him, I knew I had to come in early. I'll learn the plays, hopefully get a couple of reps in spring game. Just coming in with the right mindset when I do come in."
Prescott believes the transition to college for McBryde will be just the kind of challenge that motivates him.
"That's how he operates," Prescott said. "Once you present something to him, he doesn't want to wait to get better, he wants to get better now. As soon as he gets to LSU and plays, the better in his eyes. He wants to work hard and get better. In the preseason we told him he needed to tackle better. He got better and now it's, 'what else do I need to do'. He's consistently trying to get better. He wants to move fast and it's the next challenge up."