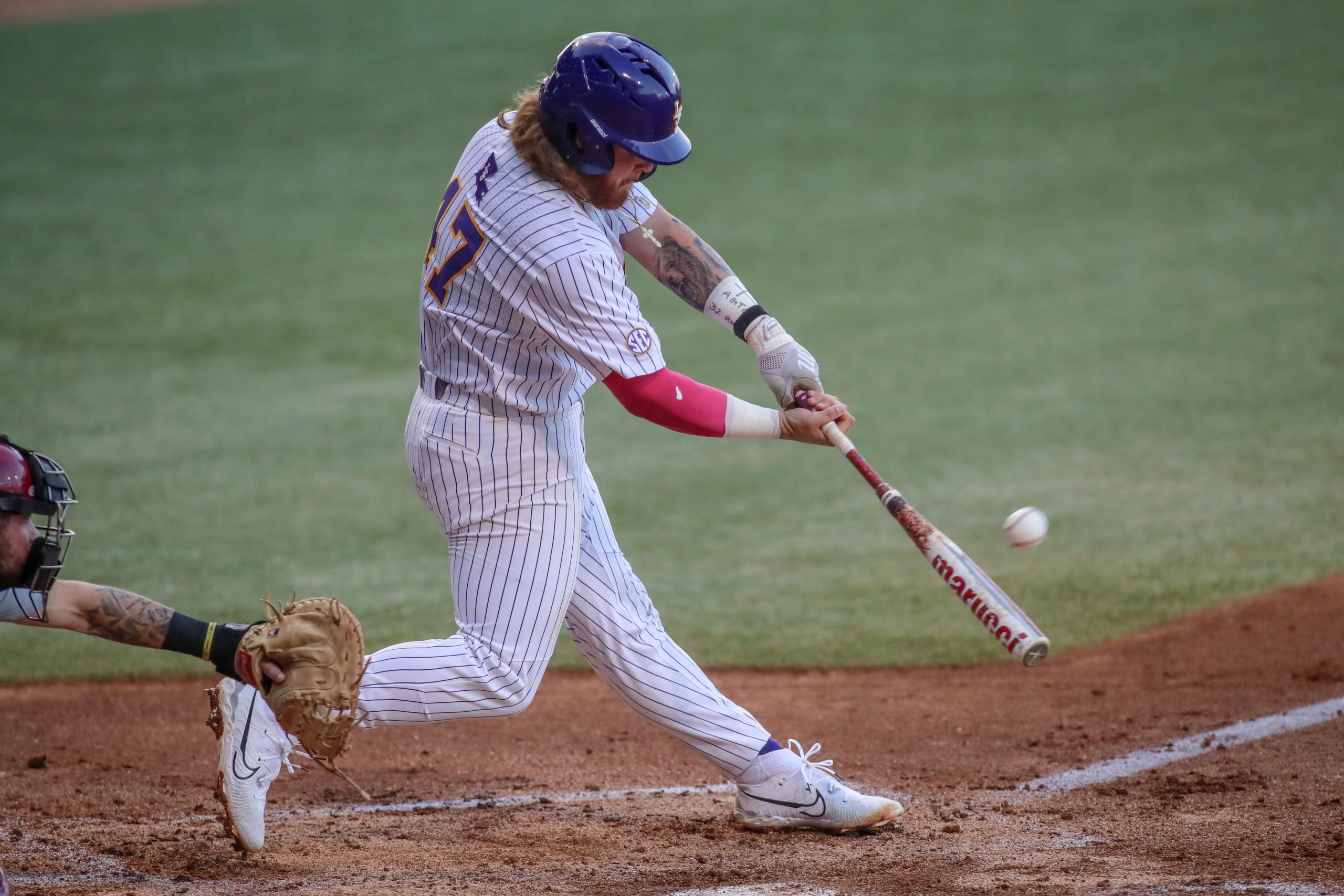 LSU head baseball coach Jay Johnson spoke with the media on the eve of the No. 1 seed Tigers playing their first NCAA regional game against Tulane at Alex Box Stadium, Skip Bertman Field, and you could literally feel the second-year skipper's excitement.
Johnson sounded confident, but not cocky.
In short, he said he likes LSU's chances and likes the road his Tigers took to get to this point – which is, he said, exactly where they expected themselves to be when the season began almost four months ago.
Listening to Johnson, he's confident LSU will rebound from its offensive woes in the Southeastern Conference tournament when, for instance, the Tigers went 3-for-20 with runners in scoring position in a one-run elimination game loss to Texas A&M last Friday. A big reason why is because of 91 RBI returning to the starting lineup in the form of newly-named All American third baseman Tommy White. He sat out last Friday's loss to the Aggies for unknown reasons.
According to Johnson, White needed a rest. That's all.
The biggest question for LSU entering Friday's 2 p.m. scheduled first pitch against No. 4-seeded Tulane is who will start on the mound for the Tigers.
Don't bet on it being LSU ace Paul Skenes.
That's not going to happen.
LSU needs to save Skenes for Game Two on Saturday against the winner of No. 2 Oregon State vs. No. 3 Sam Houston State.
In fact, look for the emerging right-handed sophomore transfer UCLA, Thatcher Hurd, or No. 2 starter Ty Floyd to start against Tulane – most likely Hurd, who has looked strong in his last couple of outings.
Hurd's had an up-and-down first season in Baton Rouge and is 5-2, 6.41 ERA with 59 strikeouts and 31 walks in 46.1 innings. But his last two appearance were solid. Hurd threw 10.1 innings combined against Georgia and South Carolina in the last two weeks, holding them to five runs on seven hits and three walks. Another appearance like that this weekend would be good news for LSU because it would mean Hurd is picking up a win – either against Tulane in the opener, or against LSU's game three opponent.
Best case scenario for the Tigers, of course, is Hurd wins the first game against Tulane. Then, Skenes defeats either Oregon State or Sam Houston State in the second game of the winners' bracket. Then, LSU goes with Floyd in regional championship against whoever is remaining from the loser bracket at that point because Oregon State has two major injuries to its pitching staff and is low on arms coming in. Tulane simply backed into to this regional with a 19-40 record following a miraculous conference tournament run. Sam Houston State, one of the top hitting teams in the country, is actually stacked, relatively speaking, with at least six top quality pitchers. However, Floyd pitching for the regional championship with the Tigers 2-0 on Sunday even if it is against Sam Houston State's relative pitching depth bodes well for the Tigers.
Johnson did not reveal any of this, by the way. It's all supposition.
Then again, this is college baseball.
In other words, anything can happen.
The best news for LSU is that the road to Omaha and the College World Series goes through Baton Rouge this year for the first time since 2019.
Full interview with LSU All-American Pitcher Paul Skenes on eve of Baton Rouge NCAA baseball regional.
Baton Rouge Regional Weekend Schedule
Friday:
Game 1: No. 5 LSU vs. Tulane; 3 p.m. on ESPNU
Game 2: Sam Houston vs. Oregon State; 8 p.m. on ESPN+
Saturday:
Game 3: Loser Game 1 vs. Loser Game 2; 3 p.m.
Game 4: Winner Game 1 1 vs. Winner Game 2; 9 p.m.
Sunday:
Game 5: Winner Game 3 vs. Loser Game 4; 3 p.m.
Game 6: Winner Game 4 vs. Winner Game 5; 9 p.m.
Monday:
Game 7 (if necessary): Rematch Game 6
LSU baseball is back in the NCAA Regional hosting business after a four-year absence, hosting three teams in the first Baton Rouge regional since 2019 – Oregon State, Sam Houston State and Tulane.
LSU (43-15) will take on No. 4 seed Tulane (19-40), the NCAA tournament's most unlikely participant ever, at 2 p.m. Friday. The Tigers, as of Thursday night, have not yet named a starting pitcher. Don't bet on it being ace Paul Skenes, though
Friday's second game pits No. 2 seed Oregon State (39-18) against No. 3 Sam Houston State (38-23), which is in its last season in the WAC before moving to Conference USA.
Team Summaries
No. 1 LSU
Coach: Jay Johnson
NCAA berth: At-large (No. 5 overall seed)
Top hitters: Dylan Crews (.420, 59 RBIs, 15 HRs), Tommy White (.387, 91 RBIs, 20 HRs), Tre' Morgan (.308, 43 RBIs, 7 HRs)
Top pitchers: RHP Paul Skenes (10-2, 1.89 ERA), RHP Ty Floyd (7-0, 4.59)
LSU, the preseason consensus choice to win the College World Series championship this season, was No. 1 in the nation for 12 straight weeks, but the Tigers, who are 7-7 in their last 14 games, dropped two of their final three Southeastern Conference series and went 1-2 in the SEC tournament last week. LSU has the projected Nos. 1 and No. 2 overall MLB draft picks (Dylan Crews and Paul Skenes), and one of the most potent lineups in the land. Pitching staff depth behind Skenes is the key to the Tigers' postseason success.
No. 2 OREGON STATE
Coach: Mitch Canham
NCAA berth: At-large
Top hitters: Travis Bazzana (.379, 10 HRs, 36 SBs), Mason Guerra (.328, 11 HRs, 54 RBIs), Micah McDowell (.343, 6 HR, 41 RBIs).
Top pitchers: RHP Ryan Brown (4-2, 10 saves, 3.44 ERA), RHP Ben Ferrer (2-1, 4.39 ERA)
Oregon State is always known for its strong pitching. But not right now. Blame injuries and a bad pitching performance in last week's Pac-12 tournament. Oddly enough, this Oregon State team will be relying on offense in Baton Rouge. OSU was one of the better pitching teams in the Pac-12 this year with 4.65 staff ERA, but the Beavers allowed 27 runs in two losses last week.
No. 3 SAM HOUSTON STATE
NCAA berth: Automatic (WAC tournament champion)
Top hitters: Tyler Davis (.432, 7 HRs, 59 RBIs), Joe Redfield (.408, 13 HRs, 51 RBIs), Walker Janek (.306, 12 HRs, 65 RBIs).
Top pitchers: RHP Coltin Atkinson (9-4, 4.09 ERA, 1 CG), RHP David Chandler (2.21 ERA, 1 save, 68 Ks).
Sam Houston State is the only team in the Baton Rouge Regional that is in the national Top 10 in batting average. The Bearkats rank 10th nationally at .320. With a staff ERA of 5.26, the Bearkats also six different pitchers to run out there with a legitimate shot at competing.
No. 4 TULANE
Coach: Jay Uhlman
NCAA berth: Automatic (American tournament champion)
Top hitters: Teo Banks (.303, 51 RBIs, 18 HRs), Simon Baumgardt (.268, 38 RBIs, 13 HRs), Brady Hebert (.304, 23 RBIs, 3 HRs)
Top pitchers: RHP Ricky Castro (4-6, 5.14 ERA), LHP Dylan Carmouche (5-8, 5.44)
Tulane (19-40) received an automatic bid after beating No. 12 East Carolina 8-6 in the championship game of the American Athletic Conference tournament. Tulane was 2-9 in its last 11 games before the AAC tournament. Teo Banks, who went 3-for-4 and scored three runs in the championship game, hit three home runs and had 11 RBI in the tournament.
2023 NCAA Baton Rouge Regional
No. 4 seed Tulane Green Wave (19-40) vs. No. 1 seed LSU Tigers (43-15)
DATE/TIME
Friday, June 2 @ 2 p.m. CT (ESPNU)
STADIUM
Alex Box Stadium, Skip Bertman Field (10,326)
RANKINGS
LSU – No. 5 NCAA National Seed (No. 5 NCAA RPI)
Tulane – No. 157 NCAA RPI
RADIO
· LSU Sports Radio Network affiliates, including 98.1 FM in Baton Rouge
· Live audio at www.LSUsports.net/live; Live stats at www.LSUstats.com
TV/ONLINE
The game will be televised on ESPNU and streamed on ESPN +
LSU SERIES RECORD VS. TULANE
• LSU leads Tulane, 183-131-3, in a series that began with the first intercollegiate athletics event in LSU history, a 10-8 victory for the Tiger baseball squad over Tulane in 1893 … LSU defeated Tulane, 11-5, earlier this season (April 11) in New Orleans … LSU won nine of 10 meetings with the Green Wave from 2011-15, but Tulane has won five of the last eight games in the series … Friday's game will mark the ninth meeting between LSU and Tulane in the NCAA Tournament with the Tigers holding a 6-2 overall advantage in tournament games (5-0 vs. Tulane in regionals; 1-2 vs. Tulane in super regional) … the most recent NCAA Tournament meeting between the schools came on May 31, 2003, a 13-5 LSU win in the Baton Rouge Regional in the original Alex Box Stadium.
LSU IN THE NCAA TOURNAMENT
• LSU is in the NCAA Tournament for the 11th straight season and for the 35th time overall …. LSU has six national championships (1991, 1993, 1996, 1997, 2000, 2009), the second-most in NCAA history … the Tigers were an NCAA Tournament Top 8 National Seed for an NCAA-record six straight seasons (2012-17) … LSU is a Top 8 National Seed this season (No. 5) for the first time since the 2017 Tigers were the No. 4 National Seed … LSU has the second-highest all-time NCAA Tournament winning percentage (.700, 163-70).
• LSU has played host to 26 prior NCAA Regionals at Alex Box Stadium: LSU has a 105-27 (.795) all-time record in NCAA Regional games, including an 86-17 (.835) mark in home regional games and a 19-10 (.655) record in regional games on the road … LSU has won its home regional on 22 occasions: 1986, '90, '91, '93, '94, '96, '97, '98, '99, 2000, '01, '02, '03, '04, '08, '09, '12, '13, '15, '16, '17, '19.
• LSU last season participated in the NCAA Hattiesburg (Miss.) Regional; the Tigers won their first two games over Kennesaw State and Southern Miss, but then dropped two straight games to Southern Miss in the regional championship round.
QUOTING LSU COACH JAY JOHNSON
"Our approach to this season has been to consider every game as a playoff game. By doing that, you put yourselves in a position with talented players to play home baseball at this time of the year. The other phase of it is, you don't have to change anything when you get to this point. If there is a team that deserves to play with a lot of confidence based on what they've accomplished, our team deserves that. They have respected the process to get here, they know what it looks like, and I trust them a lot."
ABOUT THE TIGERS
· LSU enters the NCAA Regional with a 43-15 record, its best mark through 58 games since the 2015 Tigers were 48-10 … the Tigers were 1-2 in last week's SEC Tournament in Hoover, Ala. … LSU was the No. 3 SEC Tournament seed, its highest since the 2017 Tigers were the No. 1 seed in the event.
· The Tigers completed the 2023 regular season 42-13 overall and 19-10 in conference play … LSU recorded its most SEC regular-season wins since the 2017 club won 21 SEC games, and the Tigers posted their most overall regular-season wins since the 2015 squad ended the regular season with 46 victories.
· The Tigers, the SEC's No. 4 seed last season, have finished in the Top 4 in the overall SEC standings in back-to-back seasons for the first time since 2014 and 2015 … LSU's second-place finish in the SEC Western Division this season is its best since the Tigers won the Western Division in 2017.
· LSU has reached the 40-win mark in back-to-back years for the first time since the 2016 and 2017 seasons … LSU finished 40-22 in 2022.
· LSU enters the NCAA Tournament at or near the top of several NCAA statistical categories … the Tigers are No. 1 in the nation in shutouts pitched (9); No. 2 in on-base percentage (.438); No. 3 in strikeouts pitched per nine innings (11.6); No. 4 in home runs (117); No. 4 in runs scored (540); No. 4 in hit-by-pitch (121); No. 4 in scoring average (9.3 runs per game); No. 5 in slugging percentage (.559); No. 8 in walks received (344); and No. 8 in hits allowed per nine innings (7.64).
· LSU centerfielder Dylan Crews is No. 2 in the nation in on-base percentage (.567); No. 2 in runs scored (82); No. 7 in batting average (.420) and No. 10 in walks (58) … third baseman Tommy White is No. 2 in the nation in RBI per game (1.72), and he is No. 3 in the nation in total RBI (91).
· LSU right-hander Paul Skenes is No. 1 in the nation in strikeouts (167), strikeouts per nine innings (16.64); and WHIP (0.79) … Skenes is No. 3 in strikeout-to-walk ratio (9.82), No. 4 in ERA (1.89) and No. 6 in hits allowed per nine innings (5.38) … LSU second baseman Gavin Dugas is No. 4 in the nation in hit-by-pitch (26).
· Paul Skenes was named the 2023 National Player of the Year on Thursday by Collegiate Baseball newspaper, and Skenes, Dylan Crews and Tommy White were each named to Collegiate Baseball's 2023 First-Team All-America squad.
· LSU is No. 1 in the Southeastern Conference in nine offensive categories – batting average (.311), slugging percentage (.559), on-base percentage (.438), runs (540), hits (604), RBI (494), total bases (1,087), hit-by-pitch (121) and sacrifice flies (34) … LSU is No. 2 in the SEC in home runs (117) and plate appearances (2,458).
ABOUT THE GREEN WAVE
· Tulane, the No. 7 seed in the American Athletic Conference Tournament, won the tournament last weekend to earn the AAC automatic bid to the NCAA Tournament.
· Tulane is hitting .250 as a team with 81 home runs and 62 steals in 85 attempts … the Green Wave pitching staff has a 7.00 cumulative ERA, and Tulane has recorded 531 strikeouts in 503.2 innings.
· Outfielder Teo Banks, the Most Valuable Player of last week's AAC Tournament, is batting .303 on the year with 11 doubles, one triple, 18 homers and 51 RBI … catcher Brennan Lambert has collected nine homers and 50 RBI … OF/INF Simon Baumgardt is second on the team with 13 homers.