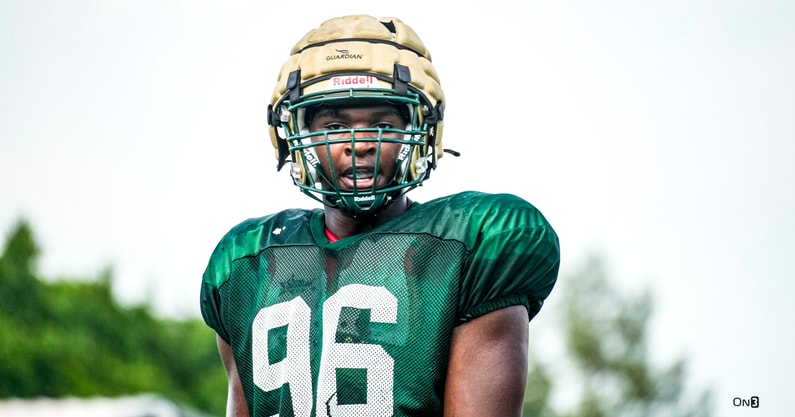 The state's top-rated player will have LSU as part of his final group of schools going into a series of official visits this month.
Acadiana High's mammoth 6-foot-7, 280-pound defensive tackle Dominick McKinley, a five-star prospect by 247Sports, reduced a list of 30 schools that extended scholarship offers to a list of six finalists that include LSU, Oklahoma, Texas, Texas A&M, Ohio State and Georgia.
"He's a freak," Acadiana High defensive coordinator Kyle Seibold, who is entering his 12th season at the school and ninth as defensive coordinator. "(There's) No getting around it. What you see at the NFL Combine, the top offensive and defensive linemen in the country, he's got that type of athleticism and skill. There's a reason he's a five star because dudes like him don't come around very often. I've never been around anybody close. He's the only guy I've coached and thought, 'That's what NFL dudes look like. That's what five-star players look like'."
McKinley is rated among the nation's top 30 prospects by On3Sports, 247Sports and ESPN, getting a No. 20 nod from On3. ESPN ranks him the nation's No. 3 defensive tackle with On3, 247 and ESPN all in agreement he's the state's top player in the Class of 2024.
"He was unblockable this spring," Seibold said of McKinley, who recently accepted an invitation to play in the 2024 Under Armour All-American Game. "Our offense couldn't block him; they couldn't move him. They couldn't do anything to handle him."
McKinley told On3 he's planned three official in June, beginning this weekend with Ohio State (2-4). He'll continue with Oklahoma (9-11) and Texas A&M (16-18) and has also identified LSU and Georgia among his favorites and will wait until the fall to schedule an official visit to Baton Rouge.
"He's already been there a couple of times," Seibold said of LSU. "Everything over there is familiar with him because of proximity and because of LT (former Acadiana standout cornerback LaTerrance Welch) has had plenty of conversations with him, too."
With commitments from four of the state's top six players, LSU's continued to make McKinley a priority. That's included the Tigers introducing new defensive line coach Jimmy Lindsey, who's taken over the staff's recruitment of McKinley, for departed line coach Jamar Cain.
"They text me and call me, and (Monday) we were on the phone talking ball," McKinley told On3 of a conversation he had with LSU coaches. "When he (Lindsey) was at South Carolina, he was on me pretty hard. Now that he's closer, he wanted to see me as soon as he got here."
McKinley became a full-time starter in 2022 and earned first team All-District 3-5A honors and Class 5A All-State honorable mention status with 90 tackles, 18 tackles for loss, 12 sacks and returned a pair of interceptions for touchdowns. Adding to his allure amongst recruiters is a player that's been hand-timed at 4.75 seconds in the 40-yard dash, has power cleaned more than 400 pounds with a 36-inch vertical jump.
"He's a well-rounded player," Seibold said. "He's got intangibles. He's incredibly smart. He has a great feel for the game, and you add the physicality, the measurable attributes he has and it's really remarkable. His ceiling … I can't put a mark on how high it is. I think it's a sky's-the-limit type thing. I'd be shocked if there's not a time when he's playing on Sundays."
NOTE: Dominick's not the only prominent McKinley on the team at Acadiana. Rising sophomore Darryus McKinley, his younger brother, is a 6-3, 225-pound defensive end moving into his first season on the Wrecking Rams' varsity team. He's already garnered scholarships from Colorado, Oklahoma, Miami, Tennessee, Texas and Texas A&M.