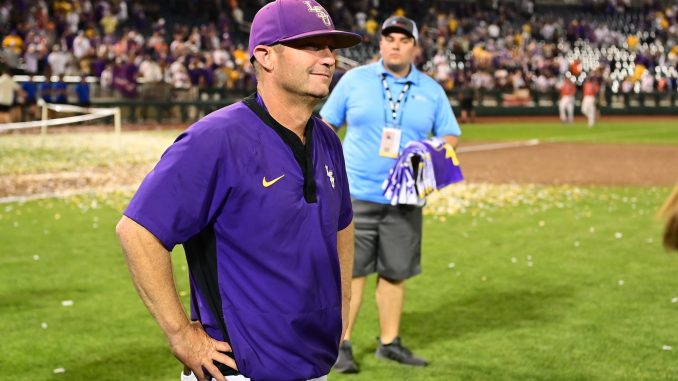 Fresh off winning his first-ever national championship, LSU baseball coach Jay Johnson found himself on Thursday, a few days before Sunday's MLB draft, looking froward to it with as much anticipation as a kid at Christmas.
You can't blame Johnson.
Not only does the second-year LSU coach believe his program is primed to make Major League Baseball history Sunday, but in many ways, what transpires beginning Sunday when the draft begins and lasting through the remaining rounds of the draft through Tuesday will have profound implications on his baseball program for several years to come, he said.
Johnson is convinced 2023 LSU stars center fielder Dylan Crews and ace pitcher Paul Skenes will, in fact, be picked No. 1 and No. 2. He's not sure whether it will Crews then Skenes or Skenes then Crews, only that it is going to happen, and that it would be the first time in history one college team had the top two draft choices.
"I believe they will go one and two," he said. "I absolutely do. And, deservedly so, because they were clearly the two best players in the nation. I don't know right now which one will go first and which one will go second, but they deserve to be the top two picks in whatever order they go in and I think we'll see that happen."
In fact, Johnson is not the only one who is confident Crews and Skenes will go off the board first. Most experts do.
Regardless of the factors that go into it, economics and otherwise, The Pittsburgh Pirates have the top overall pick, followed by the Washington Nationals, Detroit Tigers, Texas Rangers, and Minnesota Twins to round out the top five.
Crews, Skenes, and Florida's Wyatt Langford are the top three college prospects and then there are two high school outfielders who are considered can't-miss prospects that round out the consensus top five expected picks: Maxwell Clark of Franklin Community High School in Indiana and Walker Jenkins of South Brunswick High School in North Carolina.
Draft Kings posted the odds on the draft order:
Paul Skenes, LSU: -225
Maxwell Clark, Franklin (Ind.) Community High School: +2000
Wyatt Langford, Florida: +2500
Walker Jenkins, South Brunswick (N.C.) High School: +9000
Crews, the winner of the Golden Spikes Award which is given to the best player in college baseball, was the preseason consensus No. 1 draft pick. He did nothing during the season to lower that projection one iota, having one of the best college seasons ever for any position player in the history of the sport. If anything, according to most MLB scouts, Crews improved his standing and is viewed as a can't-miss No. 1 draft choice, "as sure a pick as any since Bryce Harper," said one scout. The Nationals selected Harper as the first overall pick in the 2010 MLB draft. He made his MLB debut with the Nationals two years later in 2012, when he was 19 years old.
But Skenes, who was named the MVP of the College World Series, had a historic season pitching in his first season with the Tigers.
Skenes captured the fancy of virtually every person associated with the game at any level, and is critically acclaimed as the best college pitcher, if not ever, certainly since Stephen Strasburg. Strasburg was drafted in 2009 by the Nationals out of San Diego State. Kyle Petersen, an ESPN analyst, said during the College World Series, Skenes "is the best college pitcher I've ever seen."
But make no mistake about it, this year's draft, and the immediate impact it has on LSU's roster, will affect the Tigers for years to come, Johnson said.
That's because even though the order Skenes and Crews are drafted in remains a mystery until it happens, there is no mystery that both have played their final game in an LSU uniform.
How many other LSU players, as well as high school commitments Johnson has recruited, will be drafted remains uncertain.
"It's looking like we will have eight or nine, maybe 10 or 11, current players picked," Johnson said, "depending on the how the shortened draft goes."
Major League Baseball reduced its draft from 40 to 20 rounds in 2021. It remained that way in 2022 and it was ratified by the Collective Bargaining Agreement in '22 to remain at 20 moving forward during that year.
Johnson also said he expects LSU will lose "two of our top recruits to the first round of the draft."
According to Perfect Game, LSU has the No. 12 recruiting class in the nation entering this year's draft. But because of the draft, not all of the Tigers' commitments will be on campus this fall.
Catcher Blake Mitchell is the least likely among them to make it to campus.
ESPN's Kiley McDaniel projects that Mitchell will be the No. 8 overall pick and MLB.com lists him as its No. 13 overall prospect.
Other players in MLB.com's top-200 draft prospects list include left-handed pitcher Cameron Johnson of IMG Academy, left-handed pitcher Jake Brown of Sulphur High and shortstop Steven Milam of Albuquerque, New Mexico.
The rest of LSU's recruiting class includes outfielder Ashton Larson, left-handed pitcher Kade Anderson, third baseman Trenton Lape, shortstop MJ Seo, outfielder Derrick Mitchell, shortstop Austen Roellig, shortstop Ryan Kucherak, shortstop Dylan Thompson, outfielder Griffin Cooley and outfielder Dallas Dale II.
"We will find out quite a bit over the next few days about who is actually coming back and who is going to be coming to campus for the first time," Johnson said, "but we are working very actively in the transfer portal and with our recruits with the focus on getting back to Omaha next season, back to the national championship.
"We've got a strong nucleus of solid players with Tommy White, Paxton Kling, Jared Jones, Brady Neal, Josh Pearson and Ethan Frey coming back to build around," Johnson said. "I think we have a pitcher that will probably be returning, and then, like I said, we are working hard in the portal and I think Tiger fans will be very pleased with the results they see from that over the next few weeks. But, make no mistake, this draft is going to impact our program for the next few years to come, that's for sure."