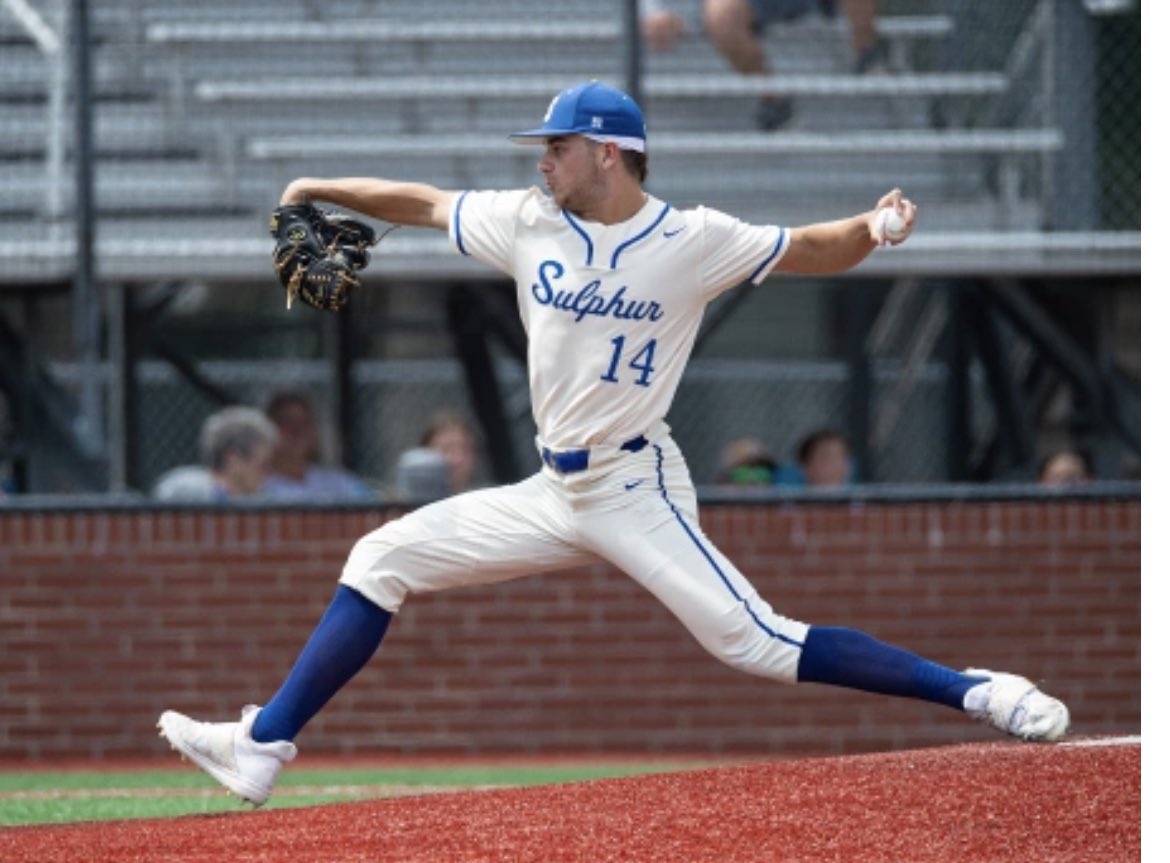 After pitching for the U.S. national U18 team last summer, Sulphur's Jake Brown has been regarded among the nation's top pitchers.
So, it was logical to see that Brown – a 6-foot-2, 185-pound left-hander – was selected the top player in his own state when Gatorade announced he was Louisiana's Player of the Year on Friday.
Brown signed with LSU in November. He joins a list of award winners from the state, including two straight, to sign with the Tigers after Barbe's Gavin Guidry earned such distinction in 2022. LSU also signed Brody Drost (has since transferred to Louisiana Tech) of Barbe and Cade Doughty of Denham Springs in recent years.
Brown is now a finalist for Gatorade's national Player of the Year award that will be announced later this month. He was a third team selection to the Rawlings/Perfect Game All-America team this season and won a gold medal at the World Baseball Confederation World Cup last summer.
The award also takes into account Brown's prowess in the classroom where he maintains a 3.96 grade point average and his model character off the field. He's been a volunteer in the Lake Charles area on the behalf of hurricane relief efforts, fundraisers for breast cancer awareness and the promotion of sports programs for disabled children.
Brown raised $608 to the non-profit Awesome Association – Athletes With Exceptionalities Association – where he donated money for every strikeout and home run this season.
"Jake Brown is the best two-way player in Louisiana and the two-time MVP in the toughest district in the state," Southside baseball coach Andre Boudreau of Brown, also a center fielder. "He has the ability to affect the game in multiple ways."
Sulphur (33-5) reached the semifinal of the Division I non-select bracket and lost 5-1 to eventual champion Barbe. Brown (10-2) who struck out eight in the semifinal game, helped the Tors to a No. 16 national ranking by MaxPreps.com with a 1.71 earned run average, struck out 118 batters and allowed 39 hits in 73.2 innings.
He also batted .336 with seven homers, 26 RBIs and stole 20 bases.
Two other LSU signees earned similar distinction in their home states with catcher Blake Mitchell of Sinton, Texas and infielder Steven Milam of Las Cruces, New Mexico receiving the honor on Friday.
Mitchell is a repeat winner of the award after the 6-2, 205-pounder led Sinton to a 35-2 record and Class 4A regional final. The former member of the U.S. national U18 team, Mitchell batted .471 with six homers, 35 RBIs. a 692 on-base percentage, 47 runs scored and 35 stolen bases.
The 5-7, 165-pound Milam helped Centennial High (26-5) to an appearance in the state's Class 5A final and was named the state's Class 5A Player of the Year. He batted .627 with an astounding 1.313 slugging and .742 on-base percentage with seven homers, 50 RBIs, 65 runs scored, 42 walks and 21 stolen bases.
Milam, who was 1-0 with 23 strikeouts in 13.2 innings, struck out just eight times at the plate.