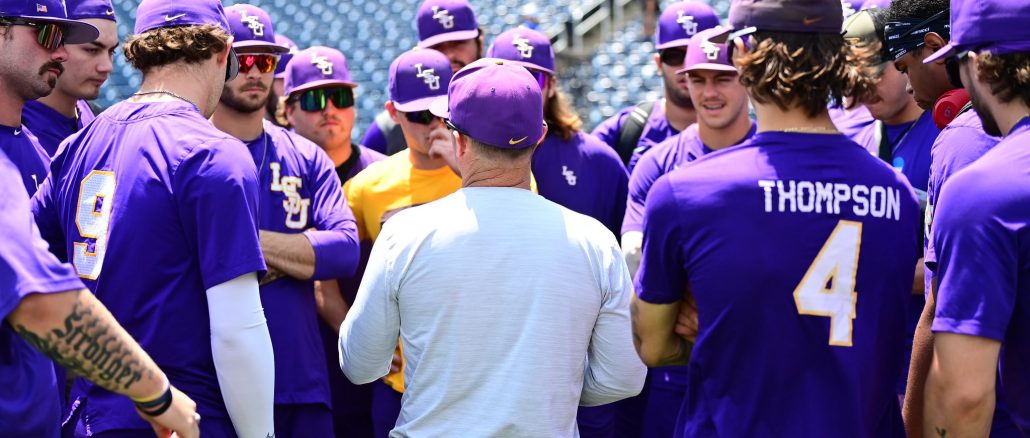 ---
No. 2 seed Florida vs. No. 5 seed LSU in Omaha – for all the marbles.
Two Southeastern Conference college baseball heavyweights. One blue blood.
Traditional rivals who have some similarities, and who are very familiar with each other, even though they have not played each other during in 2023.
A rematch of the 2017 CWS Championship, which Florida won 2-0.
Are you ready?
LSU coach Jay Johnson said Friday, less than 24 hours after the Tigers won their fourth game in four days and their second straight over No. 1 seed over Wake Forest in as many days, that his Tigers are ready.
Conversely, Florida won three straight to win its bracket.
Johnson said he is not the least bit surprised to see Florida in the championship series.
"I say this all the time. In baseball it's very unique. It's different than basketball and football. I think talent wins out in basketball and football more often. In baseball, it's not always the team with the best players, it's the team that plays the best that day," Johnson said.
"And as hard as it may seem to get anybody's head around, it's about tomorrow. Tomorrow's the only thing that matters tomorrow. And there's advantages to both. Maybe you talk about rhythm. You talk about routine. You talk about confidence.
"Both teams will play with a ton of confidence as they should with the rosters. And I think it's awesome. When you look at selection day, and I'm a very stay-in-the-moment type guy, my Baton Rouge media friends will tell you. But you look at the bracket and you look on the other side, it's like, yeah, this is not a surprise to me who we're playing," he said.
Florida coach Kevin O'Sullivan said the Gators are thrilled to be facing off with LSU, but he disagreed it's been an easy road to the finals for them.
"We're awfully excited to be in this position. Last night's game between LSU and Wake was an incredible game to watch from a fan's perspective. We're excited that we have an opportunity to play here," O'Sullivan said.
"This has not been an easy road for us. Obviously getting to the SEC schedule was not easy. Going through the losers' bracket in the Regionals, playing South Carolina in the Supers was very difficult. Three one-run games out here, and now the season is going to end with two SEC teams playing against each other. And we didn't have an opportunity to play with each other. It should be a lot of fun."
A little history is in order here.
Dating back to 2009, an SEC team has won the College World Series in eight of those 12 tournaments. That, of course, will become nine of 13 with either Florida or LSU claiming the title by Monday night, weather permitting.
Six different SEC schools, including LSU and Florida, have won those championships.
The SEC has been even more dominant in recent years. The 2023 champion will be the fifth SEC team to prevail in the last six NCAA baseball tournaments. Only Oregon State's title in 2018 and the COVID-19 pandemic in 2020 disrupted the SEC's dominance.
Florida, despite what O'Sullivan said is, at least, relatively well-rested after winning its bracket in three games. The Gators spent Thursday night resting and watched the Tigers have to fight their way into the championship series.
It took LSU five games to get to this point.
Florida has its pitching rotation where it wants it. Either starter Brandon Sproat or Hurston Waldrep are ready to go in the Saturday's opener. That will be important against LSU's powerful offense which ranks among the national leaders in scoring, home runs and one-base percentage and has all season long.
Florida has experienced a power surge thus far in Omaha where the Gators have hit seven home runs in their three games. The fact that all three of their previous games were one-run games basically rules out offensive complacency for the Gators, at least collectively.
Top players: 1B/LHP Jac Caglianone (.336, 31 HR, 84 RBI, 7-3, 3.78 ERA); OF Wyatt Langford (.378, 18 HR, 48 RBI), SS Josh Rivera (.362, 17 HR, 68 RBI); RHP Hurston Waldrep (9-3, 4.15 ERA, 93.1 IP, 142 K).
LSU had to go through the loser's bracket in Omaha after a loss to Wake Forest in its second game. Simple math here again. LSU had to play five games to Florida's three. Advantage Florida, at least on the surface.
Johnson has told anyone, and everyone who would listen, there's more to LSU's pitching staff than superstar Paul Skenes. So far, the Tigers' other pitchers, particularly the relievers, have backed Johnson up.
Skenes threw 120 pitches over eight scoreless innings Thursday in that 'Instant Classic' against Wake Forest, making him likely only available for spot duty during the weekend or possibly a start on three-days rest if the series reaches a third game.
Ty Floyd seems to be the obvious choice to start the first game, but he will need to pitch a solid game to protect a bullpen that has experienced heavy usage in five games over seven days.
Having Friday off was obviously a good thing for LSU, Johnson said.
"Yeah, I'm way okay with having a day off today," he said. "That's going to work out well for us.
"I have faith in a lot of the guys. We have 12 (pitchers) on the active roster, for this thing. And they've all pitched in games that we've won this year and games that we've had success.
"And I think there's a pathway for them, if they execute, to be successful," he said. "And it really doesn't matter what I think or feel about it; we are where we are. We earned our way here the way that we did. And so now we have to go with how we're set up," he said.
Top players: CF Dylan Crews (.423, 18 HR, 69 RBI); 3B Tommy White (.370, 23 HR, 100 RBI), RHP Paul Skenes (13-2, 1.69 ERA, 122 2/3 IP, 208 K); RHP Ty Floyd (7-0, 4.45 ERA, 83 IP, 103 K).
Championship series schedule
Best two-of-three
Saturday, June 24
Game 1 – Florida vs. LSU – 6 p.m., Central., ESPN
Sunday, June 25
Game 2 – Florida vs. LSU, 2 p.m., Central, ESPN
Monday, June 26
Game 3 -Florida vs. LSU, if necessary, 7 p.m., ESPN
FAST FACTS: Florida is the No. 2 seed in the 2023 NCAA Tournament, and is currently sitting at 53-15 overall this season, a record that also included a 20-10 mark in SEC play, good enough to be named the conference's co-regular season champions. … The Gators have also won eight consecutive games dating back to June 4, and have yet to lose a game so far in Omaha, defeating each of Virginia, Oral Roberts, and TCU by one run. … Offensively, Florida owns a .291 batting average, and are led by one of the nation's top two-way players in Jac Caglianone, who owns a .325 average with 31 HR and 84 RBI, as well as a 3.68 ERA and 85:52 K:BB ratio on the mound. … In addition to Caglianone, the Gators also have three other .300+ hitters in top MLB Draft prospect – Wyatt Langford, Josh Rivera, and Luke Heyman, as well as two others that are prominent names with 15+ HR each in BT Riopelle and Cade Kurland. … On the Florida pitching staff, which owns a combined 4.48 ERA this season, Caglianone is joined by two of the SEC's top right-handers in Sproat and Waldrep to make up the Florida rotation, both of which have 120+ strikeouts. … Florida's bullpen is also anchored by one of the nation's top relievers in right-hander Brandon Neely, who owns a 3.66 ERA with 13 saves and a 68:19 K:BB ratio, while others including Cade Fisher, Ryan Slater, and Philip Abner are key names who each own an ERA under 4.00. … LSU, the No. 5, enter the weekend at 52-16 overall for the season, a record that also included a 19-10 mark in SEC play. The Tigers have gone 4-1 so far during the 2023 College World Series. They have defeated both Tennessee and Wake Forest twice, along with falling to the top-seeded Demon Deacons once. … Offensively, LSU is batting .307, and is led by the 2023 SEC Player of the Year in center fielder and likely top overall MLB Draft pick Dylan Crews (.423, 18 HR, 69 RBI, 6 SBs). … LSU also has one of the nation's top run producers in Tommy White (.370, 23 HR, 100 RBI) along with Cade Beloso, Tre' Morgan, Jared Jones, and Hayden Travinski own a .300+ AVG, with Brayden Jobert, Gavin Dugas, and Jordan Thompson also having 10+ home runs each. … LSU's pitching staff has a 4.30 ERA, led by the 2023 SEC Pitcher of the Year in Skenes (13-2, 1.69 ERA, 209:20 K:BB ratio in 122.2 innings. … In addition to Skenes, the duo of Floyd and likely Thatcher Hurd or Nate Ackenhausen are also in LSU's starting rotation, while the Tigers bullpen features Riley Cooper, Griffin Herring, Gavin Guidry and Blake Money.
2023 NCAA Men's College World Series – Championship Series
No. 5 National Seed LSU Tigers (52-16) vs. No. 2 National Seed Florida Gators (53-15)
DATES/TIMES
Saturday, June 24 @ 6 p.m. CT (ESPN)
Sunday, June 25 @ 2 p.m. CT (ESPN)
Monday, June 26 @ 6 p.m. CT (ESPN – if necessary)
STADIUM
Charles Schwab Field (24,000)
RANKINGS
LSU – No. 5 NCAA National Seed
UF – No. 2 NCAA National Seed
RADIO
· LSU Sports Radio Network affiliates, including 98.1 FM in Baton Rouge
· Live audio at www.LSUsports.net/live
TV/ONLINE
The games will be televised on ESPN and streamed on ESPN +
LSU SERIES RECORD VS. FLORIDA
• LSU leads the all-time series versus Florida, 66-52-1, as the series began in 1971 … this weekend's CWS championship series marks the first meeting between the teams since March 25-27, 2022, when the Tigers won two of three games over the Gators in Gainesville, Fla. …. Florida holds a 9-7 lead in the 16 meetings between the teams since 2016 … LSU holds a 4-2 advantage over Florida in College World Series games – the Tigers won two CWS games over the Gators in both 1991 and in 1996 en route to national championships … LSU and Florida met in the 2017 College World Series Championship Series in which UF posted two straight wins over LSU to claim the national championship.
LSU IN THE NCAA TOURNAMENT
• LSU is in the NCAA Tournament for the 11th straight season and for the 35th time overall …. LSU has six national championships (1991, 1993, 1996, 1997, 2000, 2009), the second-most in NCAA history … the Tigers were an NCAA Tournament Top 8 National Seed for an NCAA-record six straight seasons (2012-17) … LSU is a Top 8 National Seed this season (No. 5) for the first time since the 2017 Tigers were the No. 4 National Seed … LSU has the second-highest all-time NCAA Tournament winning percentage (.708, 172-71).
• LSU is participating in its 19th College World Series, and its first since 2017, when the Tigers finished as the national runners-up to Florida … LSU is 44-28 (.611) all-time in CWS games, including a 7-3 mark in CWS championship games/series … the Tigers' 2023 CWS championship series berth is the eighth championship game/series appearance in school history … LSU won CWS championship games over Wichita State in 1991, Wichita State in 1993, Miami (Fla.) in 1996, Alabama in 1997 and Stanford in 2000, and the Tigers won the 2009 CWS championship series over Texas, two games to one … LSU lost the 2017 CWS championship series to Florida, two games to none.
• LSU opened its 2023 CWS appearance with a 6-3 win over Tennessee last Saturday… right-hander Paul Skenes limited the Volunteers to two runs on five hits in 7.2 innings with one walk and 12 strikeouts … Skenes fired the second-highest total of strikeouts by an LSU pitcher in an CWS game, second only to Brett Laxton's 16 strikeouts versus Wichita State in the 1993 CWS National Championship Game.
• The Tigers dropped a 3-2 decision to Wake Forest on Monday night, but then posted three straight wins over Tennessee and Wake Forest (twice) to reach the CWS Finals vs. Florida … LSU has won three straight elimination games to advance to the Finals in its last two CWS appearances; the Tigers also accomplished the feat in 2017, when they also met Florida in the championship series.
• LSU third baseman Tommy White's two-run homer to defeat Wake Forest Thursday night marked the fifth walk-off hit in LSU's College World Series history … the others were Todd Walker's single in a 1993 semifinal win over Long Beach State; Warren Morris' homer in the 1996 national championship game vs. Miami; Brad Cresse's single in the 2000 national championship game vs. Stanford; and Blake Dean's double in a 2008 elimination game vs. Rice.
• LSU's 2-0 shutout of Wake Forest Thursday night was the Tigers' second shutout in their past three games in Omaha, and the third in LSU's CWS history … LSU blanked Tennessee, 5-0, on Tuesday night, and the Tigers shut out Wichita State, 8-0, in the 1993 national championship game.
QUOTING LSU COACH JAY JOHNSON
"I'm obviously excited to be here as a college baseball coach. This is where you want to be this time of year. Very proud of the team, especially coming through the losers' bracket after a tough loss Monday night to, again, one of the best teams that I've seen in recent times, in Wake Forest, particularly on the pitching side of things. We've had a really good week that we put together to get back to this point. And now it's about moving forward. We wanted the players to feel good about what they accomplished. And something we've talked about all year is mastering moving forward, moving on to the next step, whether that's through success or adversity. They've shown a lot of maturity in doing that throughout the year, and I expect us to do that moving into tomorrow night."
ABOUT THE TIGERS
· LSU enters Monday's game with a 52-16 record, its best mark through 68 games since the 2013 Tigers were 57-11… the Tigers this season have recorded their 14th 50-win season and their first since the 2017 club finished 52-20.
· The Tigers won the NCAA Baton Rouge Super Regional with 14-0 and 8-3 victories over Kentucky … LSU won the NCAA Baton Rouge Regional with consecutive victories over Tulane and Oregon State (twice) … the Tigers were 1-2 in the SEC Tournament in Hoover, Ala. … LSU was the No. 3 SEC Tournament seed, its highest since the 2017 Tigers were the No. 1 seed in the event.
· The Tigers completed the 2023 regular season 42-13 overall and 19-10 in conference play … LSU recorded its most SEC regular-season wins since the 2017 club won 21 SEC games, and the Tigers posted their most overall regular-season wins since the 2015 squad ended the regular season with 46 victories.
· LSU enters the CWS Championship Series at or near the top of several NCAA statistical categories … the Tigers are No. 1 in the nation in shutouts pitched (12); No. 1 in runs scored (608); No. 2 in home runs (138); No. 2 in hit-by-pitch (135); No. 3 in walks received (389); No. 3 in strikeouts pitched per nine innings (11.6); No. 4 in on-base percentage (.430); No. 5 in slugging percentage (.556); No. 5 in hits allowed per nine innings (7.53); and
No. 8 in scoring average (8.9 runs per game).
· The LSU pitching staff has established the school single-season record for strikeouts with 755; the previous school mark was 682 set in 1997 … LSU has 138 home runs this season, the third-highest total in school history … LSU hit an NCAA-record 188 homers in 1997 and 157 homers in 1998.
· LSU centerfielder Dylan Crews is No. 1 in the nation in runs scored (94); No. 2 in on-base percentage (.563); No. 4 in walks (68) and No. 5 in batting average (.423) … third baseman Tommy White is No. 2 in the nation in RBI (100), and he is No. 4 in the nation in RBI per game (1.59)
· LSU right-hander Paul Skenes is No. 1 in the nation in strikeouts (209), strikeouts per nine innings (15.33) and WHIP (0.75), and he is No. 2 in the nation in ERA (1.69) … he is No. 3 in the nation in strikeout-to-walk ratio (10.45), and No. 5 in hits allowed per nine innings (5.28) … LSU second baseman Gavin Dugas is No. 2 in the nation in hit-by-pitch (31).
· Paul Skenes has established the Southeastern Conference single-season record for strikeouts with 209; the previous record of 202 strikeouts was held by Ben McDonald (1989).
ABOUT THE GATORS
· Florida shared the 2023 Southeastern Conference regular-season title with Arkansas … the Gators are 3-0 in the College World Series with one-run victories over Virginia, Oral Roberts and TCU.
· The Gators are batting .291 on the season with 136 homers and 69 steals in 85 attempts … centerfielder Wyatt Langford is hitting .363 with 19 homers and 49 RBI; shortstop Josh Rivera is batting .361 with 19 homers and 71 RBI, and first baseman/DH Jac Caglianone is hitting .325 with 31 homers and 84 RBI.
· Florida's pitching staff has a 4.48 cumulative ERA with 697 strikeouts in 584 innings, and the Gators are allowing a .235 opponents' batting average.