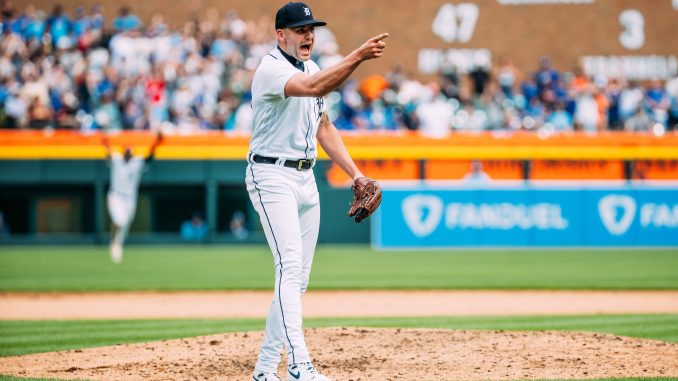 Former LSU pitching standout Alex Lange of the Detroit Tigers had plenty to say after being part of the ninth no-hitter in franchise history.
Lange pitched a perfect ninth inning, getting a groundout for the third out, and helped Detroit to a 2-0 victory Saturday over Toronto in the second game of their three-game series before the MLB All-Star break.
Lange, who picked up his team high 13th save, followed started Matt Manning and reliever Jason Foley in a game that was delayed 1 hour, 22 minutes by rain at Detroit's Comerica Park.
When he was interviewed live by Bally Sports Detroit, an animated Lange dropped an expletive.
He later followed that with, "How about that, Detroit. Thank you for sitting through the rain to cheer for us."
Manning started and pitched 6.2 innings, walked three – the game's only base runners – with five strikeouts. Foley recorded four straight outs and Lange threw nine of 10 pitches for strikes in his 37th game of the year. He struck out Bo Bichette on three pitches and got Brandon Belt to line out to center field.
Lange got ahead of Toronto's Vladimir Guerrero Jr. on a 0-2 count when got Guerrero to bounce a one-hopper that Detroit third baseman Zach McKinstry ranged over and gloved, throwing to first baseman Spencer Torkelson for the final out.
Lange's club-high 13th save ranked him in a tie for 17th in the American League. The former first-round draft choice of the Chicago Cubs in 2017 is 5-2 in his third season with the Tigers. He's got a 4.17 ERA and 47 strikeouts in 36.2 innings.
Detroit's milestone came at the expense of former LSU standout Kevin Gausman of Toronto. He fell to 7-5 on the season, allowing a pair of first inning runs on a double by Torkelson and triple from Kerry Carpenter.