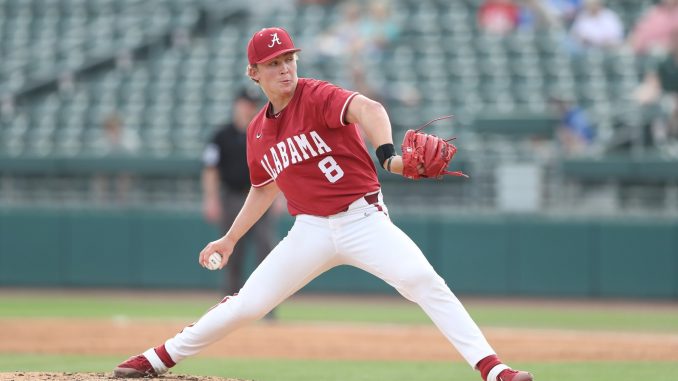 For the second time this transfer portal season, College World Series participant LSU has picked up another relief pitcher after redshirt freshman Kade Woods of Alabama announced his commitment Friday to the Tigers on social media.
The 6-foot-3, 205-pound Woods spent the past two seasons with the Crimson Tide, taking a redshirt in 2022 after dealing with an arm injury.
The graduate of Monroe's Ouachita Christian High means that Woods, whose father Kevin played college baseball at Northwestern State and ULM, is returning to his home state to complete his career.
LSU's also signed left-handed pitcher Justin Loer of Xavier and shortstop/right-handed pitcher Michael Braswell of South Carolina from the transfer portal.
In his one full season at Alabama, which won its own NCAA Regional and was swept in the Super Regional at Wake Forest, Woods led the team's relief corps with 37 strikeouts and was fifth overall on the team. He had a 4-1 record, one save and a 5.52 earned run average in 29 innings.
Woods experienced such highlights as a seven-strikeout performance among the seven batters he faced in a relief effort spanning 2.2 innings for a save against World Series participant Florida on March 17.
He picked up wins over Vanderbilt on May 6 with three strikeouts in a two-inning stint and against Kentucky on March 26, allowing a run on four hits in three innings of work.
Woods was part of two Division IV state baseball championships at Ouachita Christian in 2021 and '19 and a football championship. He was the state's fourth-rated right-handed pitcher and No. 13 overall prospect in Louisiana.
Before his senior season was cut short by an arm injury, Woods had a 1.32 ERA, 55 Ks and nine walks. On the '19 title team, he struck out 41 batters and had a 3.46 ERA.