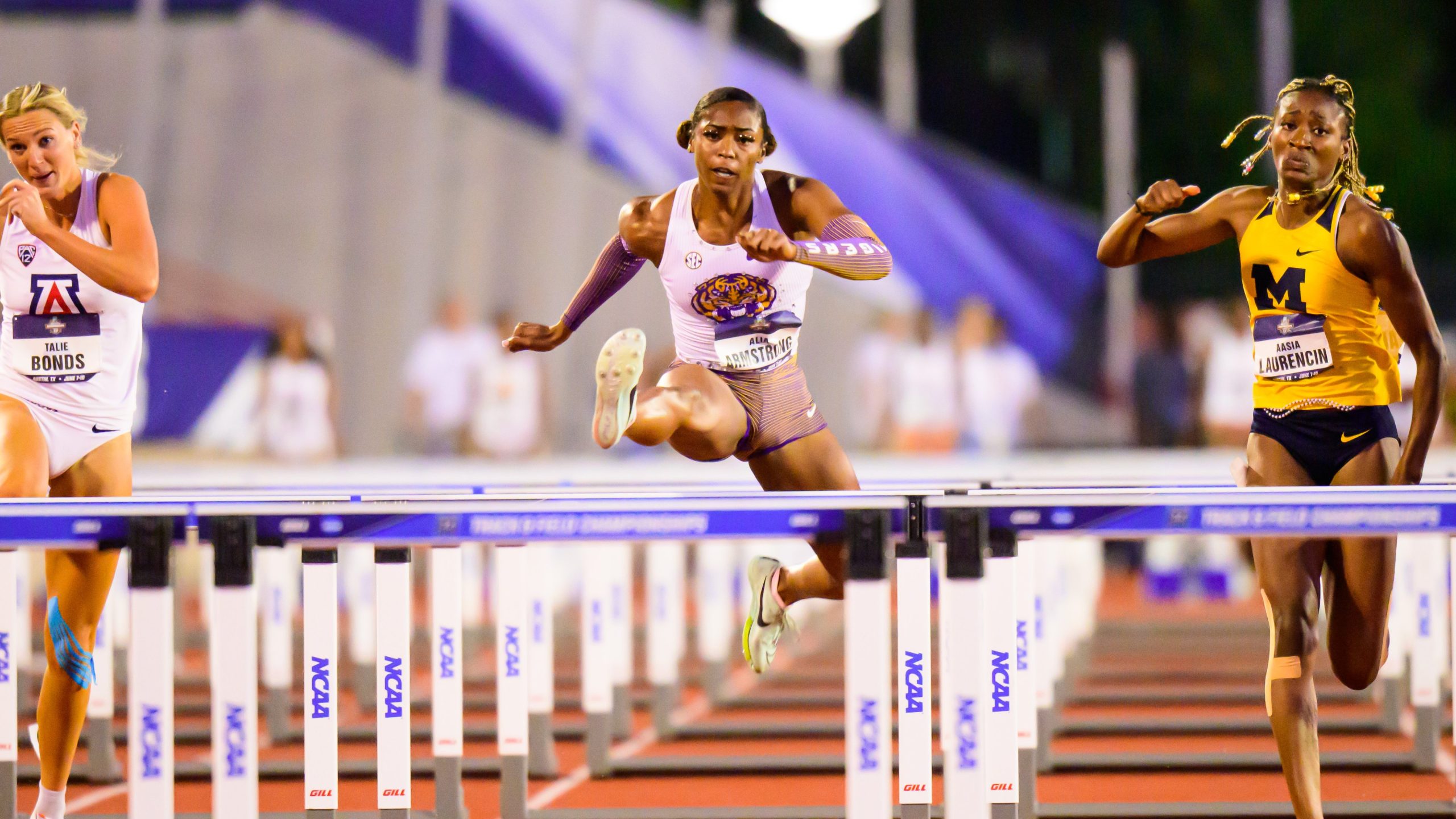 Even in her darkest hour Alia Armstrong has always relied on the comforting words of her mother.
For the second time in a two-week span Armstrong, the favorite to win both the Southeastern Conference and NCAA Indoor Championships in the 60-meter hurdles but didn't finish either race. In each instance, she looked for solace and found her mother, Alicia, a star hurdler in the 1990s at Mississippi State, for a shoulder to cry on and for her words of wisdom.
"My heart was broken," said Armstrong, now a senior. "At the end of the day, I had my mom in my corner. She's always has been. I thought it was over, that I didn't do it and let people down. She told me God said not yet. The timing's not now, this is somebody else's destiny right now. I accepted it and moved on."
Armstrong, who didn't take up the sport until her junior year of high school, rebounded from such adversity to distinguish herself as one of the nation's top hurdlers worthy of inclusion among future United States Olympic medal hopefuls.
When she entered the competition in the 100-meter hurdles at the NCAA Outdoors Championships in Austin, Texas, Armstrong did do as the reigning national champion, but wound up third in the June 10th race after clipping a hurdle midway through the race. The four-time All-American's also been the lead leg on LSU's 4×100 relay team, a two-time SEC champion that finished third in the NCAA meet.
"My goal is to be the best and the greatest of all time in college," Armstrong said. "I need to execute, stay locked into my own lane and focus on what I have to do as an individual and not worry about anybody else. What I have, and the gift that I was given, is only for me."
Armstrong's held the nation's top time in all conditions of 12.31 seconds, established during her race when she repeated as champion of the 100 hurdles during the SEC Championships in May. She's also been a constant this season on the prestigious Bowerman Watch List, symbolic of the nation's top track athlete.
Moreover, she's the No. 1 time in school history in the 60-meter hurdles (7.81) and No. 3 in the 60 meters (7.11).
"Growing up my mom told me that nothing was impossible when you have faith in yourself, and you have faith in God," Armstrong said. "I go into every race knowing that and literally leave my heart and everything on the track. When I step on there, I try my best to execute and run as fast as I can like somebody's trying to chase me and rob me. Just leave your heart on the track and never back down to anybody because I know I can do all things."
The powerfully built 5-foot-5 Armstrong, the state's winner of the 2022 James J. Corbett Award as the state's top female amateur athlete, credits a strong start out of the blocks as a catalyst in her success. She also counts her focus as a driving force along with her ability to accelerate and fend off fierce competition.
She clearly has her sights set on obtaining great things.
Each year, Armstrong's taken a step in that direction, becoming the first athlete from LSU to win the NCAA's 100 hurdles in 22 years last spring, running a time of 12.57 seconds in rain-slicked conditions in Eugene, Oregon. She then turned her attention to the U.S. Track & Field Championships at the same venue, finishing fourth (12.31 seconds) and qualified for the World Championships, also in Eugene, and finished fourth overall (12.51).
"I didn't have a lot of expectations," Armstrong said. "There were a lot of experienced women around me. The goal was to do the best that I could. I felt the best I could do was win. I felt like God put me in that position for a reason.
"Making the worlds team has molded me for this race," Armstrong said of this year's NCAA Outdoor meet. "I've been with a group of women that are just as talented as me if not more talented. I've been in that position where they're going to be running with me. You can't lose focus when someone's next to you. Just run your own race."
When she reached LSU, after official visits to Texas A&M, Oregon, TCU and Houston, Armstrong was still relatively a novice in the sport. She said he didn't begin running track until she was 17 at Katharine Drexel in New Orleans where she became a nine-time state champion (indoor and outdoor) in the 100 and 300-meter hurdles and 4×200 and 4×400 relays.
Armstrong made up for lost time, leaving her hometown as the USATF Junior Olympic national record holder in the 100 hurdles and a two-time New Balance All-American, setting the stage for a decorated collegiate career.
"I felt like Baton Rouge has been a foundation of my success," Armstrong said. "I feel like being here has helped mold me into the athlete that I am. My coaches have been more like parents at the end of the day, and they've always pushed me on and off the track. I really believe coach (Dennis) Shaver can make me the greatest of all time."