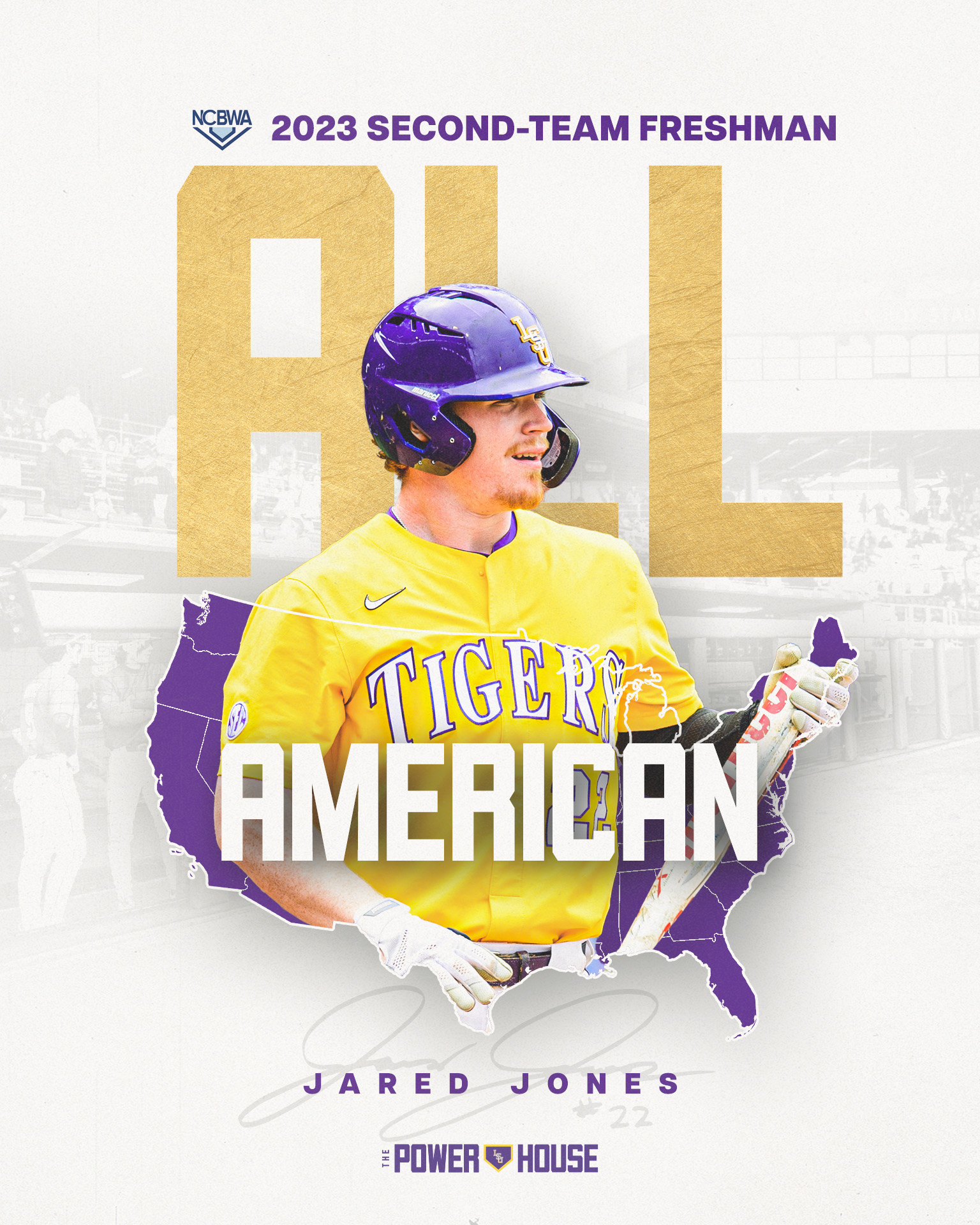 LSU first baseman/designated hitter Jared Jones was named to National Collegiate Baseball Writers Association's second team All-America squad on Tuesday.
Jones, a product of Marietta, Ga., is hitting .304 this season with 12 doubles, 14 homers, 45 RBI and 37 runs scored. He is fourth on the team in homers and fifth in RBI, helping the Tigers reach the College World Series against Tennessee at 6 p.m. Saturday.
Jones was chosen last month to the 2023 All-SEC Freshman team by the league's head coaches.
Among his highlights this season, Jones batted .500 (7-for-14) in a four-game week vs. Tulane (April 11) and Kentucky (April 13-15) with three doubles, two homers, five RBI and six runs. In LSU's SEC series win over Kentucky, he hit .400 (4-for-10) with two homers, five RBI and five runs.
Jones batted .600 (6-for-10) the week of March 28-April 1 with one double, one homer, one RBI and five runs scored. He was 3-for-5 with a double and two runs on April 1 vs. Tennessee
He hit .462 (6-for-13) in the Texas A&M series (March 17-19) with one homer, eight RBI and one run. Jones led the Tigers to the series-clinching victory on March 18 by going 4-for-5 at the plate with a three-run homer and a pair of two-run singles for a total of seven RBI.
Jones was named SEC Co-Freshman of the Week on March 13 after he batted .600 (6-for-10) from March 6-12 with four homers, 11 RBI and five runs. He homered four times in four consecutive plate appearances over the course of the Tigers' games versus Samford.