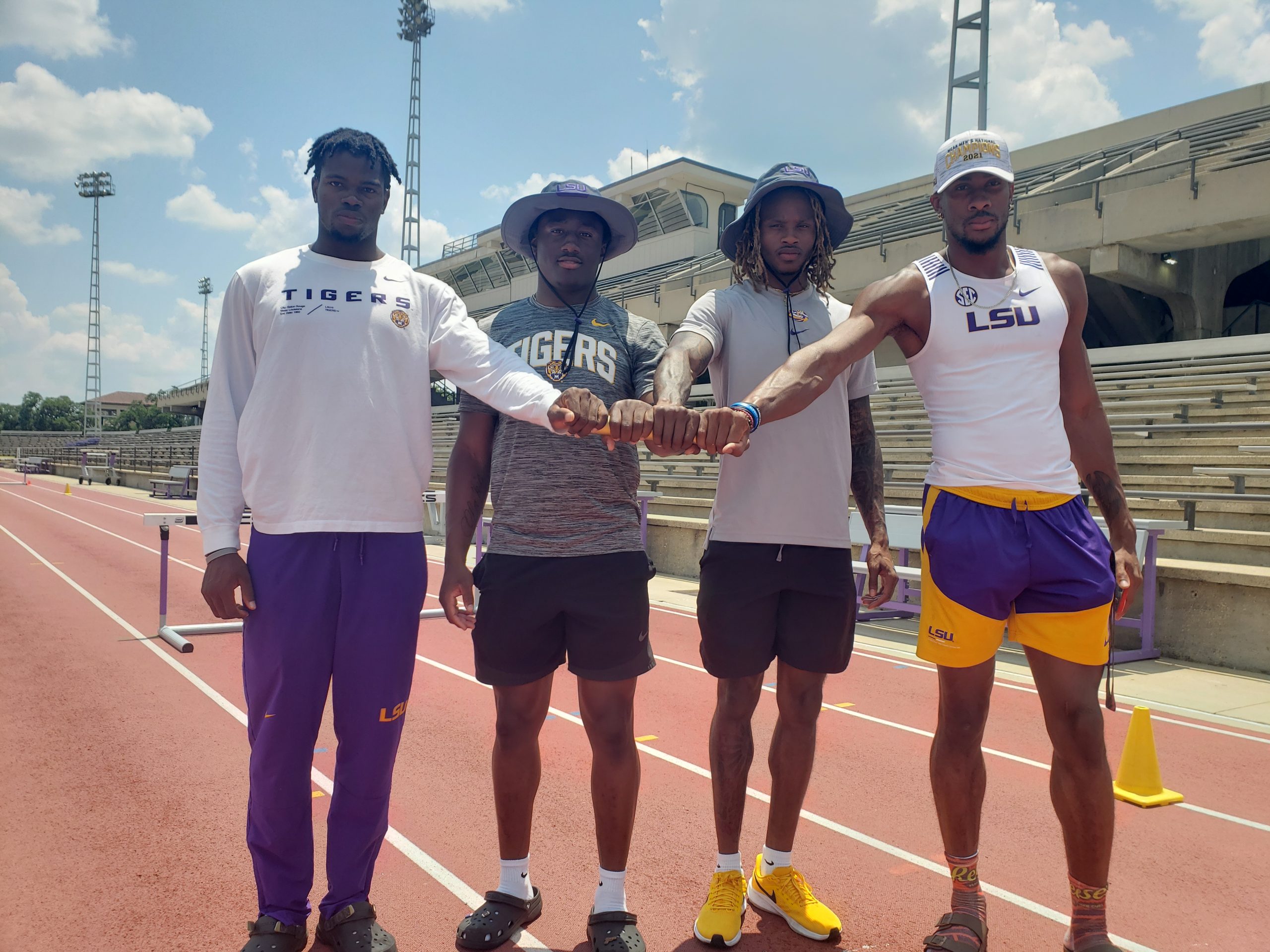 Brandon Hicklin is usually still running with Dorian Camel after the baton's been passed from the first to the second leg of LSU's electric 4×100 relay.
Hicklin's momentum briefly carries him to the infield to watch the team's other two legs – Da'Marcus Fleming and Godson Oghenebrume – execute the third and fourth legs of the race, respectively, until crossing the finish line seemingly in the blink of an eye.
But invariably with the imposing Oghenebrume motoring around the final curve and down the straight-away, it's a good bet Hicklin's en route with Camel and Fleming. They can't wait to reach Oghenebrume where in seven of eight races this outdoor season, they've celebrated victory – including the June 9th national championship when Texas Tech was disqualified for running outside of its exchange zone.
The Tigers' clocking of 38.05 gave the quartet four of the top 10 times in the world and five of the top 10 collegiate times this season.
"I'm still running with him and once he passes, I'm literally in the infield watching," said Hicklin, the only new member of LSU's star-studded 4×100 relay team that's ranked first nationally and second in the world. "I watch and say, 'that handoff was good. Run, run, run'. Then I'll watch the handoff to Godson and say, 'run, run, run.' Once he crosses the finish line, I'm sprinting toward him. He has a lot of pressure on him, but he handles business when he's running."
A double dose of disappointment at last year's Southeastern Conference and NCAA East quarterfinal meets have provided the fuel this year's 4×100 quartet has ridden to the nation's top time of 37.90 seconds, ranking them second in the world. They dropped the baton at SEC Outdoors in 2022 and were disqualified for running out of the exchange zone at regionals to effectively put the brakes on a 4×100 team that felt it had everything needed to win the '22 national championship.
"It was very hard to stomach that someone else was in our place and wearing our medals," said Camel, a graduate of Baton Rouge's Scotlandville Magnet High School.
A season after posting top times and positioning itself among the nation's best 4×100 teams, Fleming didn't mince words what last year's unexpected setbacks had on the unit.
"It took a big toll on us," Fleming said. "We projected ourselves to run fast as we are this year. We had four guys running 10.1 (seconds) or lower. We had the guys to do it. We were inconsistent with the people we had on there, the chemistry wasn't as good. It's brought out that fire in us this year. All of work hard. We're getting it done this year."
Making the pieces fit
Camel was a returning fifth-year senior, Fleming a junior and Oghenebrume a sophomore when they returned for offseason training in the fall with the burning desire to rectify themselves in their signature event after what happened at last year's SEC and NCAA regional meets.
They went about their respective training methods, preparing for the upcoming fall indoor season that only conducts the 4×400 and distance medley relays. Their signature event wouldn't be conducted until the spring of 2023, but they were already wondering which candidate may join them in their pursuit of a national championship.
Amongst Camel, Fleming and Oghenebrume, all of whom have been around coach Dennis Shaver's program for at least a year, the chemistry between them was already undeniable. They understood the mission and the standards that had been set in the program and were eager to find a fourth like-minded member.
"It started out when we were grinding out the hot summers on grass and in hot stadiums," Camel said. "(Assistant) Coach Bennie Brazell has instilled a soldier mentality. There's no giving up or quitting. No soft stuff. We just held each other accountable, held a high standard going into the spring and later in the season."
Fleming was one of those team members that pondered the future during those sweltering, fall training sessions when it became apparent after watching some of the grueling short distance training, built to enhance explosion, that Shaver's suggestion of Hicklin made the most sense.
Not only did Hicklin flash in training but he was second (6.66 seconds) to Oghenebrume (6.58) in the 60-meter dash during the indoor season. Oghenebrume wound up third and Hicklin sixth in the SEC Indoor meet in February.
"We didn't know who were going to have on the 4×100," Fleming said. "He (Hicklin) tried it the first outdoor meet and he got it and that was it. We knew it from there. We got to the Texas Relays finals and knew that we could do it, that we could break the record."
Hicklin, a native of Spartanburg, South Carolina, was several months removed from transferring from North Carolina A&T where he was a two-time All-American long jumper. He placed fifth in the event at last year's NCAA Outdoor meet but was present during the 4×100 relay team's misfortune at regionals.
"When they didn't make it, I was like, 'wow'. It hurt me a lot," Hicklin recalled. "Then coming in, I thought I could be that missing piece. I was honored to even be on the 4×1. With them giving me that chance, I was so thankful to able to contribute to the team other than the field events."
Camel understands how all of the pieces have fit together this year.
"Brandon's a jumper that's extremely good in the 100," Camel said. "He's breaking the stagger at the beginning. I'm the strongest, that's why I run the second leg. If I get it close to first, I'm going to bring it to first. I'm going to eat them up whoever's in front of me like Pac-Man. I'll get them. Da'Marcus is great in the curve and Godson is great at bringing it home. He's a crowd man."
Chemistry off the track equals success on it
Oghenebrume, the lone international runner in the group from Ughelli, Nigeria, said there's a reason why all four runners always appear to be in sync on the track.
"Off the track we're individuals that support each other. We're close," Oghenebrume said. "They're my friends and my brothers on the track. Everything outside of track we try to do everything together like brothers do."
Hicklin credits a genuine love for one another where four guys from three different states and one country have united for one common goal. Their time together off the track has been as instrumental as their repeated handoffs and communication on it.
"All the guys love each other to death," Hicklin said. "We're always joking around, having fun. When it comes to the track, we're on go. We're ready."
Fleming said it's not uncommon to find someone not trying to make another teammate laugh or have a good time. The levity has gone a long way in helping to keep potential tensions associated with competition at a minimum.
"The chemistry's great," said Fleming a native of Miami. "We all come from similar backgrounds, and we've come here to get a burden off our chest. We all have this drive and motivation to work hard and be the best at everything we do. We go hard at practice, full speed like it's race time. That helps us.
"In this event the chemistry has to be A-1," Fleming added. "If not, then your handoffs won't be A-1. You have to have that trust in each other. The chemistry between us is great. We play and joke around. I've been here the longest with Dorian. We've clicked and joked around. We're men. We play around, joke around. The chemistry's very important."
Four guys with speed to burn
LSU hadn't lost to another college team through the regular season and NCAA East Regional preliminaries.
The Tigers kicked off their outdoor season by winning the University of Miami's Hurricane Invitational, holding off Iowa 39.02 to 39.28.
"It's not that much pressure. We're battling with ourselves," Camel said. "We focus on making ourselves better. It's really a race between ourselves."
That began the team's pursuit of greatness, reducing their time to 38.91 in a win at LSU's Battle on the Bayou, to set the stage for a showdown March 31 at the prestigious Texas Relays which annually generates some of the nation's top competition.
What LSU accomplished went beyond imagination with a nation's leading time of 38.53 seconds to win event and establish the No. 2 time in the world behind Team Canada, a team they've defeated in two head-to-head races during the spring.
"I knew we had something special after the Texas Relays," Oghenebrume said. "After fall practice, I saw everybody indoors running the 60 and believed we had a good team. After the Texas Relays, we realized we could achieve something great. Since then, we have wanted to improve. The goal was to win the national championship and break our record."
LSU didn't lose its first race until April 15 in the Tom Jones Memorial hosted by Florida.
The Gainesville Elite Track Club set the pace that day, winning in a time of 38.28 seconds, followed by Florida (38.54), Texas Tech (38.60) and LSU (38.67).
The Tigers responded over the next weeks in preparation for the SEC Outdoor Championship at Bernie Moore with a pair of wins in their own Alumni Gold and LSU Invitational meets, reducing their times since the Tom Jones Invitational.
By winning at the Alumni Gold event, LSU defeated world-leading Athletics Canada (38.36 to 38.73) and shaved a tenth of a second off that time at the LSU Invitational (38.26), going into the SEC Championships which further enhanced the team's credentials.
LSU became the second team in college history to turn in a sub-38 second performance, lowering its own school record to 37.90 seconds to defeat runner-up Florida (37.93). They broke the existing college record set in 1998 by LSU (38.24) and gave the team three of the school's top 10 times in history.
"We broke the collegiate record," Hicklin said "That's just the tip of the iceberg. We're part of history and we can keep going up and up. There's going to be another team that could possibly break our record down the line. You've got to keep pushing to go further and further. The next generation's something else."
Fleming believes the mission of greatness starts and stops with LSU.
"I feel like no matter the conditions we can do it," he said. "No matter who's in the heat with us, we can do it. We've run fast times when there was nobody in the heat but us. We don't need anyone to push us to be where we want to be. As long as we're feeling good and healthy, we can do it."