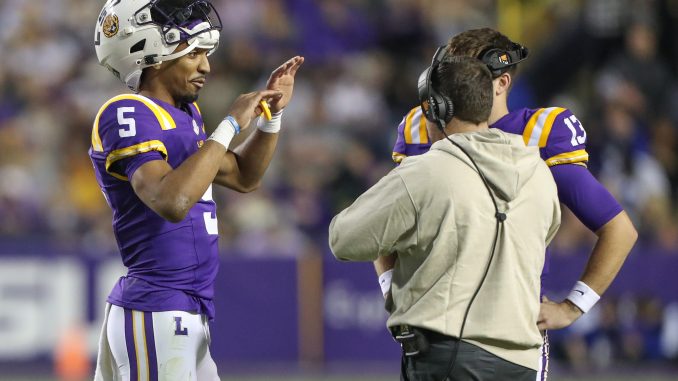 LSU football coach Brian Kelly will always remember this year's senior class very fondly.
He recalled that group – 17 seniors – joining him for his first team meeting when Kelly departed from Notre Dame to take over LSU's program in December of 2021.
They've managed to get a bit accomplished in a relatively short amount of time.
Two years later, LSU has gone 18-7 with a Southeastern Conference Western Division championship and berth in last year's SEC Championship Game. They've also won the Citrus Bowl and are bound once again this season for postseason play.
No. 14 LSU (8-3, 5-2 in SEC) closes out its regular season at home Saturday and will conduct its annual 'Senior Day' before the Tigers kick off at 11 a.m. against Texas A&M (7-4, 4-3) in Tiger Stadium. The game will be televised by ESPN and will be carried locally over 98.1-FM.
"(I'll remember) First meeting with these guys," Kelly said Monday during his weekly news conference. "Their commitment to our process and building a foundation for this football team. There haven't been many opportunities for me to thank them. These are the opportunities you get to thank those guys for building the foundation for the football program."
One member of that group has now surfaced as one of the favorites in the race for this year's Heisman Trophy.
Fifth-year senior quarterback Jayden Daniels has thrust himself into the conversation for the nation's top collegiate player after compiling 509 total yards and equaling the school's record (set by Joe Burrow) with eight touchdowns responsible for. He's become the only player in FBS history to pass for more than 12,000 yards and rush for over 3,000 yards, a milestone he reached the past two years with the Tigers after beginning his career at Arizona State.
Kelly acknowledged that seniors such as running back Josh Williams and wide receiver Kyren Lacy, both of whom are seniors, could return for the 2024 season. He said the staff would do its best to convince junior defensive tackle Mekhi Wingo, who is out for the rest of the season following surgery, to return for an additional year of eligibility.
"He's got a decision relative to whether he thinks coming back for another year is in his best interest," Kelly said of Wingo, a third team All-America selection in 2022. "We're going to give him a lot of data in terms of what we think is in his best interest and let him process through that. We would certainly love to have him back."
Two of the team's top five tacklers are senior safety Andre Sam (65 tackles, 3 interceptions) and linebacker Omar Speights (58 tackles).
"It's been fun watching this team grow," Kelly said. "We've had our ups and downs. It has not been easy. But watching the guys grow and overcome some adversity and some tough times and watching them get better. It's been fun and thankful for that."
NOTES: LSU placed two of the nation's 10 semifinalists for Biletnikoff Award with the selection of Malik Nabers and Brian Thomas Jr. to the list. The Tigers, who produced winners Josh Reed and Ja'Marr Chase, have two of the best in Nabers with 80 catches for 1,424 yards and 12 touchdowns, while Thomas has 55 receptions for 1,021 yards and 14 TDs … Daniels was named the SEC's Co-Offensive Player of the Year for a fifth time following his performance in Saturday's 56-14 victory over Georgia State. Daniels tied the school's record, joining Joe Burrow, with eight touchdowns responsible for – six passing and two rushing. He compiled 509 of his team's 582 total offense in just over three quarters of action. … Second-year offensive coordinator Mike Denbrock was named a semifinalist for the Broyles Award. Five finalists will be selected and then an overall winner named. He's helped engineer on the nation's top offenses that's No. 1 in total offense (562.2), scoring (46.8) and plays of 20-plus yards (95). The Tigers have reached 500-plus yards in offense in nine games, topped two weeks ago by a 701-yard output against Florida.