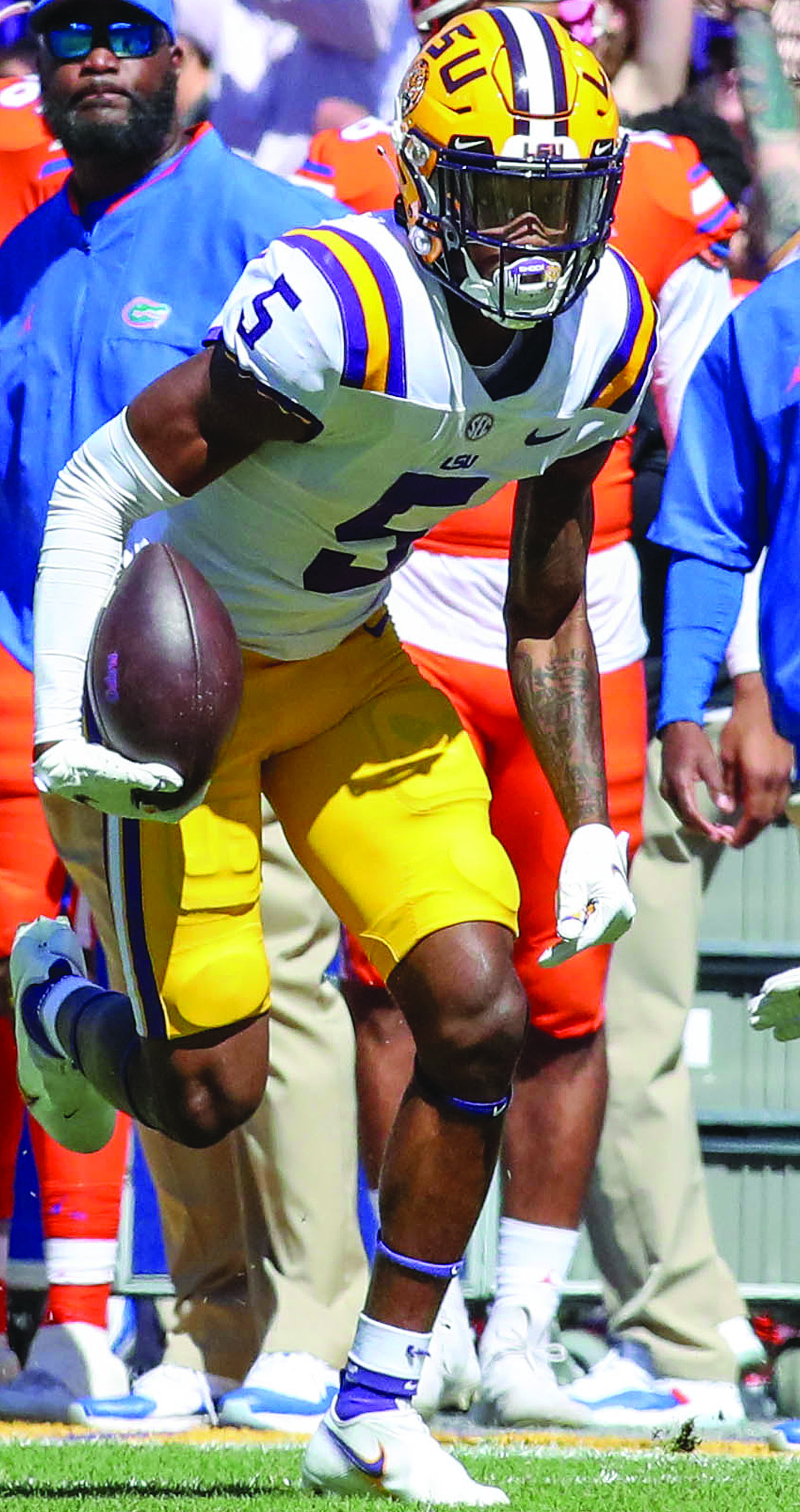 Editor's note: This is the seventh in a series of stories on the 2022 LSU football team. Today: The secondary.
There's not a better example of first-year LSU coach Brian Kelly reliance on the NCAA transfer portal than his secondary.

With losses of both starting cornerbacks, Derek Stingley Jr. to the NFL Draft and the transfer of Eli Ricks to SEC Western Division rival Alabama, the Tigers went into the offseason a shell of themselves at what's perennially one of the team's greatest strengths.

Kelly moved briskly, trying to revive the school's 'DBU' with experienced players with direct ties
to Louisiana.

The result?

LSU signed five players from the transfer portal, three of whom were from the state. Another played his first two years of college within the state's borders, giving the Tigers an interesting mix of Division I expertise that only lack game experience together.

"They're eager," LSU safeties coach Robert Steeples said. "They're aware of the opportunity to contribute. You have some cornerbacks that can run, some guys that take pride in the cerebral part of the game. At the end of the day, they want to be complete defensive backs."

Senior Jay Ward is the one constant and provides a sense of stability for an LSU secondary cluttered with newcomers. The 6-2, 188-pound Ward has played in 33 games with 104 tackles and five interceptions, including a career-high three during the 2020 season.

Ward, a starter at safety with 71 tackles and two interceptions last year, also lends his versatility to the group with previous starting experience at cornerback and nickel.

LSU brought home the duo of New Orleans natives Joe Foucha and Greg Brooks Jr. from Arkansas, where they both started in 30-plus games and combined for 343 tackles and nine interceptions for the Razorbacks. The Tigers also landed third team All-Sun Belt cornerback Mekhi Garner of the Louisiana Ragin' Cajuns. He was part of last year's Sun Belt champions with 63 tackles.

All three players were on campus for the spring semester and played in the spring game.

Another product of the transfer portal, cornerback Jarrick Bernard-Converse, arrived in the spring from Oklahoma State. But he was ultimately derailed by a foot injury and didn't play in the spring game. The product of Shreveport's Evangel Christian started in 47 of 51 games for the Cowboys of the Big 12 Conference with 216 tackles, seven tackles for loss, five sacks and two interceptions in three years.

The Tigers also signed cornerback Sevyn Banks of Ohio State from the transfer portal. The two-year starter had 19 starts in 36 games for the Buckeyes with 43 tackles, 13 passes defended and two interceptions.

Sophomore safety Major Burns, a transfer from Georgia, was able to play in five games with 16 tackles before an injury sidelined him for the '21 season.

Graduate student Todd Harris Jr. opted to return for another season after being slowed by an injury and was limited to 13 tackles in eight games. Redshirt freshman safety Sage Ryan is another former top-flight signee whose production was limited to six tackles in four games and redshirted.

LSU also has several other players primed to add to the team's depth with increased playing time this season, including junior cornerback Raydarious Jones (9 tackles in 16 career games), sophomore safety Derrick Davis Jr. (no stats in 12 games), junior safety Jordan Toles (12 tackles in 6 career games) and sophomore cornerback Damarius McGhee (5 tackles in 12 games).