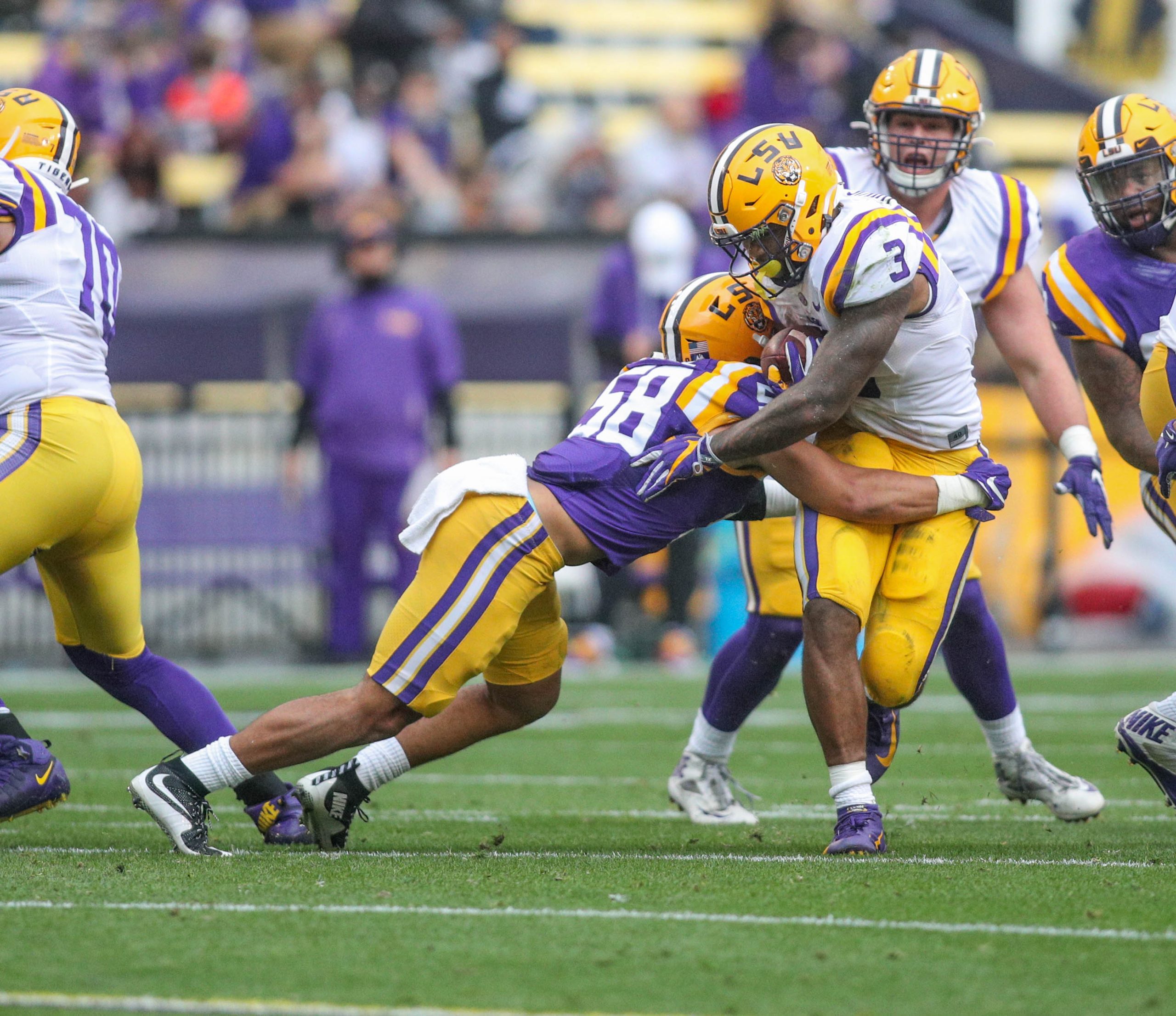 Editor's note: This is the sixth in a series of stories on the 2022 LSU football team. Today: The linebackers.
It's a position that has one of the potentially biggest chasms on the team.

After boasting one of the nation's top middle linebackers in Baton Rouge native Damone
Clark – who led the Southeastern Conference in tackles, earned second team All-America honors and was a finalist for the Dick Butkus Award – the Tigers have a considerable drop off in production, experience and leadership returning at that position in 2022.

Clark, despite spinal fusion surgery was taken by the Dallas Cowboys in the fifth round of the
2022 NFL Draft. He won't soon be forgotten, or his 135 tackles – 11.5 per game – easily replaced.
The Tigers will try by compensating with a blend of returning experience, promising newcomers
afforded greater playing opportunities, and other newcomers expected to contend for playing time.

"I love the hard-hat mentality of our linebackers," LSU defensive coordinator Matt House said. "We've got competition. There's a lot of talent. There's a lot of newcomers. I'm excited to watch them come together and develop."

Junior Mike Jones Jr. had a quite a finish to his '21 season, becoming a leader for a defense
that was much more aggressive over the last four weeks of the regular season. Jones, a transfer from Clemson, had 34 tackles (20 solos) in 13 games with 2 ½ tackles for 16 yards in losses and two quarterback hurries.

LSU's most experienced returnee is fifth-year senior Micah Baskerville, a member of the preseason Butkus Award watch list. The Shreveport native missed spring practice because of academics but is back to give the linebacker position some teeth after ranking second to Clark a year ago with 83 tackles and nine stops behind the line of scrimmage for a loss of 26 yards.

During his career, Baskerville has started in 20 of 40 games with 171 tackles, 18 TFLs, three QB
sacks and an interception.

Also figuring into LSU's rotation at starting linebacker is sophomore Greg Penn III, who is primed to build off a true freshman year with 11 tackles in 10 games. He was a starter in the team's spring game and showed plenty of promise.

Fifth-year senior Jared Small, who has started in one of 15 career games, is a bonus returnee for the Tigers. The former walk-on from Catholic-Baton Rouge who was a projected starter suffered a torn ACL last season's opener at UCLA and missed the entire season.

Linebacker was a position LSU augmented through the NCAA transfer portal, signing West Weeks of Virginia and New Orleans native, Kolbe Fields is back home in Louisiana following a season at South Carolina.

Weeks had 31 tackles including a season-high eight against Pitt, broke up five passes and had a fumble recovery and a sack for the Cavaliers in 11 games (one start) in '21. Fields was credited with one tackle in one game and redshirted for the Gamecocks.

LSU, which lost linebackers Phillip Webb and Antoine Sampah for medical reasons in the offseason, also added two gifted high school signees in Harold Perkins and Demario Tolan.

Perkins, who played at Cy Park in Cypress, Texas, was listed as the nation's No. 8 overall prospect by 247Sports while Tolan was the No. 22 ranked linebacker at Dr. Phillips High in Orlando, Florida.