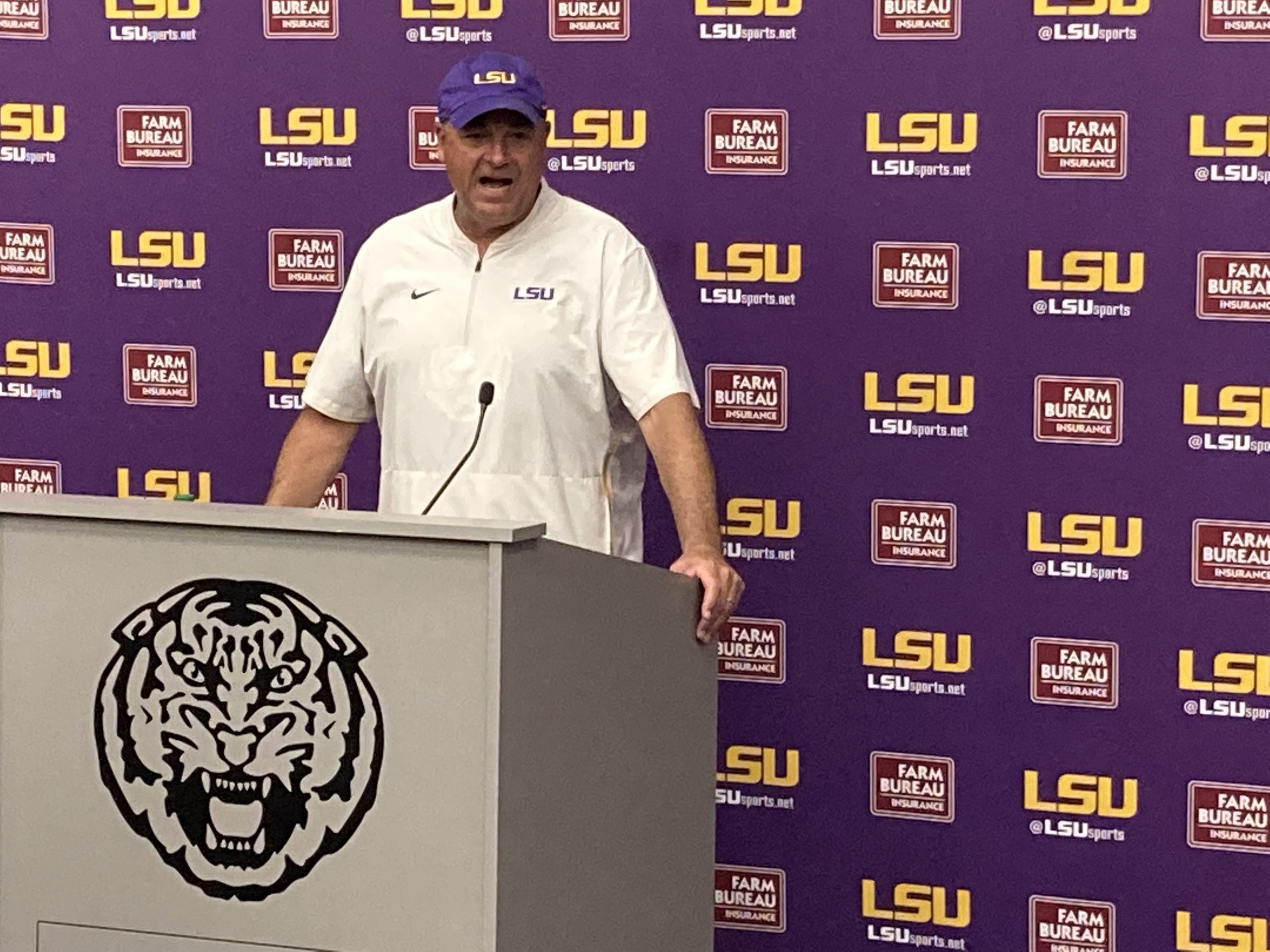 Brian Kelly insists LSU went into its first preseason camp under his command with no preconceived notion as to who will start at quarterback when the Tigers open their 2022 season Sept. 4 against Florida State at the Superdome in New Orleans.
There really was no favorite to beat, Kelly will try to convince you.
It's hard to buy.
Surely Kelly and his staff of new Tiger assistants did not spend their summer days building one offense if it will be Garrett Nussmeier, who redshirted as a freshman after appearing in just four games last year; one if it will be Jayden Daniels, the mobile transfer who started three seasons Arizona State; and another if it will be Myles Brennan, who was injured and out all last year but is back for his season at LSU.
Right?
Surely they did not spend time building yet another it happens to be true freshman Walker Howard either.
Right?
Or wrong, on both counts?
The answer is as muddy as the Mississippi River water that flows not far from the LSU campus.
Even Kelly himself suggested that, in general terms, the idea that all camp battles are wide open is a far-fetched one.
Yet in LSU's case, without Kelly able to enjoy the benefit of having gone through an entire season with most of his kids already, it may actually be more near than far.
"Everyone says, 'The depth chart, it's always open.' But, you know, you always have a guy penciled in somewhere," Kelly said after LSU's first camp practice last Thursday, the last time he publicly spoke.
"There's not a lot of penciling in yet. So, yes … there's some work to be done."
   True separation at the QB spot should come soon, if it hasn't already, especially with the Tigers scheduled to practice Thursday morning happening in front of watchful eyes.
   Thursday's practice is open to media members from beginning to end, a first since camp opened and an appreciated offer of transparency unknown to fourth estate types in these parts for some time now.
Kelly, it appears, really did go into camp wanting to see all the quarterbacks facing various down-and-distance situations, particularly third down, and that takes some time to build up to.
At least a good week or so.
When camp opened, much was made of the fact both Nussmeier – who arguably had the best spring of the four – and Daniels were working with the 1s.
But don't count out Brennan, a drop-back type who throws with some zip on the ball, just yet.
Soon, though, a decision must be made.
Right?
Sure, the opener with the Seminoles is fast-approaching.
But even if the quarterbacks are unique in their own right – and so different in style, especially in the case of dual-threat Daniels and pocket-passing Brennan – new LSU offensive coordinator Mike Denbrock suggests a structure already is in place that allows any of the contenders to be plugged in with little alteration to the Tigers' QB-steered system structure or actual play-calling.
"No. 1, we want someone who can run the system of offense we're putting in. And it's an adjustable system," Denbrock said when asked about what criteria must be met by whoever wins the job.
"So, that doesn't mean, 'Hey, I remember where Coach came from, so this guy has a leg up.' That doesn't mean that."
Denbrock, an assistant in various offensive posts under Kelly at Notre Dame from 2010-16 including one season as offensive coordinator in 2014, most recently was offensive coordinator at Cincinnati, where his last quarterback was 2022 third-round NFL Draft choice Desmond Ridder of the Atlanta Falcons.
Tall at 6-foot-3, and not too heavy at 207 pounds, Ridder was a great decision-maker who was comfortable throwing out of the pocket in a pro-style offense, could scramble well and thrived in an RPO (run-pass option) system at the college level.
"What it means more," Denbrock said, "is what's in place for our offensive unit with the skill players that we have, and … playing to the strengths of that unit."
The LSU offense is loaded with offensive weapons here, there and everywhere, starting at the top with from star receiver Kayshon Boutte.
All the Tigers' new starting QB has to do is maximize ways to get them the ball – and, the obvious, keep turnovers to a bare minimum.
"So, whoever really commands that the best – and, really, who kind of takes ownership of the offense," Denbrock said.
"We're looking for those guys to compete with each other, of course. But we're also looking for … somebody to step out in front, somebody take the reins of this thing and really kind of be that guy that everybody looks to, that upholds the standard of play of quarterback at LSU."
It's a high standard, especially with the Tigers' not far removed from their 2019 national-championship season driven by Heisman Trophy-winning QB Joe Burrow.
So who will be the one in 2022?
Or will it be more than one?
Boutte suggested the latter when he met faced the press last Friday night.
"All of them look great," Boutte said when asked about LSU's four top QBs. "That's all I've got to say."
Yet Boutte did say more, and he spoke volumes more when asked what to expect from the Tigers' offense in 2022.
"I would say you will see a lot of passing yards from numerous quarterbacks," Boutte said to start.
Suggesting multiple QBs play extensively this season.
"I would say a lot of receiving yards from multiple receivers," he continued.
Suggesting the fully anticipated.
But not suggesting that Nussmeier could, perhaps even should, be the guy, as he seemed to when, asked about Brennan earlier this year, Boutte told Tiger Rag radio, "I've got a great relationship with all the quarterbacks, and I would say Garrett Nussmeier is gonna be a great quarterback for LSU. … He's gonna lead LSU to win most of the games, to national championships hopefully. I look forward to watching him play."
Kelly likely would bristle knowing any such suggestion was made way back in June.
There really were no preconceived notions when camp opened in August, he insists.
Which maybe isn't so hard to buy after all.