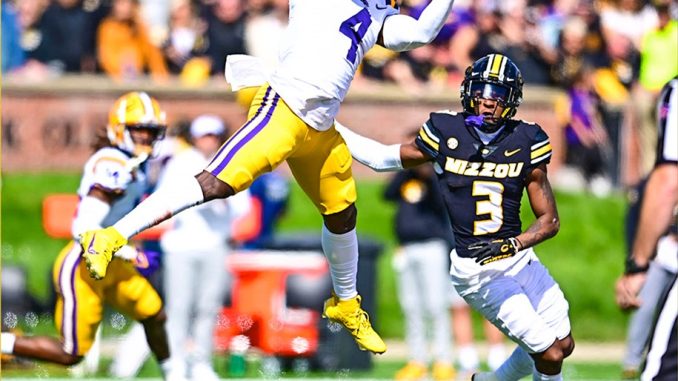 LSU's football team has a pulse, one that its beleaguered defense helped revive.
The No. 23 Bayou Bengals also received a gutty performance from injured quarterback Jayden Daniels to rally from a first-half deficit and defeat No. 21 Missouri, 49-39, at Faurot Field on Saturday.
LSU, a week after a humiliating performance by its defense in a 55-49 loss at Ole Miss, stood on the shoulders of a defense that made subtle strides over a week ago. The Tigers twice intercepted Missouri's Brady Cook, who held the league's record for consecutive attempts without an interception, getting a momentum-swinging pick from Harold Perkins Jr. and a game-sealing pick from Major Burns.
LSU (4-2, 3-1 in SEC) returns home to Tiger Stadium next to host Auburn – a stretch that includes five of its last six games.
"A lot of resolve," LSU football coach Brian Kelly said. "We've got a lot of young guys out here and I was just so proud them. It was a tough environment, coming on the road in the SEC, sold out crowd. From our perspective playing four of six on the road, it's a tough run our guys have been on. I'm just so proud of the way they competed defensively against a lot of things. We fixed a lot of things and now we've got to fix a more things, but that quarterback's pretty good for LSU."
LSU outscored Missouri (5-1, 1-1) 20-3 to rally from a 15-point deficit in the first half and took its first lead (27-25) at the six-minute mark of the third quarter on Daniels' 42-yard TD pass to Brian Thomas for his nation's leading ninth score of the season.
The lead changed hands four times over the next 16 minutes when LSU took the lead for good (42-39) on Daniels' 29-yard TD pass to a wide-open Malik Nabers with 2:58 remaining.
"Proud of my football team," Kelly said. "It starts with our players and their ability to go out on the field and effect change from last week. They were much more physical. There's certainly things we need to do better, but we were playing a really good football team."
Daniels brought LSU back from a 32-27 deficit after having to go to the team's injury tent for bruised ribs late in the third quarter. He combined for 389 total yards and four touchdowns, giving the Tigers a 35-32 lead on a nifty 35-yard scoring run and two-point pass to Nabers, and three-point lead at 42-39 on the 29-yard TD to Nabers.
"He's got the heart of a champion," Kelly said of Daniels. "You don't many chances to coach a guy like that. I'm just so happy that I got an opportunity to have him on my team and find a way to keep the points down when you have a player like that."
LSU finished with 534 total yards, including 275 yards rushing against the SEC's No. 3 rushing defense in Missouri which allowed 83.2 yards per game. Running back Logan Diggs powered his way to a career-high 134 yards and a TD on 24 carries.
Daniels completed 15 of 21 passes for 259 yards and 3 TDs and added 130 yards on the ground on 15 attempts with another score. Nabers led the way with six catchers for 146 yards and TD with Thomas adding 66 yards and a TD on four receptions.
"No matter how good this win feels, next week we have a new opponent and can't carry any good or bad into the next week," Daniels said. "It gives us confidence going into the second half of the season now."
Missouri coach Eli Drinkwitz commended the play of LSU's quarterback.
"Jayden Daniels, obviously today played as good as any quarterback I've ever gone against," he said. "He only threw six incomplete passes all day and is a tough young man. He's a really talented football player. We knew going into it. That was gonna be a tough out, and obviously, he played really well."
LSU's defense, which surrendered 527 total yards, gave Missouri's offense two possessions in the final minute-plus and held on.
Missouri came up short on a fourth-and-32, hook-and-ladder play with 1:06 showing, but LSU was unable to gain a first down and wound up having to call on Jay Bramblett for a clutch 44-yard punt that went out at Missouri's 5 with 45 seconds to go.
Cook, who completed 30 of 47 passes for 411 yards and 2 TDs, threw incomplete on first down when Burns stepped in front of a second-down pass intended for Luther Burden III and returned it 17 yards for a score with 34 seconds showing.
LSU outscored Missouri 32-14 in the second half.
LSU shook off the effects of an early 15-point deficit and thanks to Perkins' interception, closed to within 22-17 with just under two minutes left before halftime.
"I know that a lot of teams expect me to come off the edge in certain downs," Perkins said of his first interception of the season. "Coach (Matt House) did a good job of getting me in the right place and the right time."
Damian Ramos kicked a career-long 48-yard field goal to get within 22-10 and three plays later Perkins, dropping back into coverage, made an acrobatic interception of Cook that stopped his SEC record of 366 pass attempts without a pick.
LSU went exclusively to Diggs on the ground, highlighted by a 34-yard gain against a blitz to Missouri's 14-yard line. He handled two of the next three running plays to the 3 and Daniels threw his first touchdown to tight end Mason Taylor from three yards out with 1:59 left.
Missouri, though, finished the half with a 50-yard field goal from Harrison Mevis on the final play.
"Coach always talks about us playing four quarters," Perkins said. "That's all that was. We've got to play for four quarters. They came out and gave us their best shot in the first quarter. We had to stand on business the second half."