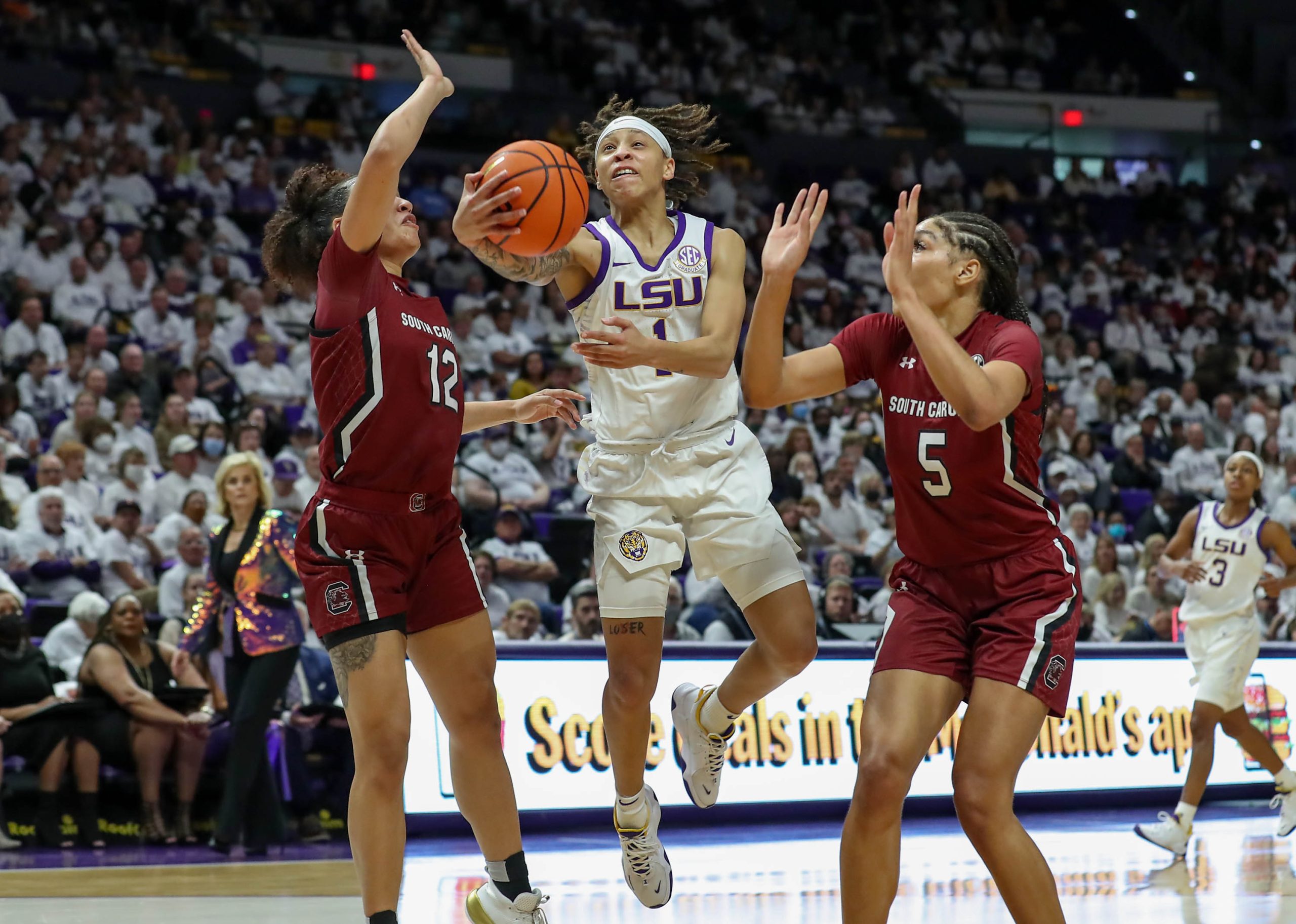 It had all the earmarks of the signature moment LSU women's basketball coach Kim Mulkey was looking in her first season.
The No. 13 Tigers, playing in front of a raucous, season-high crowd of 9,190, either led or remained within striking distance of South Carolina for 36 minutes until the nation's top-ranked team flexed its muscle down the stretch for a 66-60 victory Thursday in a battle of two of the Southeastern Conference's top teams.
"They're poised," said Mulkey, whose team had its 13-game win streak snapped in front of the programs 15th largest crowd. "They've played everybody in the country they've needed to play to win a national championship and they took LSU's best shot tonight."
LSU (14-2, 2-1 in SEC) battled back from an eight-point deficit with less than nine minutes to play and twice got as close as three points – the latter coming at 61-58 with 2:17 remaining on Hannah Gusters' layup.
South Carolina (14-1, 2-1) stretched its lead back to six (64-58) on a free throw from center Aliyah Boston with 16.7 seconds left. The Gamecocks enjoyed a sizeable advantage, both at the free throw line with 18 of 32 shooting, and a 48 to 24 rebound margin, including 19 on the offensive end.
"That's what we do," said South Carolina coach Dawn Staley, whose team won its 13th consecutive game against LSU. "We rebound the ball extremely well. We miss a lot of shots and give ourselves a chance to get the rebound. We're fortunate we got after it today from an offensive rebounding standpoint. Our players came up with big rebounds, especially late in the basketball game."
Boston was a terror on the inside for LSU in the second half. The 6-foot-4 junior scored 14 of her team-high 19 points in the second half and wound up with a double-double with 18 rebounds and added four blocked shots.
Guards Zia Cooks added 17 points and Destanni Henderson 16 for the Gamecocks who outscored the Tigers 38-26 in the second half.
LSU, which shot 42.4% from the field (28 of 66) but was only 3 of 7 from the free throw line, was led in scoring by guard Khayla Pointer with 13 of her game-high 22 in the first half. Fellow guard Alexis Morris had 14 and center Faustine Aifuwa 12 with eight rebounds before fouling out with 6:01 to play.
The Tigers also lost forward Autumn Newby to fouls with 16.7 seconds left.
South Carolina outscored LSU 19-10 in the third quarter to take a 47-44 lead into the final quarter.
The Tigers were limited to 28.6% (4 of 14) shooting and were outrebounded (18-5) by the Gamecocks who took on their second lead of the game (36-35) on Brea Beal's free throw at the 6:12 mark.
South Carolina outscored LSU 18-6 over a nine-minute span from the time they trailed by 11 points.
"It's called over 10,000 people here, wear white and the energy in the building, and they're playing well," Staley said. "We just had to weather the storm. We found a way to win the basketball game being in a tough environment."
There were five lead changes and a pair of ties between the six-minute mark and with 2:24 left in the quarter when South Carolina broke a 44-all deadlock when Boston made three of four free throws in the last 1:28.
"The game was lost at the end of the second quarter and the beginning of the third quarter," said Mulkey, whose team forced 21 turnovers to compensate for its rebounding shortcomings. "Boston's in foul trouble, we go up 11 (29-18) and we have a couple of empty possessions, and they have some good stuff happen and you go in at halftime only up six (34-28). Then you come out in the third quarter and have some empty possessions."
It turned into a tale of two halves offensively where LSU shot 61% (14 of 23) when Pointer found Morris on a runout for an uncontested layup and their biggest lead of the game at 29-18 – forcing South Carolina to take a timeout.
With Boston sitting on the bench with two fouls LSU suddenly cooled off, missing its final four shots, Gamecocks were able to reduce the Tigers' halftime lead to 34-28 when Cooke scored her team's last six points of the quarter.
There was a three-minute stretch of the first quarter where the lead changed hands six times with a 10-footer from Jailin Cherry capping a 5-of-5 opening for LSU which took a 10-9 lead.
LSU, which shot 69.2%, closed with a 5-0 spurt with Aifuwa scoring three points on a 15-foot jumper and a free throw, coupled with a leaner from Pointer in the lane, for a 19-13 edge.
"Great crowd, great atmosphere," Mulkey said. "We played hard. Sometimes you just aren't quite good enough to win that game. We fought until the bitter end."