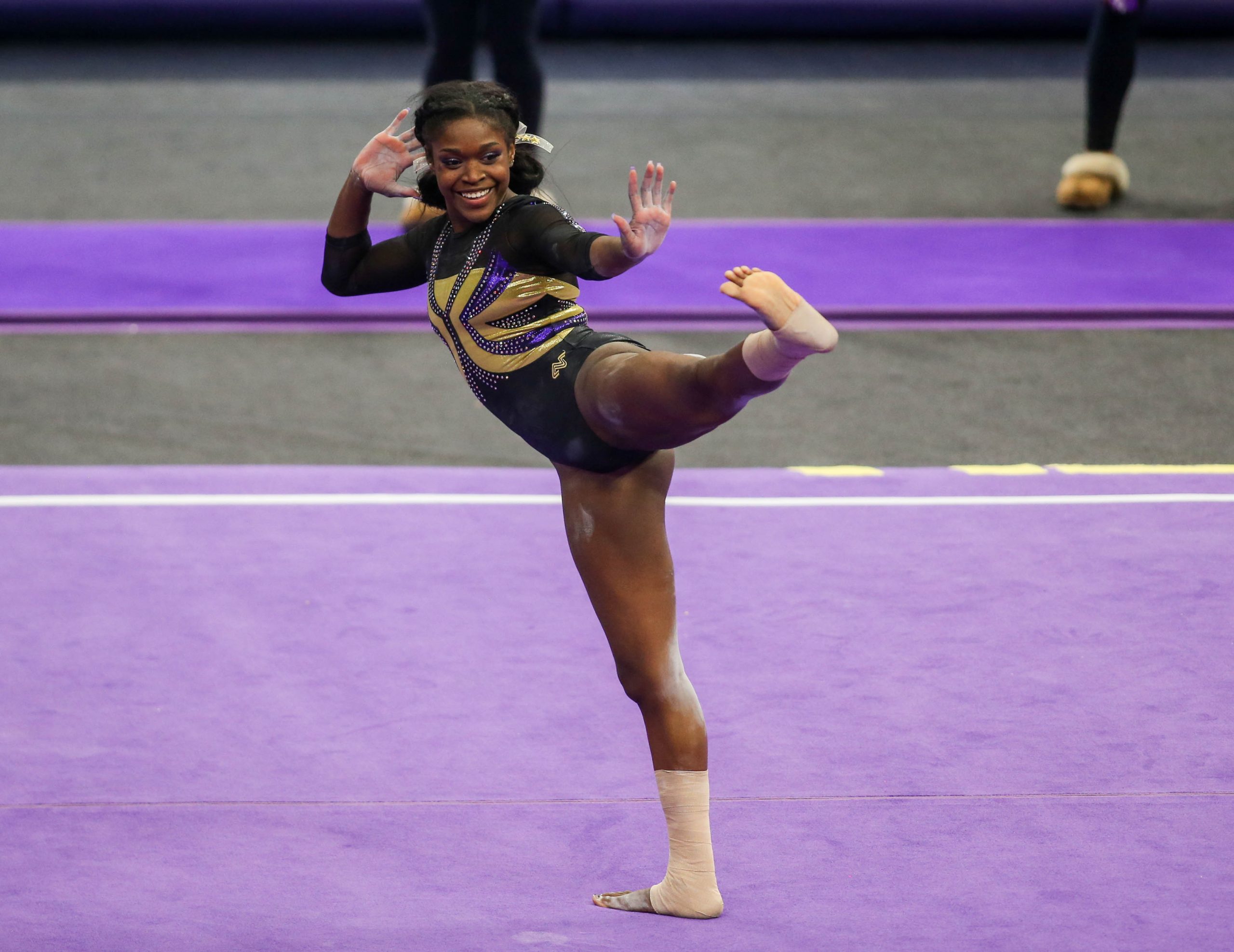 LSU opens the gymnastics season against Centenary at 5:45 p.m. on Friday inside the Pete Maravich Assembly Center.
In his first season as head coach, Jay Clark led the Tigers to the NCAA Semifinals. Clark has five seniors returning for one last run at a national championship.
Here is a preview of all four events for the 2022 season.
FLOOR EXERCISE
Clark is taking a cautious approach with Kiya Johnson, without question LSU's best in the floor exercise. "You don't replace that," Clark said. "The goal is to have her when we need her." Johnson averaged 9.966 on the floor last season, including three perfect 10.0 scores. Despite not performing on the floor in four events, Johnson never finished below 9.91 in any competition. Reagan Campbell and Sarah Edwards were consistent 9.87 scorers. Alyona Shchennikova, the team's Swiss Army knife, averaged 9.861 on the floor. Elena Arenas also performed in the 9.8 range. Campbell was second to Johnson on the floor last season, averaging 9.875. Edwards was just below Campbell at 9.873.
VAULT
Haleigh Bryant, LSU's top vaulter last season, averaged 9.933 last season. She recorded a perfect score against a ranked Missouri team while competing in every event in nine meets. Bryant finished below 9.9 only once in 2021. Kiya Johnson was second on the team on the vault, scoring 9.880 for the year. Sarah Edwards, who has competed in 40 meets in her career, scored 9.873 on the year and hit a season-high 9.925 against top-ranked Florida. Elena Arenas and Chase Brock are also dependable options. Arenas scored 9.851 last season and Brock finished at 9.825. Alonya Shchennikova vaulted in every 2021 meet and averaged 9.814. Shchennikova only scored below a 9.7 once in 13 meets.
UNEVEN BARS
Alyona Shchennikova emerged in 2021 as LSU's best option on the uneven bars. She averaged 9.856 with a season-best 9.950 against Florida. Shchennikova also scored 9.900 in the NCAA semifinals. "I told everyone last year (Shchennikova) was coming along and she'll step into a greater leadership role," Clark said. The second spot is secured with Haleigh Bryant, giving the tigers a solid one-two punch. Bryant finished 9.854 on the season while hitting 9.900 twice against Arkansas and in the second round of NCAA Regionals. Olivia Dunne specialized in the bars and held a 9.844 average. Kiya Johnson performed in every meet and finished the year at 9.818. Her best performance was 9.925 against Florida. 
BALANCE BEAM
LSU returns four gymnasts that scored above 9.80 on balance beam lat season. Bridget Dean led the group with a 9.882 average. Her best performance was 9.925 against Missouri. The second spot should be solid with Christina Desiderio, who finished second on the team at 9.855. Clark has depth with Reagan Campbell and Haleigh Bryant. Campbell averaged 9.815 with a season-high 9.950 against Georgia. Bryants was also steady at 98.11 and had three performances over 9.90. Alyona Shchennikova is another option. Shchennikova finished 9.794 one year ago. She only performed on the balance beam in six events, but never finished below 9.8 until a 9.4375 performance in the NCAA Semifinals.