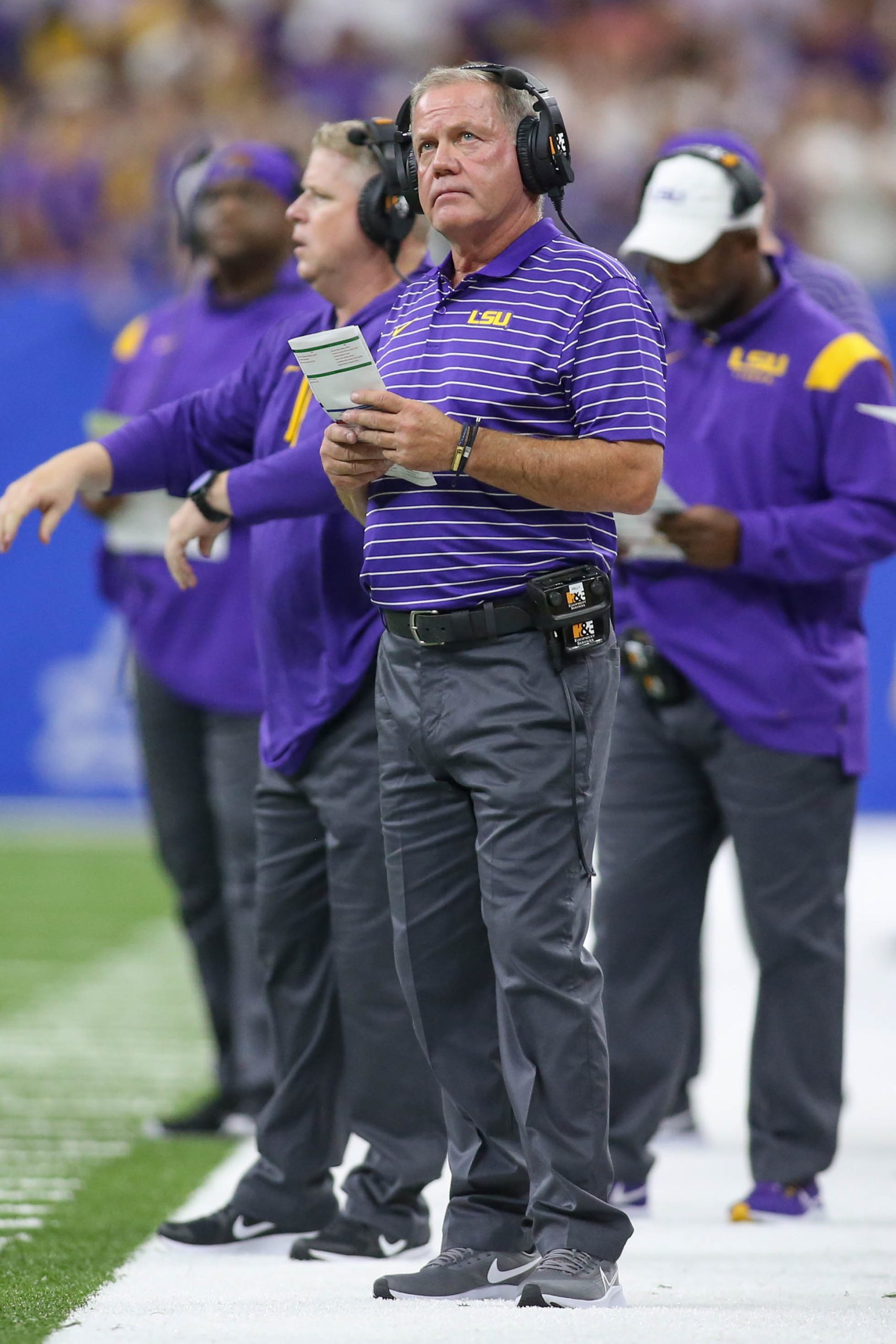 With a pair of teams garnering top 10 status in the preseason it's easy to pinpoint the trajectory of LSU and Florida State's football programs. With a victory in Sunday's season opener at 6:30 p.m., either the No. 5 Tigers or No. 8 Seminoles can take a significant step forward in this year's college football landscape.
"It's a big game," LSU defensive tackle and team captain Mehki Wingo said. "It would be a big win for us to set the tone for the season. It's not this big get-back game. All the focus is there because it is the first game of the season. You want to start off right and carry the momentum all the way through November."
The college football world will be focused on the LSU-Florida State game – the nation's only matchup of top 10 teams – which kicks off the Labor Day holiday weekend at 6:30 p.m. on Sunday from Orlando's Camping World Stadium. The game will be televised by ABC and broadcast locally on 98.1-FM.
After battling to a 24-23 verdict which Florida State escaped on a blocked field extra point in New Orleans last season, both teams return stronger, evidenced by their national rankings, candidacy for the CFP playoffs and hopes of a national championship.
"It's a great challenge," LSU second-year coach Brian Kelly said. "It's what motivates you in the off season."
LSU graduate senior Greg Brooks Jr. understands the gravity of the game.
"This is a huge game," he said. "With our goals as a team, it's a huge game. I think personally this game is going to dictate lot for the whole season … a top 10 matchup. I feel this game is going to be huge for us."
The game will feature some of the game's top players, including a pair of Heisman Trophy candidates in LSU's Jayden Daniels and Jordan Travis at Florida State. The Tigers also have a returning freshman All-American in sophomore linebacker Harold Perkins Jr. who opposes FSU's projected first-round defensive end Jared Verse.
"You're going to get a chance to see some great playmakers," Kelly said. "Two elite quarterbacks that can make things happen. Two guys that can run, can throw and are elusive. You're going to see some great wide receivers. Guys that can go make plays on both sides of the ball.
"On defense, Harold Perkins and Verse, two elite defensive players," Kelly added. "It's exciting playmakers. You're going to see two teams that want to be physical at the point of attack. Two teams that want to run the football and can run the football. You may be looking at two teams that mirror each other in a lot of ways."
FSU's six-game winning streak to close the '22 season was fueled by an offense that scored at least 35 points in its last six games.
Travis is at the heartbeat of the Seminoles' attack that ranked 16th nationally in scoring (36.1 points per game) and was 10th in total offense (484.2) The sixth-year senior was a second team All-ACC selection and became just the fourth player in school history with at least 3,000 total yards and 30 TDs in a season (3,214 yards passing, 24 TDs; 417 yards rushing, 7 TDs).
Returning All-ACC running back Trey Benson triggers FSU's ground attack with 990 yards (6.4 yards per carry) and 9 TDs in '22 and 6-foot-7 wide receiver Johnny Wilson provides an immense target after catching 43 passes for 897 yards and 5 TDs a year ago.
"Florida State's a team that runs the ball a lot," Wingo said. "We're a team that prides itself on great run-stop defense. We have to go out there and put our identity on film and show everybody we belong."
Wingo is part of a defense with four returning starters but will be without promising tackle Maason Smith because of a one-game NCAA suspension.
Perkins is part of a potentially solid linebacker corps along with the team's leading returning tackler Greg Penn III and Oregon State Omar Speights. Of course, don't expect to see the ultra-talented Perkins (13 TFLs, 7 ½ sacks, 14 QB hurries) lined up only at linebacker, providing a challenge opposing offenses are going to have to sort out.
"They did much the same as we did," FSU coach Mike Norvell said of LSU. "They got better over the course of the year. They won some close games and built their confidence. It's going to be a heck of a matchup and have a championship feel to it just because you have two teams with experience, and I think are really talented."
Kelly said that while he would prefer to have Smith available, LSU's defensive line depth accrued through the transfer portal with Jordan Jefferson of West Virginia and Jalen Lee of Florida, along with returning redshirt junior Jacobian Guillory, should help the Tigers match up with an FSU offensive line which is the nation's most experienced group with 307 games played and 214 combined starts.
He's also excited to have Alabama transfer and former Karr High standout Aaron Anderson returning punts, an area where LSU struggled with two fumbles in last year's one-point loss to FSU.
"It's going to come down to the execution of the littlest things," Kelly said. "It came down to that the last time we played. All those things matter, and they'll matter again in this kind of a matchup."