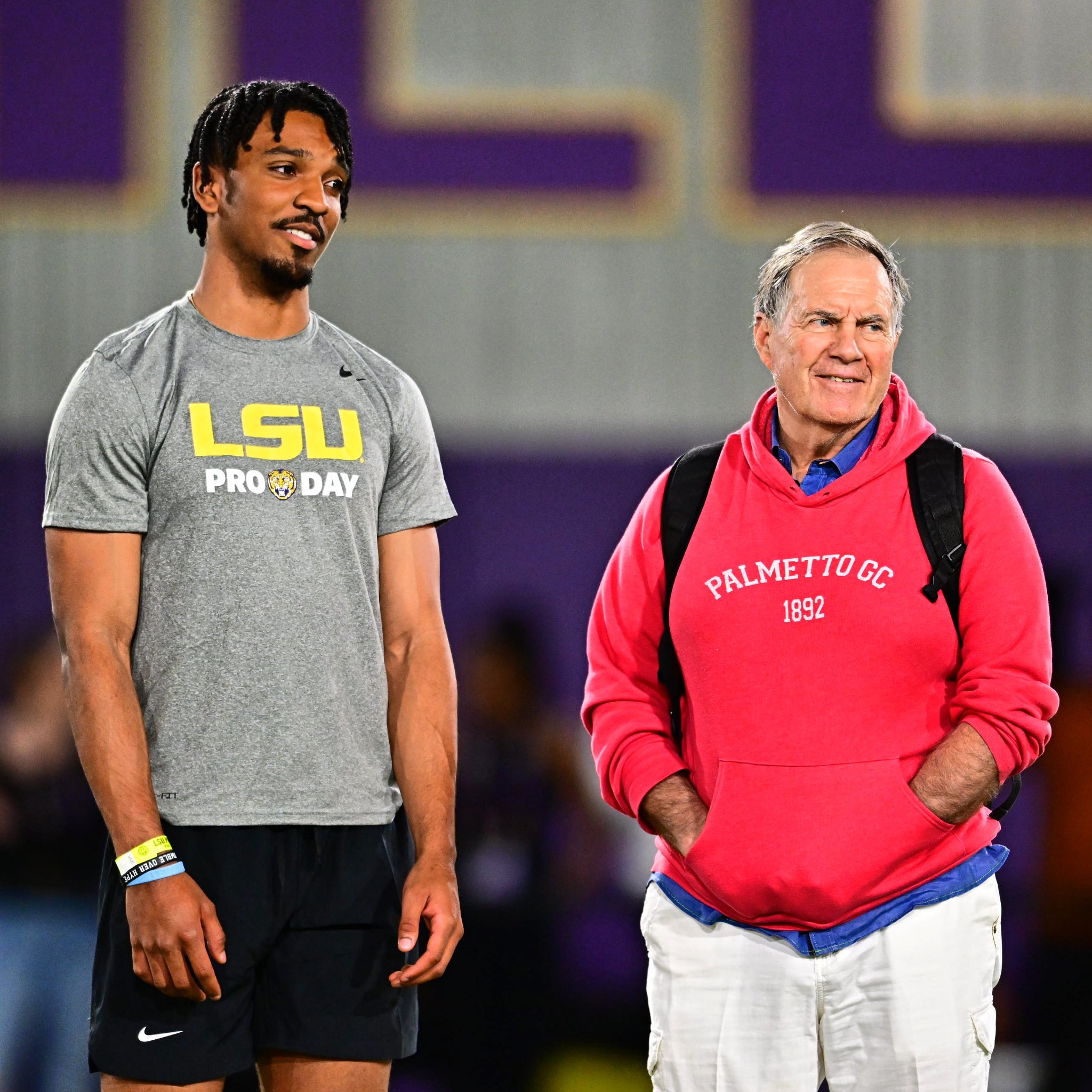 LSU football coach Brian Kelly said of the tangible improvements in quarterback Jayden Daniels over his inaugural season with the Tigers, maybe the biggest difference is simply the eyeball test.
Kelly said Daniels, who decided to return for his senior season, weighs more than 210 pounds and looks sturdier and better equipped to deal with the physical nature of long season because of his diligence in the weight room.
LSU's official website listed Daniels at 200 pounds on his 6-foot-3 frame last season but is up to 205 at 6-4 this spring.
"This is much more about veteran presence now than acclimating to a new program," Kelly said of Daniels during Thursday's news conference with local reporters. "I think that's really the difference here. Now you've got a guy that's helping the freshmen tight ends. Listen, 'Sit down on this route, don't drag, sit down, I'll get you the football'. Those kinds of nuances. It's harder sometimes to explain it, but you can kind of sense it and see it by his interactions with Malik (Nabers) in terms of where he wants to football. And how he is addressing the offensive line when he's making calls. There's just a different presence to him."
This time marks the anniversary of Daniels' transfer to LSU after spending the previous three years at Arizona State. Kelly was also in his first season after moving from Notre Dame, ushering in a new era that Daniels adapted to through the spring when he competed against Myles Brennan, Garrett Nussmeier and Walker Howard to gain a leg up going into the fall.
Daniels emerged as the team's starter over Nussmeier and Howard, while Brennan opted to give up football. He went on to lead the Tigers to a 10-4 record, SEC Western Division championship and Citrus Bowl victory and once he decided to return for the 2023 season, has overwhelmingly been regarded as the team's starter going into Saturday's spring game at 1 p.m.
Daniels compiled the second-highest number of total yards in school history with 3,798 – an average of 271.2 per game – and combined for 28 touchdowns with a school-record 11 rushing TDs from the quarterback position.
Kelly also gave glowing remarks on the progress of Nussmeier this spring. He completed 62% of his passes (52 of 84) for 800 yards with five touchdowns and four interceptions last season.
"He's really good," Kelly said. "I mean, he's had a great spring. He's gotten a lot of work with the first team and when he's been in with that first group, he's excelled. I think that all you can do is make sure that when they're given an opportunity, make sure it's fair. And we couldn't give him a fair chance if he was just running with an offensive line that really had three guys that we moved over from other positions. So, he had to get a lot of that work with the first team, and I think he excelled as well. I think all we've done is built the quarterback position up that we have to really good quarterbacks."
Here's what else Kelly had to say:
Maason Smith and Da'Shawn Womack have returned to no-contact drills. Would they play in spring game?
"It's just not something that is worth the risk. He's (Smith) in a position where he can do virtually all of the drill work, but to put them into a spring game, there's no advantage from that perspective. We'll give them more time to get his leg stronger and to the point where, his first contact will be in August, and I think that's probably the prudent thing."
With so many injured players, what guys have gained meaningful reps in practice?
"I think at the Jack position, probably Jaxson Howard getting a lot of reps. If you think of the rotations there, whether he would have gotten as many reps is questionable. I think you get a chance to see the versatility of Jacobian Guillory. His ability to really develop during the spring because he got so many reps, playing the one (noseguard) and the three (tackle). He was definitely a beneficiary. I would say, (defensive tackle) Tygee (Hill) was a beneficiary of getting a lot of reps. He made really good progress. And I would say Paris Shand. I don't know that he necessarily wouldn't have got reps, because we needed to find out about him, but he got so many reps. You could see his progress and his grit kind of grow during the spring to the point where that was a really good spring for him. Fitzgerald West benefited greatly, coming over from offense to defense and getting a lot of work. Quency Wiggins, getting a lot of work, and really showing consistency day in and day out. All of them are going to be rotational guys for us when (Mekhi) Wingo gets back and certainly Maason gets back to full go. We haven't seen Da'Shawn Womack, but we anticipate a guy that's going to be able to compete for a two-deep role as well. So, we think (Jordan) Jefferson based upon his body of work, and playing in the Big 12, is a guy that going to be in there as well. I've mentioned a lot of guys. We feel really good about where we're at with the defensive line because of that."
What improvements have you seen on special teams?
"Well, it's hard. You're really going air or scout team. I just think that the way we're attacking special teams is much different than we did last year. We have coordinators and assistant coaches that have responsibilities that they didn't have last year in these units. So, there's just a lot more involvement than a singular person. It's coach (John) Jancek's responsibility to coordinate it but Lester (Erb) is involved quite a bit as well as (offensive coordinator) coach (Mike) Denbrock and (defensive coordinator) coach (Matt) House are very much involved. And I think we're all taking that approach, that the biggest difference is that I think our players feel us. I think they feel this kind of everybody's involved in special teams. And because of that, it just changes the way they see it. It's just not like a one man show and I've got one guy that I got to impress. Everybody's got eyes on special teams, and I think it just changes the sense of urgency."
Comfort level with new players coming for the fall? Level of work needed to get them ready?
"I think it'll be similar to what we just did in the spring. It maps out similarly in terms of time relative to the three-four weeks that you have. I felt comfortable that we were ready to insert players in game-like situations after about 2 ½ weeks. So, I think we're in a similar situation now. It'll evolve during the year. Guys will evolve, but we have enough time to insert the players necessary into the roles that will have competitive opportunities for such. I think we talked about the defensive line. I still think that there's room for competitive battles in the secondary, I think there's room for competitive battles on the offensive line. I think there's competitive battles at running back. I just think that we're at a pretty good position this year compared to last year where I thought last year, there was much more work going into the opener against Florida State than there will be going into Florida State this year."
Impact of former players helping with recruiting at spring game?
"Joe Burrow's coming back, he's going to help us in recruiting. He's pretty good recruiter. He recruits quarterbacks really well, too. And you know we have a number of alums that are coming back that we're going to have them involved in recruiting. Just having our former alums. He's (Burrow) a headliner, but all of our alums have been great in terms of coming back throughout the entire year to help us recruit. We'll have a player panel where it gives us an opportunity to discuss what it's like to be part of this program. So, the recruits will get that side of it as well. And they'll get to see the families. We're going to have a crawfish boil after the game, so they'll get a chance to see the inside outs of the program. It'll be a pretty big day for us."
Improvements of wide receiver Kyren Lacy?
"He's had a good spring. I think he's a lot more comfortable with where he is positionally. I think at times Kyren was his own worst enemy in terms of his emotional control. I think he's really got that in a great place. He was up and down at times. He's been extremely consistent in the way he's practiced, and I think that preparation is going to show itself on Saturdays."