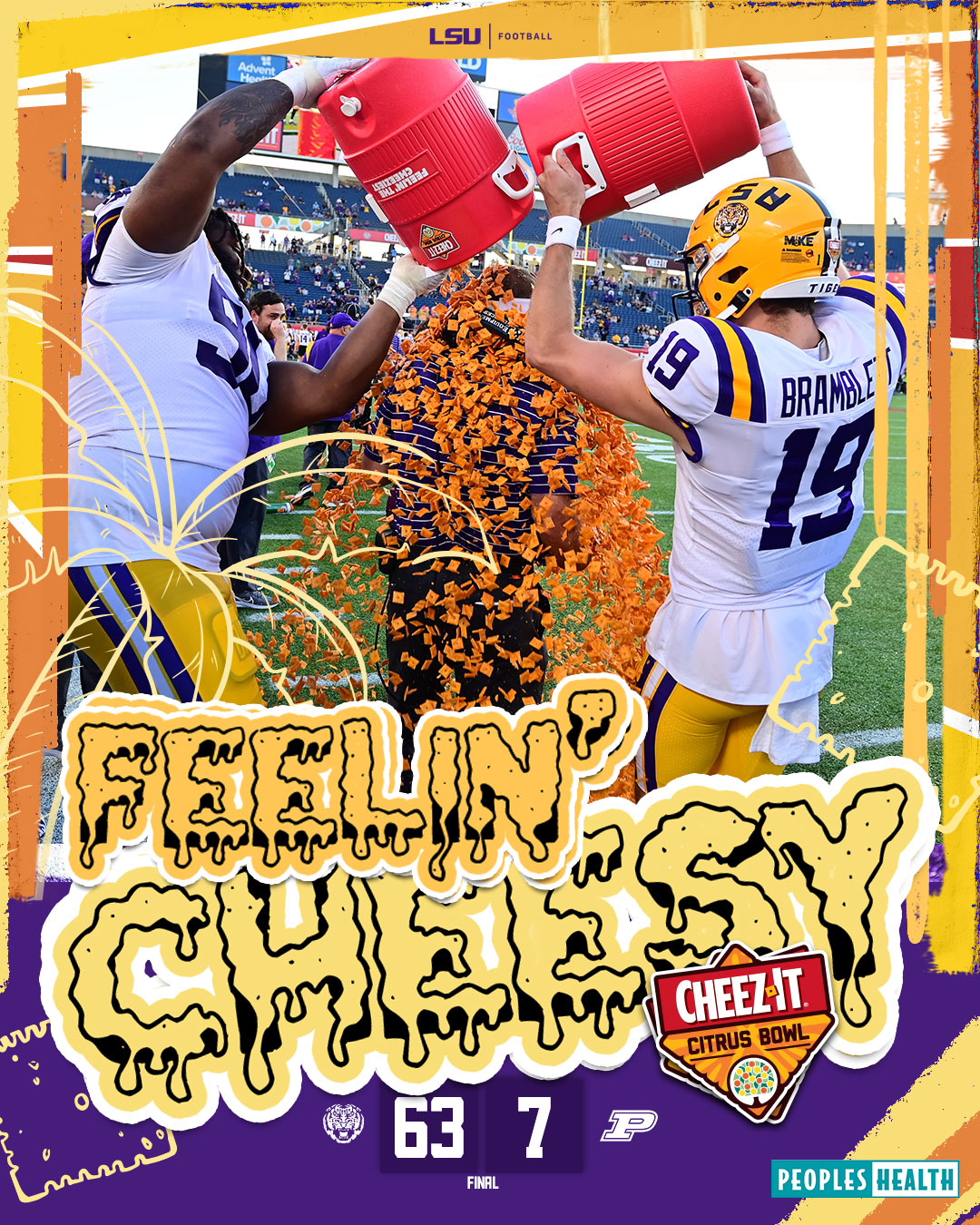 Remember when college football bowl games meant something? I guess they still do, kind of. Sort of. They just don't have the same meaning they used to have.
For instance, technically, it is now winter.
And, technically, LSU played Purdue in a bowl game on Monday.
Technically, it is a prestigious bowl – the highest-ranking bowl left outside of the College Football Playoffs and the New Year's 6 bowls, which, by the way, this year, no bowls were played on New Year's Day.
But LSU really did play a team called Purdue on Monday in what amounted to a spring game – a jump-start to next season, as opposed to a reward for this season.
Bowl games used to be a reward for teams that had strong seasons and bowl games, back in the day, were a way to cap off a season for teams. In a contest sponsored by Cheez It called the Citrus Bowl, played in Orlando, Florida at Camping World Stadium, LSU won the scrimmage.
It was not an intersquad game. And it was not really a scrimmage played under game-like conditions, though it resembled one in many ways.
LSU's opponent was, in fact, what was left of Purdue – a team that last month played Michigan in the Big Ten Championship, a team that won a division championship in the Big Ten.
On Monday, LSU dominated what was left of Purdue from start to finish.
It was a 63-7 demolition that was never in doubt after the Tigers scored on five consecutive possessions in the first half en route to a 35-0 halftime lead.
It was also a game that should not be used to analyze much of, if anything.
Malik Nabers threw a touchdown pass. He caught one (on a jet sweep) and he had 163 yards receiving total and was named the MVP of the spring game, er, Cheez It Citrus Bowl.
The game was never in doubt, not really.
LSU racked up 594 yards of offense and concluded its record-breaking scoring outburst when Quad Wilson returned an interception 99 yards for a touchdown.
Wilson is a sophomore transfer from McNeese State He redshirted this year, playing in one game for LSU prior to today's highlight reel interception return.
The patchwork Boilermakers (8-6) were led by interim coach Brian Brohm after his brother, Jeff, left the Big 10 Championship Game, to take Louisville's head coaching job. Ryan Walters, formerly the defensive coordinator at Illinois, is Purdue's new coach.
Walters only watched, presumably without both eyes open. My assumption.
See, Walters was at the game, but did not coach. I'm sure he watched, though I could not conclude from his in-booth TV broadcast interview during the early second-half he was watching the same game I was. All I heard from Walters was coach-speak. He probably cried, too. But I have no evidence of that. That part was not shown on air.
Legendary New Orleans Saints quarterback Drew Brees could not even help what was left of Purdue.
Brees, a sure-fire first ballot NFL Hall of Famer and Purdue alumnus, was hired temporarily to help the Boilermakers' depleted offense.
That didn't work out too well.
Nothing of what resembled Purdue, meaning what the team wearing black and gold, did worked out well.
Everything LSU did, however, worked perfectly.
LSU (10-4) started its 2023 season and ended its first season (2022) under first-year coach Brian Kelly with a victory, it's 10th of the year. It marks LSU's first 10-win season since 2019 when the Tigers went 15-0, won the national championship, and set the college football world on fire.
That was back when bowl games still meant something.
Bowl games simply do not have the same meaning they used to have.
It's sad, really.
"This was a good start to the '23 season, and we look to build on it," LSU first-year coach Brian Kelly said. "How about we start things back off in August here and get after Florida State?"
LSU's 63-7 victory was its largest margin of victory in a "bowl game" in its history. I'll have to check see LSU's largest margin of victory in past spring games. Do they keep records of those?
What else?
Oh, LSU's starting quarterback Jayden Daniels, who will be returning next season, combined with redshirt freshman Garret Nussmeier and wide receiver Nabers to make LSU the first team in 25 years to have three different players throw touchdown passes in a bowl game.
I'm not sure if this feat is also a record in spring games.
Another thought, here. Daniels will be the incumbent when LSU does, in fact, start spring practice. But Nussmeier's performance and shared snaps with Daniels during this game will no doubt perpetuate LSU fans' long enduring love affair with second-string quarterbacks.
There's no doubt Nussmeier has a cannon for an arm. He did, however, throw LSU's lone interception of the game against Purdue's third-string cornerback.
During the Cheez-It Bowl, my only question at halftime was how much playing time LSU freshman quarterback Walker Howard get in the second half, since he could play without adversely impacting his redshirt status. Thanks to an NCAA's temporary rule exemption enacted this season helps teams in bowls deal with roster depletion caused by the transfer portal.
My presumption was Howard would play a lot. He did not. He only played a few series in the fourth quarter.
My second question: Would Howard break any single-season passing records during the second half.
He did not.
In fact, Howard spent most of his snaps he finally got early in the fourth quarter with LSU up 49-7, handing the ball off to Derek Davis, Jr., a redshirt sophomore running back who used to play safety before being moved to running back late in the season this year.
Davis, Jr. played in the game also thanks to the NCAA exception rule and, perhaps, because of Kelly, I surmise, may have an ulterior motive. Witness LSU's jubilation when Davis, Jr. scored a 12-yard touchdown in the fourth quarter for the Tigers to give LSU a 56-7 lead.
Davis, Jr. and his teammates celebrated like he had just won the NCAA rushing title or the Heisman Trophy following his fourth-quarter TD. Maybe that's because Davis, Jr. did announce a few weeks ago he is leaving LSU and Kelly would like him to change his mind and stay.
I don't know. I'm just saying.
Davis, Jr. is currently in the transfer portal and not planning on returning to LSU next season unless he changes his mind. But he played, and scored, anyway, and Davis, Jr. celebrated with his teammates. A lot.
"It feels good to finally get that 10th win to end the season," Nabers said. "It's also a great way to start this season."