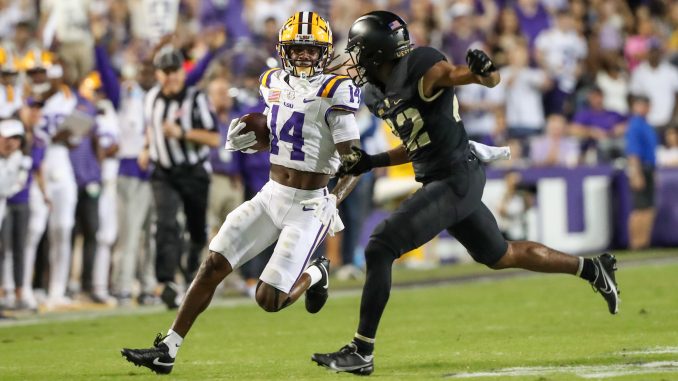 No. 19 LSU will head into its open date and into its SEC Western Division showdown with Alabama in two weeks with a full head of steam.
The Tigers amassed more than 500 yards of total offense in their seventh straight game and the defense, which forced four turnovers, recorded their first shutout of the season in a 62-0 victory Saturday over Army at Tiger Stadium.
Quarterback Jayden Daniels was sharp in his only half of play, passing for 279 yards and three touchdowns. He added a rushing touchdown and went to the sideline for the second half once Garrett Nussmeier took over.
LSU (6-2) scored on 10 of 11 possessions with only one punt. The Tigers head into their bye week riding a three-game winning streak and will travel to Alabama on Nov. 4.
"We ran into a couple of rough spots as we moved through our schedule, but our guys have really put themselves in a good position with four games remaining, we're in the thick of the SEC race," said LSU football coach Brian Kelly, who picked up his 300th on-field victory in his 33rd season of coaching.
Daniels threw touchdown passes of 86 and 8 yards to Brian Thomas Jr. and a 26-yarder to Malik Nabers to cap LSU's 38-0 halftime cushion.
Nussmeier, who was 7 of 12 for 90 yards, got the opportunity to show off his right arm, connecting with Nabers in stride for a 51-yard TD strike and 45-0 advantage.
Placekicker Damian Ramos kicked a field goal in each half – a 35 yarder in the first half and 32 yarder in the second half – and senior running back Noah Cain finished a 13-play drive that consumed more than eight minutes off the clock with a 2-yard run with 4:40 remaining in the game.
LSU finished with 570 total yards after freshman Trey Holly's 67-yard TD run with 40 seconds to go. The Tigers combined for 369 yards passing and added 201 yards on 33 carries rushing. Holly led the team in rushing with 69 yards on six carries.
"The offensive efficiency is one where you look towards one guy and somebody else steps up," Kelly said. "Brian Thomas had two catches last week and obviously has an explosive night tonight. We just have so many different options, so many difference weapons.
"The run game wasn't something we went to right away, we felt like throwing the football was the best way to move the football tonight. Again, I don't know if there are enough superlatives. It's balanced, it's physical and we have playmakers and it's led by a quarterback that's as hot as anybody in the country."
LSU's defense registered its first shutout since defeating New Mexico (45-0) last season and limited 30-plus point underdog Army (2-5) to 193 total yards. The Tigers took advantage of the Knights' first-time starter at quarterback – Champ Harris – who replaced injured starter Bryson Daily.
"They look like an NFL team out there," said Army coach Jeff Monken, whose team was shutout for the second straight week. "We made mistakes, they got up early and didn't let their foot off the gas. I don't know what we learned from that (game). It's an unbelievable atmosphere for our team to experience, but to get beat 62-0 is hard."
LSU forced four turnovers that produced 17 points. Safety Andre Sam had a pair of interceptions, three tackles and two pass breakups, cornerback Zy Alexander added another interception and defensive end Ovie Oghoufo.
The play by Alexander may have proven costly when the team's top cornerback was injured on the return of his interception at the end of the first half and didn't return because of an ankle injury. He was replaced by freshman Jeremiah Hughes and Kelly said freshman safety Javien Toviano also played corner with freshman Ashton Stamps out with an injury and sophomore Denver Harris unavailable to play.
Linebacker Omar Speights had a team-high nine tackles and Harold Perkins had seven.
LSU was nearly perfect in rolling to a 38-0 halftime lead over Army.
Daniels passed for 279 yards and three touchdowns, two of which went to Thomas who caught TD passes of 86 and 8 yards, respectively, and Nabers added the third score to account for the Tigers scoring with 57 seconds left before halftime.
LSU scored on six of seven first-half possessions and gained 338 yards on 30 plays.
LSU won the toss and needed eight plays to get into the end zone for the first time on Logan Diggs' 4-yard TD run.
Punter Jay Bramblett made his first appearance for a 41-yard effort on his team's second possession, setting up a stretch of five consecutive scoring drives that resulted in the 38-point first half.
Thomas improved his nation-leading touchdown total to 11 with scores of 86 and 8 yards. The team's season-long play of 86 yards came when Daniels escaped pressure and located a wide-open Thomas along the sideline and behind coverage for a touchdown,
LSU converted its first turnover – the first of Sam's two interceptions – into a 33-yard scoring drive with Daniels finding Thomas on an 8-yard TD at the 14:42 mark of the second quarter and 21-0 lead.
Oghoufo forced and recovered a fumble by Harris and the Tigers needed six plays to cover 37 yards with Daniels scoring on a second-and-goal sneak from a yard out.
"I'm pleased with a team that runs a very difficult offense. You have to leverage the football, you have to tackle well, you have to have gap integrity. All the principles of playing good defense were on display tonight. You have to have those. We passed the test. I'm not ready to nominate this defense for any award, but they're making the progress necessary to continue to build and have the building blocks to be a championship defense that can be a championship football team. Good steps forward tonight. This was a big step for us."