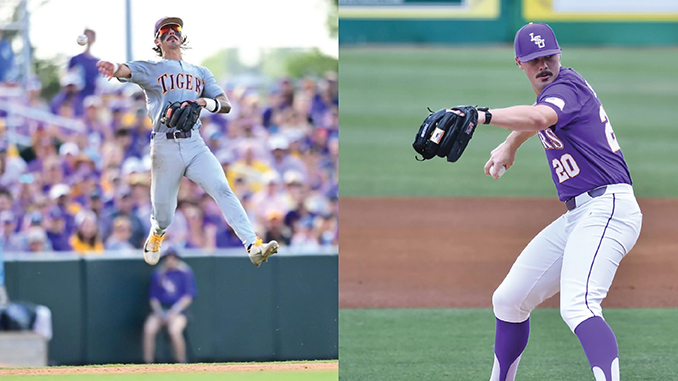 ---
LSU baseball fans have a reputation for being the best in the sport.
If the barometer is attendance, enthusiasm, and travel to away games, including Omaha when LSU is in the College World Series, who can argue?
And I'm certain that most LSU fans know their baseball, too.
There is, however, a vocal minority who are loud, boisterous, and even obnoxious on social media who simply do not.
Know their baseball, that is.
These guys (and girls) can also be beyond insensitive.
LSU shortstop Jordan Thompson is batting 1-for-30 in the CWS. In the 24-4 aberration that happened in Game Two, Thompson committed two errors. LSU had five errors total in the game. Thompson did not have a hit.
LSU led 3-1 entering the top of the third inning when things started going off kilter quickly.
Starting pitcher Nate Ackenhausen hit the first batter, giving him a free pass. Ackenhausen then gave up three consecutive singles to Florida and LSU's lead was gone, just like that, as the Gators tied it with the flurry, 3-3.
Ackenhausen then struck out Florida catcher BT Riopelle looking on a 2-2 count to record the first out of the inning.
With Josh Rivera on first base and Jac Caglianone on second, Ackenhausen set out to induce Luke Heyman to hit a ground ball – which he did.
The hope was to turn a double play.
Thompson bumbled the ball as he attempted to transition from glove to throwing arm, resulting in nothing. Florida had the bases juiced with one out and Ackenhausen in trouble.
But the Tiger lefty struck out Florida's Tyler Shelnut in three pitches and LSU looked like it might escape without further damage if it could get Ty Evans out.
Evans had homered in the second inning for Florida's first run on a ball that even Evans himself admitted afterwards he did not think was going anywhere, but it surprised him and everyone else, he said, caught the wind gusts, and made it over the fence inside the left field poll.
This time, however, there was no doubt.
Evans launched Ackenhausen's first pitch into oblivion and 3-3 was now 7-3.
The game had changed completely.
Thompson's error had disrupted the double play that would have gotten LSU out of the inning and into the bottom of the third with it still knotted at 3-3.
Didn't happen.
Thompson's throwing error in the top of the fourth gave the Gators another run, making it 8-3 Florida.
After LSU went scoreless in the bottom of the fourth, LSU turned to its bullpen – the back of its bullpen – a clear shift in strategy, one that was clearly looking forward to a now likely game three on Monday.
Bryce Collins replaced reliever Gavin Guidry, who was then replaced by Blake Money. By the time LSU went to bat in the bottom of sixth, it trailed by, 13-3.
Christian Little took the mound in the seventh inning for the Tigers, and then it was, 15-3.
The blow out by Florida was an aberration because LSU coach Jay Johnson changed his strategy once Florida went up 8-3.
All five of those Florida runs could be attributed directly to Thompson's two errors – as in if Thompson would not have committed those errors, those five runs would have never happened.
Is that true?
You can't argue with it, that's for sure.
But is it reasonable to lash out at a 21-year-old kid who is in a 1-for-30 slump who was clearly pressing too hard? One who has been a solid mainstay all season long? One who had a .910 fielding percentage all SEC season, batted .254 in conference play and hit seven home runs during those 19 conference games? Dylan Crews, by the way, the Golden Spikes Award winner this year, had eight home runs in conference play.
Johnson apparently did not think lashing out at Thompson was the right move.
Johnson understands slumps and how to deal with a player in one.
When asked if Thompson would start on Monday night, Johnson did not hesitate.
"Yeah, he'll play tomorrow. There's no question about it. He started every game for two years. He's played very good shortstop this year," Johnson said.
Johnson then went into the two errors Thompson made, barely catching his breath before doing so.
"I think the simplicity of the first one is, on a double-play ball, we call it a sure man and then a quick man. The guy who fields the ball has to be sure he's going to catch it and then feed it to the second baseman and let the second baseman be the one that's quick.
"I think he (Thompson) came up too early trying to do too much. They put pressure on us first and second, nobody out. That's just a coaching point of staying, securing the first out.
"And then on the second one, it's just a case of trying to do too much. And trying to wheel and back pick. I'm not sure where he was throwing it, to be honest with you," Johnson said.
Get it? Kid is in a slump. He's reacting to being in a slump by pressing too hard. It's as common of a reaction to a slump as the sniffles are to a common cold. It happens.
"So you coach on those two points," Johnson said. "And I mean I love Jordan. We wouldn't be in the College World Series without Jordan and how he's played this year. He's had a tough tournament offensively, but there's been a lot of stories in the College World Series of guys (who) struggle, struggle, struggle and then get a big hit for you and make a big play for you. And I think he's a great candidate for that."
In other words, if Thompson gets a key hit today or makes another defensive gem like he's done multiple times this season that helps LSU win its seventh CWS national title, or does both, Johnson will not be surprised.
You should not be either.
Even if you were one of those begging Johnson, or crying like a baby on your favorite social media site, to bench Thompson today.
It's called baseball. Slumps happen. Players sometimes press hard when they are in a slump. And you don't break out of a slump by sitting on the bench. You break out of it by letting it go.
The other big question, of course, is will Paul Skenes pitch?
If you know Skenes, or if you've gotten to know him by watching him at all this season, then you know he will.
So much is made of pitch counts and rest, blah, blah, blah.
Yes, Skenes has thrown a lot of pitches in the past nine days.
Since June 17, he has thrown 243 pitches, reaching at least 120 in winning outings against Tennessee and Wake Forest that helped LSU get to this point. He pitched against the Demon Deacons on June 22, when he threw 120 pitches in eight innings.
Skenes is 21. He is in top physical shape. Today is the fourth day since he pitched last.
Consider these cases from the major leagues. Why? Because Skenes is a major league pitcher:
Philadelphia Phillies star pitcher and MLB Hall of Famer Steve Carlton, when he was 27, pitched the 1972 season every fourth day… He had 41 starts in 156 game season… 30 completes … 8 shutouts … 346 innings, 257 hits, 87 walks, 310 strikeouts…27-10 1.97 ERA on a team that was 32-87 in other games. The Phillies went 59-97 and were going nowhere.
In 1968… Denny McLain and Mickey Lolich had complete game wins in Games 6 and 7 of World Series with Cardinals on two days rest. McLain, 24, went 31-6 in regular season with 336 innings pitched and logged another 17 innings in World Series…. Lolich pitched 27 innings in 7 days.
In 2014, Madison Baumgarner won Games 5 and 7 for SF Giants in World Series… Baumgarner, 25, pitched shutout in Game 5 … then five scoreless relief innings in Game 7 on two days rest.
Johnson has not named Skenes his starter yet. But he will, if Skenes looks him in the eye and tells him he feels good.
Skenes will do that.
LSU will give Florida its best shot today – and more than likely win.
Skenes will toe the rubber at some point (he should start) and Thompson will break out of his slump, deliver a key hit or two, and make at least one important defensive play. Florida's 24-4 game two aberration will become the footnote it deserves.