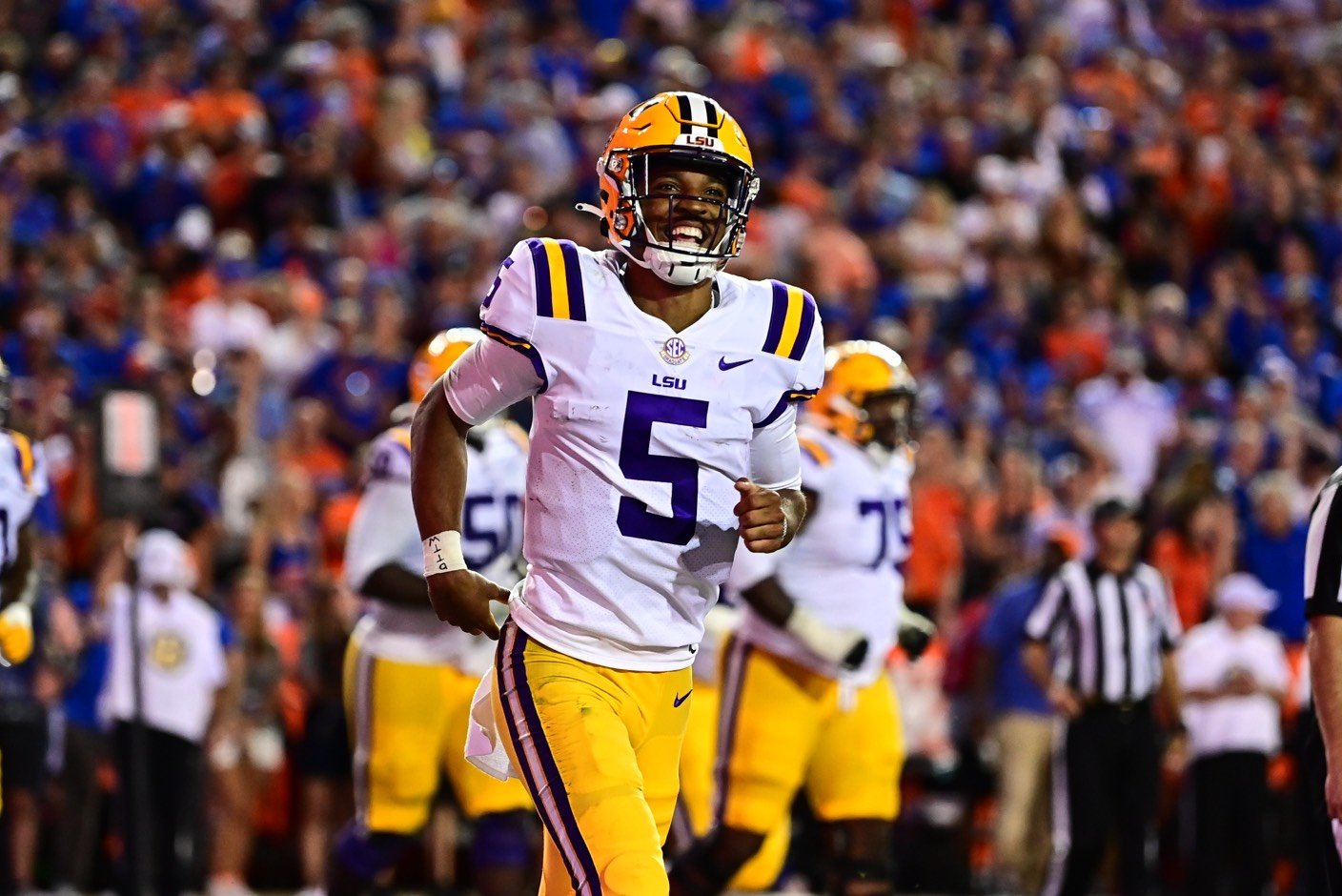 LSU quarterback Jayden Daniels had the kind of performance that sent school officials scurrying for the record book.
Daniels, a transfer from Arizona State, accounted for 393 total yards and six touchdowns – three rushing, three passing – to lead LSU to a 45-35 Southeastern Conference victory Saturday over Florida at Ben Hill Griffin Stadium.
Daniels completed 23 of 32 passes for a season-high 349 yards with three first-half touchdowns and no interceptions. He also rushed 14 times for 44 yards and scored two of his three touchdowns in the third quarter that helped the Tigers build a 21-point lead.
"It's been a process of him being more confident and comfortable within the offensive structure knowing where people are," said LSU football coach Brian Kelly, who became the first coach in school history to win at Auburn and Florida in the same season. "The receivers played at a level that I think they're capable of. That obviously has a lot to do with it as well.
"Assertiveness is confidence in who you're throwing to and confidence in yourself," Kelly said. "I think you're seeing that through the relationships he's building with just players on the team. He's new to this group. I just think that's a maturation that's occurring."
Daniels, whose career high for passing yards is 408 while at Arizona State in 2019, became the first player since Joe Burrow in 2019 to account for six touchdowns in a single game. He was the first player to accomplish the feat in regulation, while Burrow's came in a seven-overtime defeat at Texas A&M.
LSU (5-2, 3-1 in SEC) rolled up its third-highest number of total yards with 530 compared to 395 for Florida (4-3, 1-3). The Tigers equaled a school record with their fourth straight win over the Gators dating to 2019.
Running back Josh Williams rushed for 106 yards on 14 carries, while wide receiver Kayshon Boutte matched his season-high with six catches that went for a season's best 115 yards.
Florida quarterback Anthony Richardson injected new life into his team with a second-effort 81-yard run for a touchdown on the first play of the fourth quarter, reducing LSU's lead to 42-28. The Gators defense forced their first punt and the offense responded with another scoring drive that Jennings High graduate Trevor Etienne finished with a 1-yard run with 7:39 left in the game.
LSU, leading by a touchdown, got a break with just under five minutes left to play when Florida defensive lineman Gervon Marshall was whistled for roughing the passer after Daniels had thrown an apparent interception on second-and-nine.
Instead of losing possession, the Tigers retained the ball and drove close enough for place-kicker Damian Ramos to kick a career-long 47-yard field goal to make it 45-35 with 1:52 showing. His previous long was 36 yards.
LSU scored on its sixth consecutive drive, all of which were at least 73 yards, to extend its lead to 42-21 with 1:07 showing in the third quarter.
Daniels scored his third rushing touchdown on a 9-yard keeper on second-and-goal, to cap a 13-play, 88-yard drive. Daniels completed five passes along the way that helped the Tigers obtain first downs until his 9-yard dash around left end.
"There's lots of things we can do better," Florida football coach Billy Napier said. "There's nothing fun about losing. … It's my job to position the team to win, to have success, and I could do my job better. And that's exactly what I'm going to do."
LSU picked up in the third quarter where it left off in the first half.
Williams broke off a 50-yard gain on the first play of the drive and LSU was back in the end zone in four plays with Daniels keeping from nine yards out at the 13:17 mark.
Daniels enjoyed his best half of the season, throwing for 252 yards and three touchdowns, giving LSU a 28-21 halftime lead. He completed 14 of 18 passes for 252 yards, including 174 in the second quarter when the Tigers outgained the Gators, 211-44.
He helped LSU overcome an early 7-0 deficit and rallied his team from 21-14 with consecutive touchdown passes over a three-minute span to turn that deficit into a seven-point halftime margin.
Daniels converted a key third-and-10 with a 26-yard completion to tight end Kole Taylor and four plays later, laid up a pass for 6-foot-4 Brian Thomas, who made a nice adjustment on the slightly underthrown pass. Thomas brought in the pass for a 24-yard score, a touchdown that stood following a booth review.
"I liked the rhythm we had and we were just having fun," Daniels. "

LSU's defense forced a pair of punts in the last eight minutes of play, giving the offense an opportunity to close with their fourth straight touchdown and snap a 21-21 deadlock.
A 17-yard completion from Daniels to Malik Nabers moved the ball into Florida territory and with Florida's defense jumping offside, Daniels took a deep shot with Jaray Jenkins beating cornerback Jaydon Hill for a 54-yard score and 28-21 lead with 2:24 remaining before halftime.
LSU had to answer Florida's opening score, a 51-yard pass from Richardson to Justin Shorter, with a 12-play, 75-yard drive, that featured Boutte with two catches for 55 yards. Daniels capped the drive with a 7-yard pass in the flat to John Emery Jr. to tie the score.
"I made him a game day captain and you could see that intensity pickup," Kelly said of Boutte. "I don't know that, that was the reason for it, but he played fast. He was faster than anybody. He broke tackles. He was a difference maker. If he plays at that level, we're a different football team."
New Orleans native running back Montrell Johnson Jr., a transfer from UL-Lafayette, had two rushing touchdowns in the first half, the second of which was the result of punt returner Jack Bech's muff at LSU's 13-yard line with 9:37 showing in the second quarter. The Gators needed five plays to cash in on the turnover with Johnson scoring from three yards on third-and-goal.