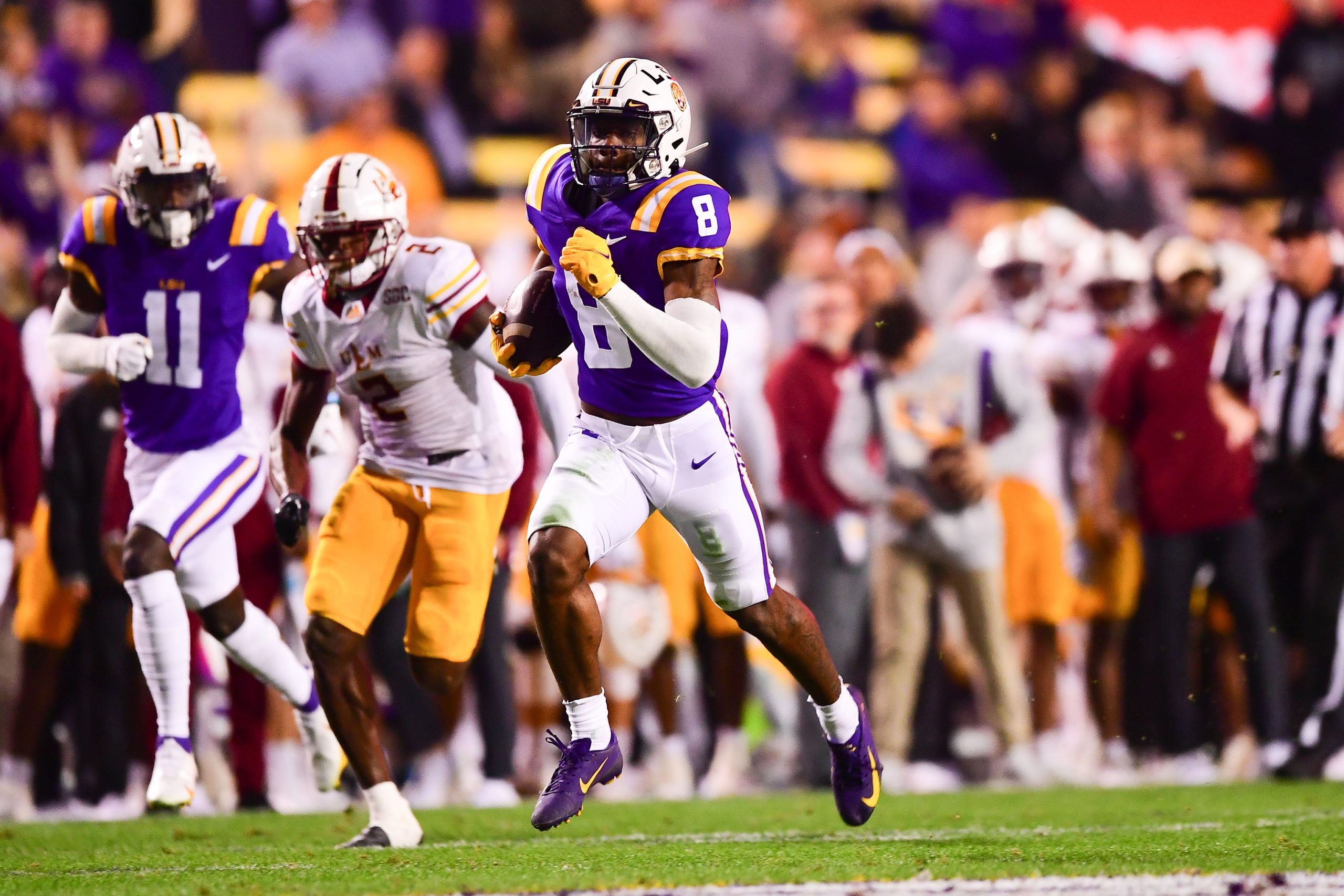 Malik Nabers said there really wasn't any debating the issue, no real choice in the matter.
When first-year head coach Brian Kelly and wide receivers coach Cortez Hankton informed Nabers he was moving to the team's slot receiver this season, the 6-foot, 195-pound sophomore did the smart thing.
He nodded his head in agreement.
"It wasn't my decision," Nabers said with a smile during Tuesday's gathering with local media.
With accomplished outside receiving threats such as junior Kayshon Boutte, senior Jaray Jenkins and emerging 6-4 sophomore Brian Thomas Jr., the Tigers believed their interests were better served moving the shifty Nabers from the outside to the inside, where he flashed the kind of athleticism that could make him a matchup problem this season.
"When I was put there, I just had to do what I had to do to help the team win," Nabers said. "They told me I was one of the most shifty players on the team. I didn't know it at first, but I took it as my role."
Nabers just wants to play and is willing to play anywhere on the field to get his hands on the football.
The wide receiver position that also counts sophomore Jack Bech and redshirt freshman Chris Hilton Jr. is one of the deepest on the team and the move of Nabers to an inside receiver position is one Kelly believes will best suit the team.
"We're always competing but we're not competing with each other," Nabers said of the entire wide receiver corps. "We're competing against the DBs. We're all capable of playing. We're all going to rotate this year. We're trying to get experience working with each other right now.
Nabers believes he should benefit from the return of Boutte from an ankle injury sustained during last year's Kentucky game, largely due to the amount of respect defenders will pay Boutte, a projected 2022 first-round NFL Draft pick,
Nabers, a selection on the coaches All-SEC Freshman team after making 28 catches for 417 yards and four touchdowns on the outside last year, agreed that with his natural ability the opportunity to go against similar-sized defenders will be an advantage that would boost LSU's offense.
It was all the motivation he needed to go forward with a shift in position and responsibility.
"The challenge is always seeing the coverages," he said. "In the slot you've got to try and know where the defense is. The Mike linebacker, free safety, nickel corner. Just understanding where all of those guys are at can help you improve your route.
"Guys are my size and with my leaping ability, it's crazy," Nabers added. "Mismatches? Yes."
Even at his listed height, Nabers was quite a target in 2021, especially on contested balls.
The one-time Mississippi State commitment, covered plenty of ground to get himself into a playing role last season.
After three solid seasons at Comeaux High in Lafayette, Nabers was ruled ineligible by the LHSAA to play his final year following a move to nearby Southside High in Youngsville.
He received plenty of buildup from former LSU head coach Ed Orgeron during the preseason but was sidelined throughout much of last August and into the regular season because of injuries.
Nabers caught passes in each of his first three games of his career when an injury to Boutte agianst Kentucky, a 42-21 LSU defeat, provided additional chances for other wide receivers to emerge. He wound up with three catches for 66 yards against the Wildcats and had the first TD catch of his career, an acrobatic 41-yarder near the back of the end zone.
"Somebody had to step up in the offense since Kayshon went down," Nabers said. "Me and Jaray (Jenkins) took that role and kept the energy up in the receiver room. We just had to make plays when it was time."
Nabers had at least three catches each in following games against Florida and Ole Miss before truly taking off in LSU's last four games of the season.
In a 27-14 win over UL Monroe, Nabers had four receptions for 143 yards that included a career-long 67-yard screen for a touchdown.
That was part of a four-game stretch where he caught 14 passes, including a career-high six in a 27-24 upset of Texas A&M, for 245 yards and two touchdowns.
"I had to learn how college was, that I couldn't do the same stuff I did in high school that I could do in college," Nabers said. "These guys are at a high level."