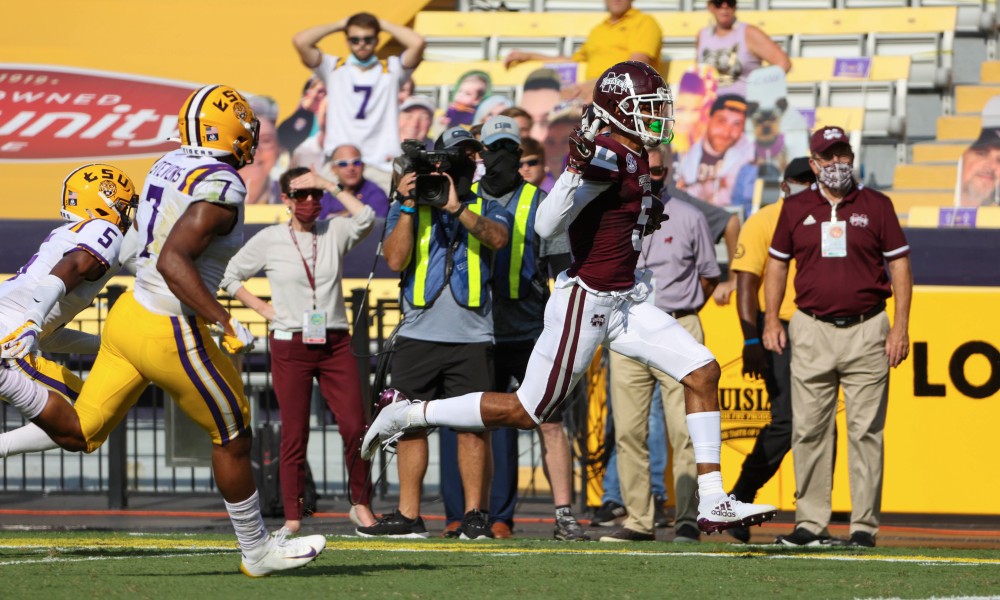 Heading LSU's fourth football game of the 2021 season at Mississippi State on Saturday at 11 a.m. – the Tigers' first of SEC eight games – Bayou Bengals' head coach Ed Orgeron still isn't sure about his team's identity.
He would certainly love to know that there is a consistent trend upward in LSU 2-1 start. But it seems as if new problems have popped up every week and most of them have been related to injuries.
Spotty offensive line play? Three injured starters have already missed at least one game with left tackle Cam Wire about to miss his third straight game.
"It seems one day we have this guy in, one day we have that guy in," Orgeron said. "We haven't jelled yet like we want to. Until we get guys practicing all week together, this is going to be an ongoing process."
Then, there's the running backs revolving door. Freshman Corey Kiner has been the best back but has continued to come off the bench behind junior Ty Davis-Price. Junior John Emery has yet to have the NCAA restore his academic eligibility and transfer Tre Bradford has also not been cleared by the NCAA. Freshman Armani Goodwin returns vs. MSU after missing last Saturday's 49-21 win over Central Michigan.
Defensively, LSU's week started with sixth-year senior Andre Anthony's college career getting cut short with a season-ending knee injury. The Tigers' week ended with Derek Stingley Jr. re-aggravating an unspecified injury he originally hurt in the preseason.
The positive team medical news is safety Jay Ward is back in action after missing the last three games with an injury.
"We always have the next man up theory," Orgeron said. "We always tell them we're going to need everybody. Now it's another guys' chance. Injuries are part of the game. There's nothing we can do about it. It's very unfortunate but the next man theory gives the opportunity for another man to play."
LSU's offense made some progress in last Saturday's 28-point win over Central Michigan. The quick tempo benefitted sophomore starting quarterback Max Johnson, who threw for 372 yards and five TDs. Thirteen of Johnson's 26 completions went to true freshmen receivers, led by Deion Smith (5 catches for 135 yards, 2 TDs) and Jack Bech (5 for 81, 1 TD).
For LSU to escape MSU's Wade-Davis Stadium (a.k.a. "Cowbell Hell" with a win, the Tigers need a more balanced offense to produce time-consuming drives to keep the ball away from State.
The Bulldogs, led by quarterback Will Rogers who ranks first in SEC in three passing categories, are the league's top passing team averaging 361 yards and leads the SEC in time of possession (34:02 per game).
Yet MSU is 11th in the SEC in total offense (406.3 ypg) and 11th in scoring (29 ppg) because it's tied for first in the league for the most turnovers (6) and has the conference's worst third-down conversion offense.
Orgeron said he was embarrassed by last year's season-opening 44-34 Tiger Stadium loss to Mississippi State in which MSU QB K.J. Costello set an SEC single game record with 623 passing yards.
While Orgeron said he and new defensive coordinator Daronte Jones have studied last season's MSU debacle at length, Bulldogs' coach Mike Leach said earlier this week he didn't know if it's beneficial for his current team to draw from last year's game.
"They got a new coordinator, there's really not much crossover as far as the coaches calling it (defensive signals)," Leach said. "I heard Ed (Orgeron) is more involved. LSU plays a pretty fundamental defense."