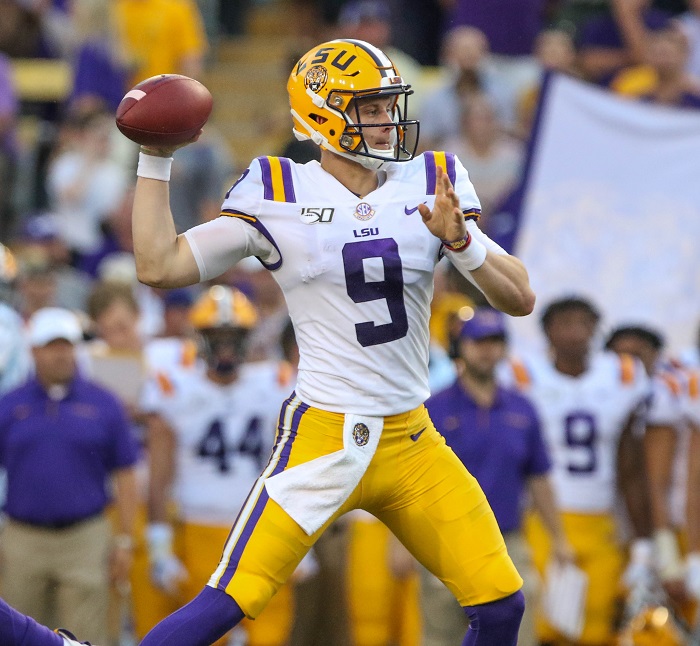 TUSCALOOSA, Ala. – Ed Orgeron called his shot Monday.
"I told our team we were the better team (than Alabama) and we were going to win the game," LSU's third-year head football coach said. "I've never done that before."
His confidence grew Friday boarding the team charter.
"When I got on the plane coming here, I felt like we've got it," Orgeron said. "We've finally got the tools we need, we've finally got the players we need, we've finally got the coaching staff we need to beat these guys.
"It was a combination of going to a spread on offense, the great recruiting, those great receivers that we had, and Joe Burrow. To have a championship team, you have to have a championship quarterback."
Finally, with enough weapons in the arsenal and needing everyone of them, the No. 1 AP poll ranked Tigers exorcised the demons of their eight-game losing streak to the No. 1 coaches poll ranked Crimson Tide with a 46-41 victory here Saturday at Bryant-Denny Stadium.
In a shootout that featured 1,100 yards combined offense and the most combined points ever in the 84th game of this series, LSU (9-0, 5-0 SEC West) held a stunning 33-13 halftime lead, gave up 28 second-half points and still never trailed Alabama (8-1, 5-1 SEC West).
It's because after the Crimson Tide scored consecutive touchdowns to cut LSU's lead to 33-27 with 14:33 left, Burrow did what he's done all year in a season full of clutch performances to fill his Heisman Trophy candidate resume.
"I told my guys if we score 14 more points we going to win the game," said Burrow, who completed 31-of-39 passes for 393 yards and ran 14 times for 64 yards including four for first downs.
Which is what the Tigers, sitting at No. 2 just ahead of Alabama in last week's initial College Football Playoff committee rankings, did.
Junior running back Clyde Edwards-Helaire two touchdown runs in the game's last 10 minutes put the wraps on the best performance (103 yards rushing and three TDs, nine catches for 77 yards and one TD) of his college career.
LSU needed every last point to hold off a gutty performance by Alabama quarterback Tua Tagovailoa. Playing just 20 days after ankle surgery to repair a high sprain, Tagovailoa threw for 418 yards and four touchdowns. His TD passes of 5 yards to Jerry Jeudy and 85 yards to DeVonta Smith in the game's final 5:32 pushed the Tigers to the final horn.
"We didn't play very well in the first half, but I have to tell you that I was really proud of our players in the second half," said Alabama coach Nick Saban, whose team had a 31-game home winning streak snapped. "They really fought hard to get back in the game, but we couldn't get a stop on defense when we needed to."
Alabama's first half, to the delight of the small but vocal visiting Tigers' fan contingent, was a disaster.
It started with LSU outside Ray Thornton recovering a Tagovailoa fumble at the LSU 8 on third-and-goal on the Tide's first series and ended with Tigers' linebacker Patrick Queen's interception of Tagovailoa with 11 seconds left in the first half.
In both cases, Burrow cashed in the turnovers with scoring strikes of 33 yards to Ja'Marr Chase for a 7-0 lead with 9:15 left in the first quarter and 13 yards to Edwards-Helaire with six seconds before halftime for LSU's unexpected 20-point lead.
The Tigers' biggest mistakes of the first half were failing to wrap up on Alabama punt returner Jaylen Waddle's 77-yard TD return with 1:11 left in the first quarter and Tagovailoa's 64-yard TD pass to DeVonte Smith against a blown coverage with 6:43 left in the second quarter.
In both cases, Alabama cut the LSU lead to three points at 10-7 and 16-13. Both times, LSU answered with points. Burrow's 29-yard scoring strike to Terrace Marshall on the fifth snap of the second quarter and Cade York's 45-yard field goal with 4:20 left got the Tigers back on track.
But Alabama's defense owned the third quarter.
LSU's first three possessions after halftime ended with a Burrow fumble when he was hit from the backside, followed by two LSU punts to the Alabama 5 and 22-yard lines.
After the first punt, the Crimson Tide drove 95 yards on 10 plays for Tagovailoa's 15-yard TD pass to running back Najee Harris that reduced LSU's lead to 33-20 with 4:51 remaining in the third quarter. Then after the second punt, Alabama drove 78 yards on nine plays capped by Harris' 1-yard TD run on the third snap of the fourth quarter.
Just like that, the Crimson Tide trailed by six points and LSU was holding on for dear life.
But as in the 45-38 victory at then-No. 9 Texas, LSU came up big when the heat was on late. Two 75-yard TD drives ending with Edwards-Helaire TD runs of 5 and 7 yards got the Tigers across the finish line with their first win over Alabama since 2011.
Edwards-Helaire's short scoring runs demonstrated why the Tigers' 5-8, 208-pound pocket rocket is hard to tackle.
On his 5-yard score, even with Alabama illegally having 12 defenders on the field, his spin move left a Tide defender diving at air. Then on his 7-yard TD, he stiff armed one defender and ran through another.
His final carry of 12 yards gave LSU one last first down and allowed the Tigers to run out the clock for an emotional Orgeron.
"When I go into a 7-11 for a Monster or Red Bull (energy drinks) and they tell me `Coach O, you gotta beat those guys'," Orgeron said.
"I can say to them, `Y'alll watch the game? We beat them.'
"This won't be the first time we beat them and it won't be the last. We comin', we comin'. We're going to keep progressing a program until we bring back a championship to the state of Louisiana."
(Go to the Tiger Rag Magazine for complete postgame video interview coverage)