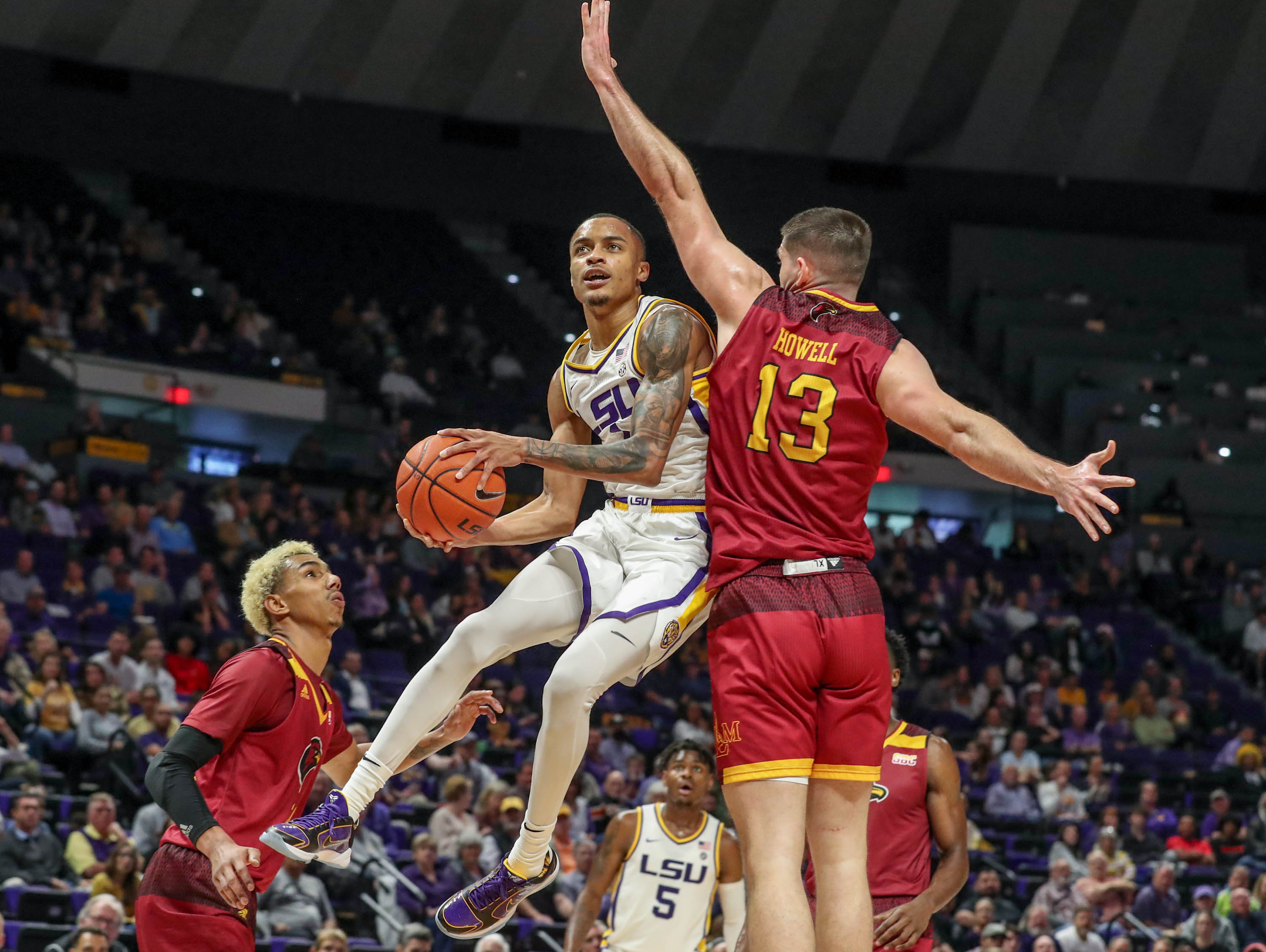 When you win your season opener by 62 points, shoot almost 60 percent from the field and just over 50 percent behind the 3-point line and hold your opponent to 21 points in almost the game's last 30 minutes, you need a magnifying glass to find weaknesses that need correcting.
That was LSU fifth-year men's head basketball coach Will Wade's challenge the last couple of days, reviewing video of his team's 101-39 season-opening beatdown of UL Monroe Tuesday night in the Pete Maravich Assembly Center.
"We have them playing hard and playing together and playing for each other and playing for LSU, we've got that part down," said Wade, whose 1-0 Tigers face 1-0 and defending Sun Belt Conference champion Texas State at 7 p.m. Friday in the PMAC. "Now we've got to clean up some of the details."
No doubt Wade would love to take the season-opening intensity and sustained effort and carry it through the season.
He thinks his 2021-22 Tigers have a chance to do that, especially defensively as LSU forced UL Monroe into 25 turnovers leading to 38 Tigers' points. Also, the Warhawks shot 27.7 percent from the field and 18.8 percent in 3s.
"Coach (Wade) has been harping on (playing) defense since I got here in July," said LSU senior Darius Days, who scored 30 points including 8 of 9 3s vs. UL-Monroe. "The defensive principles are working."
Wade has tried to set the bar high to employ hard-nosed defense in the past, but it was something his first four teams at LSU never had the will to play no more than just two or three consecutive possessions.
"Our strengths are athleticism, our height, our length and it's a bit different from our strengths in the past which was a bit more skill and a little prettier (in playing style)," Wade said.
"I played to our strengths with that. Did it sometimes frustrate me how we looked? Yeah, it frustrated me. I didn't want to look like that, but that's what we had to do to win. At the end of the day, I don't care what we look like as long as we win.
"We're going to be better defensively (this season) because we've got better individual defenders, Days and (point guard) Xavier (Pinson) bring different mindsets, you got (freshman guard) Brandon (Murray) and Wani (sophomore forward Mwani Wilkinson) and sophomore guard (Eric) Gaines who are a bit more defensive-minded."
Wade believes his team needs to be on-point against Texas State. The Bobcats start five seniors and return four starters from last season, led by All-Sun Belt first-team point guard Mason Harrell.
"They are so good defensively that we have spent a ton of time just trying to figure out how we are going to score and how we are going to go about scoring," Wade said of Texas State. "They've only given up 26 points in the paint in their two games (exhibition and opener). They do an unbelievable job protecting the rim both with their help and their physical shields.
"It's going to be a big challenge. We are going to have to hit shots. At the end of the day, to beat them you are going to have to hit threes, you are going to have to play from the corner and make things happen from the corner. At the end of the day, that's what we are going to have to be able to do."