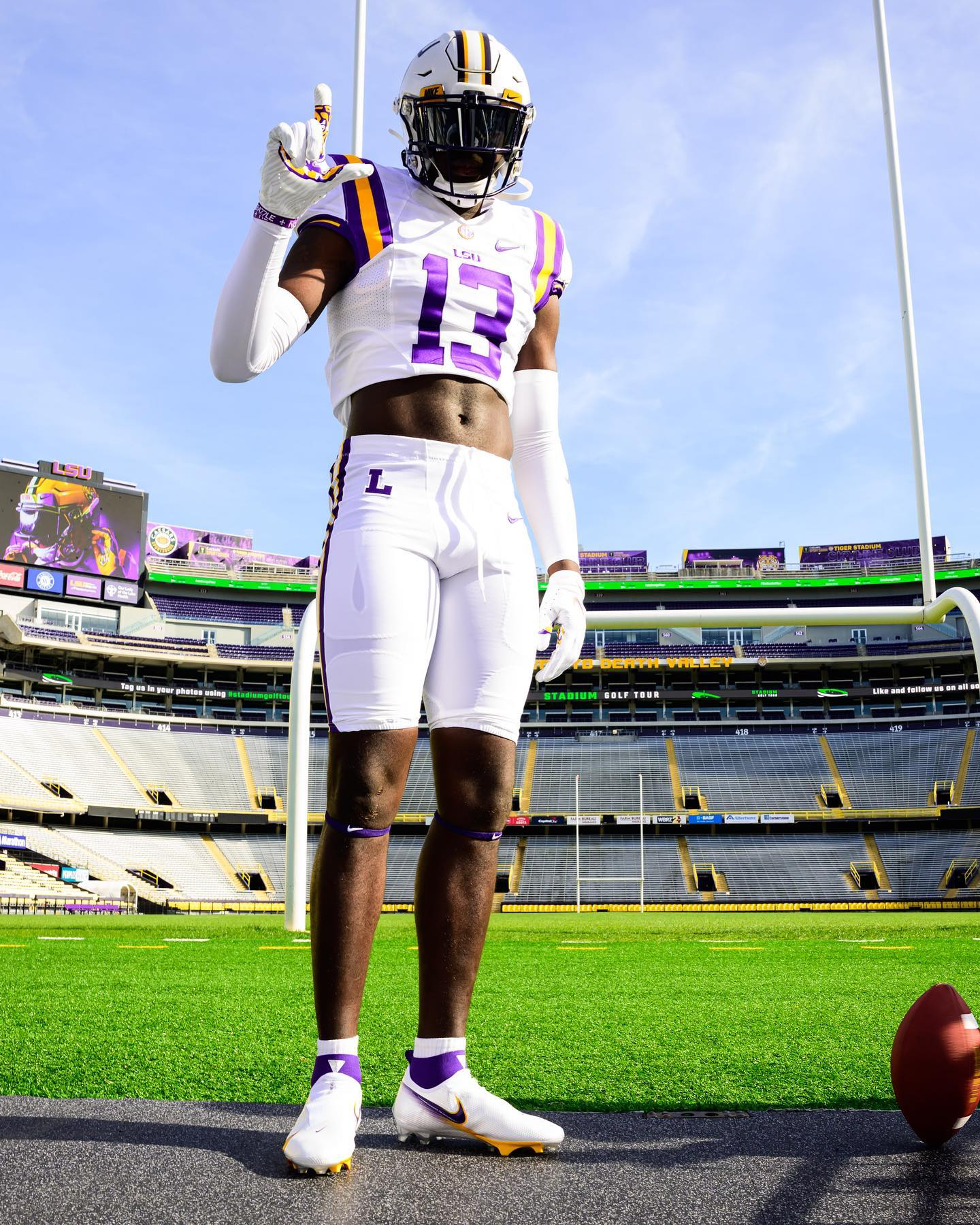 LSU football coach Brian Kelly made a concerted effort on the recruiting trail in his first full season to address the tight end position, a primary need of the Tigers.
With three players on scholarship to join returning standout Mason Taylor, LSU took a significant step to bolstering the position to Kelly's liking but the Tigers haven't stopped in their current recruiting class.
For the second time in five days LSU added one of the state's top players in the Class of 2024 when four-star tight end Trey'Dez Green of East Feliciana committed to the Tigers on Wednesday during a ceremony at his school.
"The biggest reason I chose LSU is because it's home and I'm a home body," Green told On3Sports. "I love representing the people I love and care about. LSU just fits me because I'm a 'Boot Boy' from Louisiana. The end goal for me is to get a degree and play pro ball, whether it's basketball or football."
Green, who said he committed to Kelly during an unofficial visit for the spring game, unbuttoned his school letterman's jacket to reveal a white LSU polo and later placed a purple LSU hat on his head.
The 6-foot-8, 230-pound Green, a 3.9 student, selected LSU over Alabama, Texas A&M, Tennessee and Miami. He's the state's top-ranked player according to Rivals.com and rated among the top three tight ends nationally by the major recruiting services with Rivals rating him the nation's No. 43 overall player.
Green becomes the 14th commitment for LSU and is the second top-five rated player from Louisiana to choose the Tigers, joining safety DaShawn McBryde of Denham Springs who committed on Saturday.
"They're getting a kid that's going to work hard, that's looking to be the best at whatever he does," East Feliciana football coach Darius Matthews said. "That's the thing that I love about him. He takes everything he does personally, he wants to be the best at it. They're going to get a kid that's hard working and dedicated and going to be an asset to their program."
The Tigers now have seven players committed from their home state with Destrehan's Kolaj Cobbins another top 10 player at No. 6. They're ranked No. 4 nationally in the team rankings by 247Sports and Rivals.com and No. 9 by On3Sports.
With Kelly making the tight end position a focal point in his offense, employing multiple tight-end sets, LSU brought in three of the nation's top 25 tight ends in its Class of 2023 with Mac Markway of St. Louis, Ka'Morreun Pimpton of Ft. Worth, Texas and Jackson McGohan of Miamisburg, Ohio.
The Tigers have already secured a commitment in the '24 class with a pledge from four-star prospect Tayvion Galloway of Chillicothe, Ohio – the nation's No. 17 tight end prospect.
Green, who consistently runs between 4.6-4.7 in the 40-yard dash, is regarded among the nation's top multi-sport athletes, starring for both East Feliciana's football and basketball teams.
He caught 42 passes for 848 yards – 20.6 yards per catch – with 14 touchdowns and was named All-District 6-2A first team and Class 2A All-State honorable mention.
East Feliciana went 7-5 and advanced to the Division IV state nonselect regional playoff round.
"He's played a little bit of tight end for us," Matthews said. "To me at the next level he's a wide receiver and tight end. He kind of reminds you of the (Kyle) Pitts kid from Florida. He's a big kid that can run, that can catch and be physical. He's versatile where you put him at tight end, and he'll block if you put him on a linebacker. He had so many assets."
Green, who was invited to play in the 2024 All-American Bowl, was named to the Class 2A first team All-State team after averaging 27 points and 11 rebounds, leading East Feliciana to the Division IV nonselect state semifinals this past season.
Matthews said LSU's one of the schools that offered Green basketball scholarship under former coach Will Wade, along with Houston, Southern and Grambling.
At the end of his ceremony, Green held up both a football and basketball, signifying that would like to play both in college.
"I know basketball's his first love," Matthews said. "I would think he would try to play both but that's something we hadn't talked about. I know it's something he wanted to try to see how it worked out."