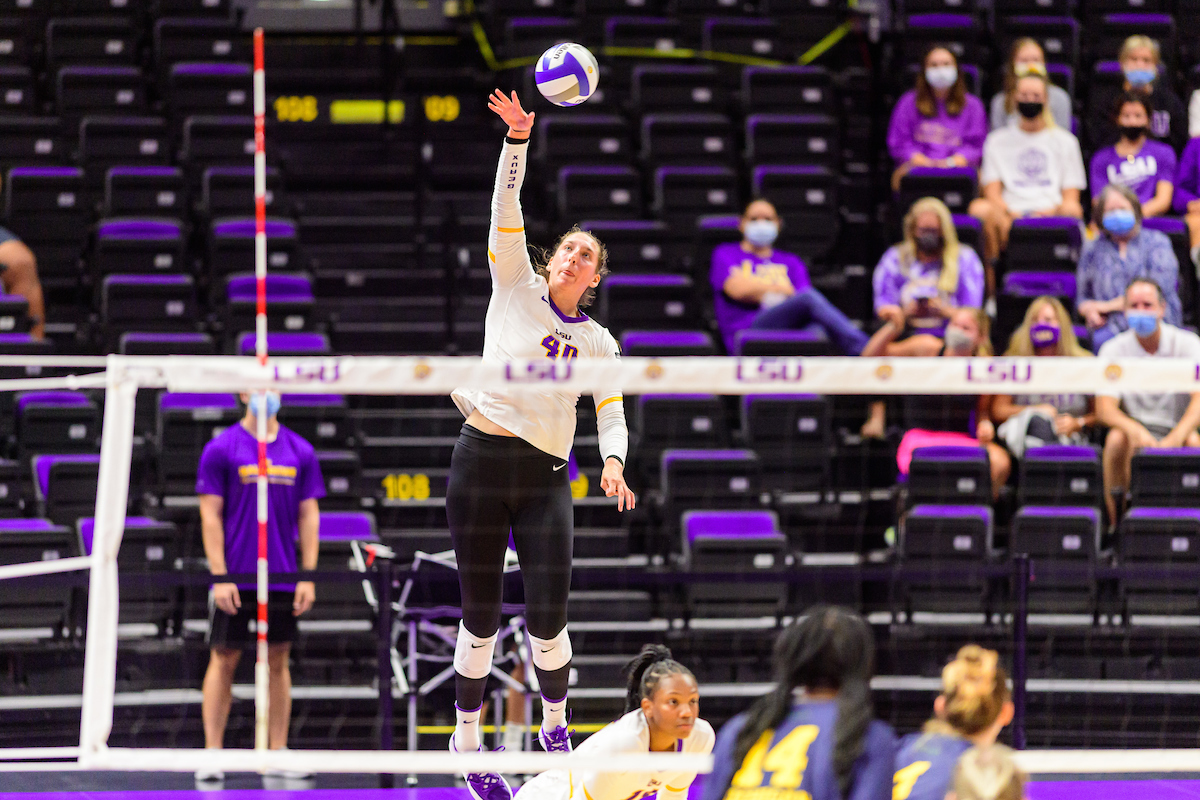 There's a strategy in recruiting, much like there's in the heat of competitive volleyball match.
When it came to landing three-time All-American player Kylie DeBerg from the University of Missouri, veteran LSU volleyball coach Fran Flory had to twice deal with rejection before ultimately securing her signature.
Flory never wavered, relying on more of a low-pressure approach aimed at DeBerg that eventually paid dividends when the 6-foot-4 outside hitter transferred to play her final season for LSU. The Hudson, Iowa native also has two years to play for the Tigers nationally ranked beach volleyball program as well.
"I didn't pressure her, I let her find herself," said Flory, whose team (5-6 overall, 1-1 in SEC) visits Mississippi State (10-4, 1-1) for matches Friday at 6 p.m. and Saturday at 4 p.m. "You watch Kylie, and she loves playing, she loves competing. As I watched her play, I knew that was still inside of her. Just having a chance to stay connected, stay in front of her a little bit. Just stay present and make sure she knew how much we'd love to have her but also on her terms."
DeBerg acknowledged that during a four-month span she twice turned down overtures from Flory to be a part of LSU's indoor volleyball team.
Although she hadn't played beach volleyball since high school, DeBerg was intent on digging her heels in the sand at the college level because Missouri didn't field a team.
Flory reached out last November and again in March with an available scholarship which DeBerg politely declined each time, maintaining her stance that she was intent on playing beach volleyball.
DeBerg resumed her indoor career during a spring season where for the third straight season Missouri reached the second round of the NCAA Tournament. For the third consecutive year the Tigers were eliminated, this time 3-0 by Ohio State, and the competitive fuel began churning inside of DeBerg's body. She also experienced two straight second-round NCAA losses to Nebraska in 2018 and '19.
Not long thereafter DeBerg called Flory and accepted her offer and transferred to LSU where she's been a steadying force for a team rocked by injuries.
"Once we lost that second round, I called her and said I wanted to play indoor and I want to go farther," DeBerg said. "I lost in the second round every year that I played. I want to try and make it farther than that and I know here we have a chance with all the talent. It's possible."
DeBerg, who wants to pursue coaching after her playing career, also visited Stetson and North Carolina before making LSU her destination, the third school she's played for along with Illinois and Missouri.
Not only did Flory's approach allow DeBerg the space and time needed to eventually chart a path to LSU, but DeBerg was also familiar with LSU beach volleyball coach Russell Brock and the meteoric rise of the Sandy Tigs' program and thought it was an unbeatable combination to pass up.
After this season, DeBerg has up to two years to play with LSU's beach program.
"I really liked Russell a lot," DeBerg said. "I knew how good the beach team is here and how much Russell cares outside of volleyball. That really drew me to him."
DeBerg brought quite a resume' to LSU's indoor program that outside of her three All-American honors also included three appearances on the All-SEC first team. She left Missouri with 1,382 kills in 86 matches. She also had 150 service aces, 596 digs, 171 total blocks and 1,639 points.
During her career at Missouri, DeBerg was a menace in six matches against LSU in which she never lost and had 118 kills, including a high of 24.
"Everybody game planned to stop Kylie DeBerg on the Missouri team, and nobody could ever do it," Flory said. "She's always been able to impact the outcome with her vision, physicality and range offensively. She was super frustrating to game plan against. We're not the only ones that couldn't figure it out."
LSU welcomed DeBerg with open arms, anxious for her to combine forces with All-American right-side hitter Taylor Bannister, Oklahoma transfer Sanaa Dotson along with returning starters Paige Flickinger and Hannan Brister.
DeBerg found a warm, welcoming 'family' awaiting her at LSU where she's seamlessly transitioned into the team fabric, but because of injuries to Bannister, Flickinger and Brister hasn't been able to experience the level of success she envisioned before her transfer.
That hasn't hindered her play which has remained at an All-American level where through LSU's first 11 matches, DeBerg's recorded a pair of double-doubles and leads the Tigers in kills (184) and kills per set (4.182).
"Often times you get players in a scenario they feel like they're at the top," Flory said. They feel like they don't need or want input. She's has been the polar-opposite of that. She's hungry to learn. She's hungry to engage. She wants to make the team better. In every regard she's been a super positive addition."