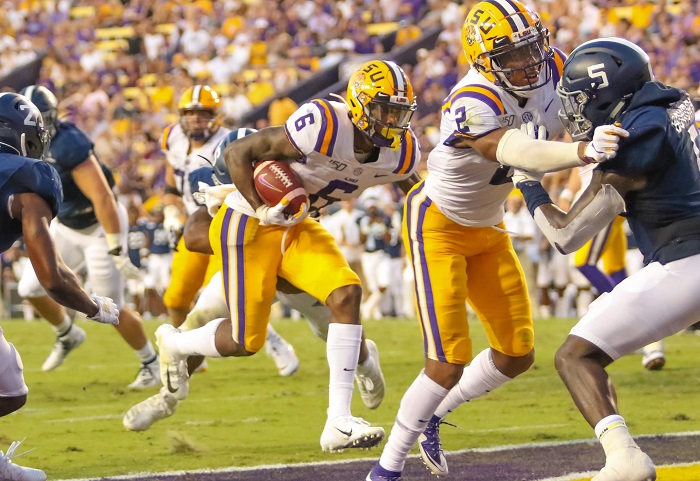 LSU fans had every reason to be skeptical, no matter how many times Ed Orgeron repeated buzzwords like "no-huddle" or "RPO" this offseason.
They'd been hoodwinked before into believing a modern offense was coming to the bayou. Think back to 2016, when Les Miles promised to change after nearly being fired the past fall. Instead LSU ran a toss dive from the I-formation on the first play from scrimmage, a defiant middle finger in play-call form.
Perhaps that's why so few gave Orgeron the benefit of the doubt, even after he hired Joe Brady away from the Saints to help Steve Ensminger install a spread offense. Some people were always going to have to see it before they believed.
Orgeron isn't Miles, of course, but there were some sneers when the coach declared earlier this week that LSU's new offense would come out "guns a blazing" in the season opener against Georgia Southern. With Texas looming next week? Surely he was kidding.
Turns out he wasn't kidding.
The brainchild of Ensminger and Brady, executed with ruthless efficiency by Joe Burrow, sliced the overmatched visitors to ribbons with surgical precision. It came at the expense of an inferior opponent, no doubt, but it was impressive to watch nonetheless.
Burrow tied a school-record with five touchdown passes — all before halftime — and could've shattered the mark were he not pulled in the middle of the third quarter with LSU leading 45-3. The senior completed 23-of-27 passes for 278 yards and those five scores.
LSU's best work came in the red zone, an area where the Tigers settled for far too many field goals last season. LSU scored touchdowns on all seven of its trips inside the Georgia State 20-yard line. The difference, according to Orgeron, was the new scheme.
"The scheme is a lot better this year," Orgeron said. "We have answers. We have answers to different coverages. We have check-with-me at the line of scrimmage. We're putting our guys in position to have success."
"Whenever they call a play and you have an answer to every coverage, every blitz they can give you, you feel good as a quarterback, as long as you can handle it mentally," Burrow explained. "I know I can handle it mentally. I have answers, no matter what they give us."
Everybody ate, just as Brady promised they would when he spoke to reporters this summer.
Burrow's 23 completions went to nine different receivers. LSU's starting trio of Justin Jefferson, Ja'Marr Chase and Terrace Marshall all caught touchdowns in the first half. Marshall finished with three in a breakout performance for the talented sophomore.
All five of LSU's scholarship running backs caught passes in the first half, too. Clyde Edwards-Helaire (13 touches, 76 yards, 1 TD) looked particularly effective in the new offense. Thaddeus Moss turned in a pair of big plays from the tight end position in his long-awaited LSU debut.
"It showed up well," Marshall said. "Everybody does eat."
And don't forget the offensive line, which seemed to function better in the quick passing game. Burrow wasn't sacked and only felt pressure a couple times all night. Ironically, it was the first time LSU hadn't allowed a sack in a game since Troy in 2017.
LSU managed that without starting left tackle Saahdiq Charles, who dressed out but only watched from the sideline. He was presumably serving a suspension, though Orgeron keeps such matters in-house. Badara Traore stepped in and played well at left tackle, spelled at times by Dare Rosenthal.
The ease with which LSU moved the ball up and down the field had to be a pleasant surprise to the LSU fan base, no matter how adamantly Orgeron and the players involved insisted that times were changing.
One group that wasn't surprised by the new offense's prolific debut: the LSU defense that worked against them every day since the start of fall camp.
"I knew they were going to do it," linebacker Jacob Phillips said. "They did it to us. We got better with them and they got better with us. It was good seeing them actually do it on TV so the whole world could see it this time."
"They've been doing it for weeks now against us," defensive end Rashard Lawrence added. "Really making it tough on us. The first scrimmage we got after them. The second one, Joe came back and it was night and day. It's good to see."
The next challenge for LSU will be to prove it can execute at such a high level against a defense that is better equipped to play with them athletically — like Texas, for instance.