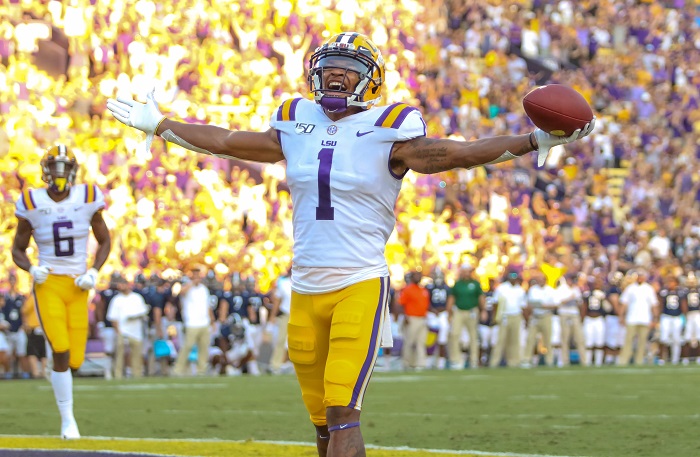 The LSU football team wanted to set the tone for the season in its opener against Georgia Southern, and boy did it ever accomplish that goal.
And that's not all the Tigers did. They made a statement, too.
LSU dominated the Eagles on both sides of the ball and jumped out to an enormous lead early, allowing it to coast to a comfortable 55-3 victory.
Head coach Ed Orgeron was anything but surprised with the result of Saturday's game. He went in knowing what the Tigers could accomplish, and he had little doubt they were prepared to get the job done.
"What you saw tonight is what we've been looking at in practice for the last so many days," Orgeron said. "The guys have worked very hard."
The Tigers looked unstoppable on offense and impenetrable on defense early on as the they reached the end zone in their first five drives and the defense allowed only two first downs and forced two turnovers in the meantime.
What resulted was a rout in which LSU took a 35-3 lead and left little doubt about what the Tigers can offer during a season in which it is expected to vie for a College Football Playoff spot as a dark horse.
It took LSU quarterback Joe Burrow only four drives and about 17 minutes of game time to connect with all three of his starting receivers — Ja'Marr Chase, Justin Jefferson and Terrace Marshall, in that order — in the end zone for touchdowns, and he hit eight separate receivers in the Tigers first five drives.
Burrow tied the school record for passing touchdowns with five, three of them to Marshall, in just one half of play. He led one drive in the second half before exiting the game having completed 23 of 27 passes for 278 yards.
Marshall made up for lost time after going the entire 2018 season without seeing the end zone. The first touchdown of the night marked his first since his junior year of high school after suffering a torn ACL early in his senior season. He earned his hat trick in the second quarter with a touchdown pass from Burrow up the middle.
"When I caught it, man, I knew it was all God," Marshall said. "I just gave thanks to him. He gets all the glory. I waited for this moment, and it was very special."
"It's an amazing feeling just to go out there and first of all, most of all, get this team win. Second of all, I just love seeing my other brothers get the ball and score. I love seeing the defense go out there and attack the offense. It's an amazing feeling overall. I'm proud of my team."
By the time the Eagles got their wits about them and recorded their first points in the form of a 47-yard field goal by kicker Tyler Bass.
That was all the offense the Eagles would muster, as the Tigers limited the triple-option specialists to 98 yards of total offense and 74 yards passing.
Georgia Southern quarterback Shai Werts completed just 4 of 11 passes for 24 yards.
Clyde Edwards-Helaire got the starting duties at running back for LSU, and in the second drive of the game showcased exactly what he can do in LSU's new-look offense.
He ran the ball five times for 19 yards, including a play in which he took the snap and ran a read option, and he caught a pass for 15 yards in the touchdown drive capped off by a one-yard score.
Burrow said the Tigers didn't go into the drive with the plan to feed Edwards-Helaire exclusively like that, but it's hard to deny its effectiveness.
"It just kind of turned out that way," Burrow said. "I honestly don't even remember the play calls in the second drive, but it felt like we were clicking all night. But we still left some points out on the field that we need to get."
Burrow may feel that way, but with him on the field, LSU got into the end zone in 6 of 8 offensive drives, with the last of those ending with a 38-yard field goal.
On defense, the Tigers recorded their first sack and turnover on the same play as defensive end Rashard Lawrence forced a sack fumble that was picked up by Patrick Queen.
Two drives later, the defense forced another turnover, this time with linebacker K'Lavon Chaisson forcing a fumble by Georgia Southern quarterback Shai Werts picked up by safety Grant Delpit.
LSU's offense capitalized on both short-field opportunities created by the turnovers with touchdowns.
Inside linebackers Jacob Phillips and Damone Clark led the Tigers defensively with a combined 19 tackles. Outside linebacker JaCoby Stevens also had a nice day with seven tackles and a tackle for loss he shared with Grant Delpit.
Orgeron and teammates alike praised Clark for his performance in his first career start, with Orgeron reminding media members that he's been promising a big season from the sophomore linebacker throughout the offseason.
"Like I said in every interview, 'Watch out for Damone Clark,'" Orgeron said. "I look at the linebacker grades on a daily basis and I see some 67 percents… I see 100 by Damone Clark every day."
Projected starting inside linebacker Michael Divinity and offensive tackle Saahdiq Cahrles did not play in the opener for an undisclosed reason Orgeron said the team would handle "in house."
Special teams also had a solid outing, starting with punt returner Derek Stingley, who made his collegiate debut at the position.
The true freshman showed confidence, sure hands and electricity in three returns, the first two of which put LSU either near or past midfield.
He made the most of his first return, turning multiple potential tacklers into would-be tacklers in a 32-yard scamper to the Georgia Southern 34-yard line.
LSU's kicking unit also performed up to snuff, as Zach Von Rosenberg averaged 51.5 yards on two punts, Avery Atkins booted nine kickoffs into the end zone for touchbacks and freshman kicker Cade York showed a bit of his leg, going 2-for-2 with a long of 48 yards.
Photo Credit: Terrill Weil