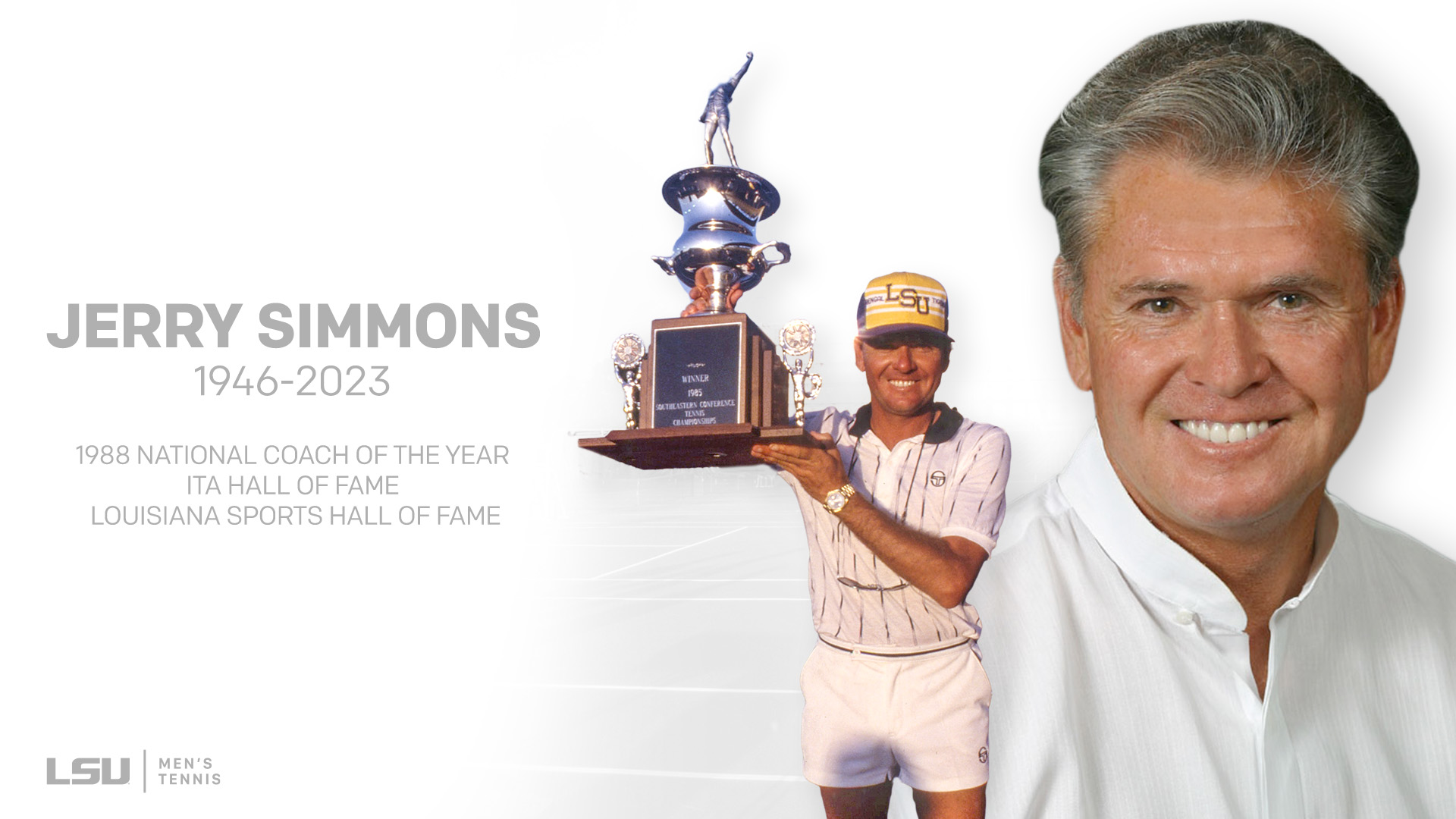 Understand the special power history affords the learned. Let us think backwards and build a better future together, was the final coaching point of recently departed LSU men's tennis coach Jerry Simmons; a lesson not lost on those who value paying attention and keeping score – especially when the game involves any team competing in purple and gold.
     Louisiana's most successful college tennis coach (214 wins at UL and 278 at LSU) passed away after a long illness last month. He was 76. 
     Those who knew Simmons remember a hard-driving, tough-loving, unforgiving Texan who believed in outworking and out-conditioning his opponents.  A self-proclaimed blend of the lives of former U.S. Army General George Patton, former UCLA championship basketball coach John Wooden, and Sixth Century B.C. Chinese General Sun Tzu, Simmons, a Texas native, attended LSU in 1965, as a scrawny, scholarship tennis player, after spending a year prepping at a Texas junior college.  Simmons said that in high school he realized most of the tennis players were not good athletes—and that he could outwork them; so he chose tennis.
     ROTC was required of all incoming LSU students, and even though Simmons was a sophomore in classification, he was still fair game for the hazing that went along with being a transfer.  "The freshmen cadets had to wake on drill days and march to Mike the Tiger's cage where LSU's live Bengal Tiger mascot lived and say, 'Good morning Mr. Mike the Tiger, Sir!'"
"In 1965, Mick Jagger and the Rolling Stones appeared live in concert in New Orleans while Steve McQueen starred in the movie "Nevada Smith," which was filmed in North Baton Rouge near Angola Penitentiary," Simmons said. "Amidst the excitement, I damn near flunked out of LSU. Had I done so, my reward would have been an all-expenses paid trip to Vietnam.
"As it turned out, the eventful year I spent at LSU greatly affected my approach to coaching college athletics.  My academic career at LSU was short-lived as a result of the area's many distractions.  My biggest mistake was joining a fraternity.  While the frat was great fun, it was too much for a serious student-athlete to handle.  Since I came from a disciplined background in West Texas, it was hard to cope with the lack of a structured program at LSU."
     Born in St. Paul, Minnesota in 1946, Simmons' family moved to Amarillo, Texas when he was five and he later graduated from Palo Duro High School.  Growing up in blustery West Texas, Simmons learned that the wind is your friend as the prevailing breeze is normally between 10-15 miles-per-hour.
     After nearly flunking out of LSU, Simmons went to West Texas State in Canyon, Texas where he competed on the men's tennis team from 1966-1969. After graduating, he became the head football and basketball coach at Longfellow Junior High in San Antonio.  The following year he took a more suitable job coaching boys and girls tennis at MacArthur High School, as he had not played college football.
     In 1971, Simmons learned of the head tennis coaching vacancy at USL, and after a successful interview, became the youngest head tennis coach in the at 24. He loved the "Boom Town" of Lafayette and more importantly, its Cajun people, whom he admired for their unquenchable joie de vivre and fierce competitiveness.
"USL was the first white state school in Louisiana to sign a black athlete, in 1967," Simmons said. "This bold move created such a stir among local and state political leaders that USL's head basketball coach Beryl Shipley had his salary frozen by the State Board of Regents.  At the time, Louisiana was still a staunchly segregationist state."
After 11 seasons in Lafayette, Simmons made a winner out of the former hapless Cajun tennis program, (they were 0-12 the year before he started) and felt it was time to take on bigger challenges.
     In 1982, he became the men's head tennis coach at LSU, hired by athletic director Bob Brodhead.  In 16 seasons at LSU, Simmons was hugely successful.  In 1988, in his sixth season, he took the Tigers to their first number one ranking and to the national finals against Stanford, garnering National Coach of the Year honors in the process. 
In 1998, at 52, Simmons was named on the first ballot as the youngest coach inducted into the National Intercollegiate Tennis Association Hall of Fame. He is a member of the West Texas Athletic Hall of Fame and the Louisiana Sports Hall of Fame. He is survived by his brother, Dr. Wayne Simmons, a Prosthodontics specialist, of San Antonio, Texas.
Quotes by Simmons were excerpted from his memoir titled, "Inside the Eye of the Tiger: The Memoirs of a Maverick," chronicling his life and times as a championship coach at LSU; published in 2020 by author Chris Warner.