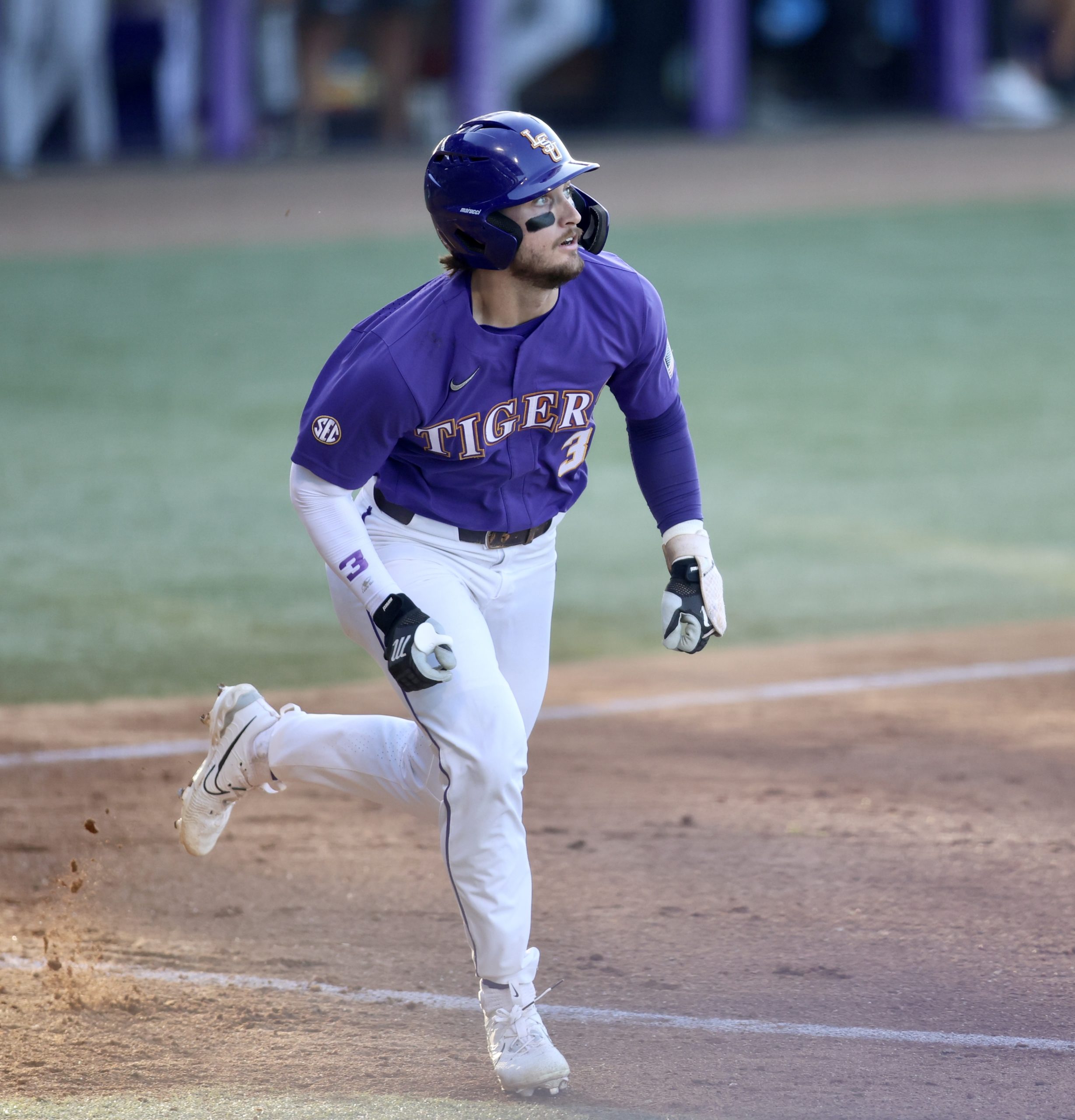 No. 1 LSU cruised through seven innings on Friday night, built a seven-run lead against Alabama, then had to hold on for dear life as the Crimson Tide rode the bat of Andrew Pickney's 5-for-5 performance and nearly pulled off a major comeback in Alex Box Stadium, Skip Bertman Field.
LSU reliever Bryce Collins saved the day, though, striking out Alabama third baseman Colby Shelton with runners on first and second base to end the game and preserve an 8-6 win.
The second game of the LSU-Alabama series is scheduled for a 6 p.m. Saturday. The contest will be streamed on SEC Network + and it may be heard on LSU Sports Radio Network affiliates (98.1-FM).
After LSU (33-8, 13-5 SEC) had built an 8-1 lead through seven innings, Alabama (30-13, 9-10) scored one run in the eighth and then added four more runs in the top of the ninth before Collins came in and clamped down the win.
Dylan Crews' three-run home run and a solo home run by Tommy White provided the power LSU needed early, while nine strikeouts from Paul Skenes through six innings gave the Tigers a seemingly comfortable cushion.
Crews, who recently moved into the LSU all-time Top 10 list for home runs, hit his three-run home run in the bottom of the third inning for a 4-0 lead – his 12th home run of the season. Catcher Alex Milazzo singled and then, with two outs, left fielder Tre' Morgan delivered a disciplined at-bat that resulted in a walk before Crews hit his shot over the wall.
"Dylan's homer is going to catch all the attention, as it should," LSU coach Jay Johnson said. "Those mature at-bats by Alex and by Tre' to get us to that point were a really big deal in the game tonight."
Skenes (8-1) threw 109 pitches and gave up five hits, walked none, and had one earned run in picking up the win.
"Alabama had a really good lineup with a lot of veteran players, and Paul dictated the tempo of the game tonight," Johnson said. "I thought he had everything working; just another spectacular performance by him."
Collins came in relief for LSU middle relief pitcher Griffin Herring to strike out the final batter and pick up his first save of the season.
"We have a lot of confidence in Bryce, and he's been outstanding here in the last month," Johnson said. "He's going to be in those spots again, so we're going to hope to see more of what we saw tonight from him."
Alabama starter Hagan Banks (1-1) was charged with the loss, after firing 3.0 innings and allowing four runs on three hits with one walk and three strikeouts.
LSU used White's second-inning home run, his 14th of the season, to take an early 1-0 lead. Crews then added three more runs in the bottom of the third with his two-out, opposite field shot to make it 4-0.
Alabama scored its first run in the top of the fourth when Pickney led off the inning by crushing a 3-1 Skenes fastball over the right field wall, cutting LSU's lead to 4-1.
LSU added three more runs in the sixth on only one hit when Alabama pitchers Kaden Woods and Aidan Moza combined to give the Tigers five free passes – four walks and one hit by pitch. Jordan Thompson (2-for-3) doubled with no outs for the LSU's only hit in the inning, driving in Cade Beloso, who Woods walked to open the inning.
Beloso moved from first base to third on Thompson's double and scored LSU's first run of the sixth with two outs when Moza's first pitch of the game swiped Gavin Dugas on the shoulder.
Moza then walked Tre' Morgan and Crews to score Thompson and catcher Alex Milazzo, respectively, putting LSU up 7-1.
LSU went up 8-1 in the seventh when it added another run on a ground out by Milazzo after the Crimson Tide's charity continued when pitcher Connor Ball hit Thompson, and then walked Jared Jones and Ethan Frey to load the bases for Milazzo with one out.
Alabama cut the LSU lead to 8-2 in the eighth when Pickney doubled off the top of the left field wall with one out, his fourth hit of the game. Pickney then scored on catcher Dominic Tamez' single to left field.
Skenes gets 'em swinging@Paul_Skenes | SECN pic.twitter.com/vqGHQuRIhI

— LSU Baseball (@LSUbaseball) April 29, 2023
Dilly Dilly@__dc4__ | SECN pic.twitter.com/qa5HMUyYNf

— LSU Baseball (@LSUbaseball) April 28, 2023
How It Started How It's Going

UA – 0
LSU – 1 pic.twitter.com/OcQzZGT0vz

— LSU Baseball (@LSUbaseball) April 28, 2023