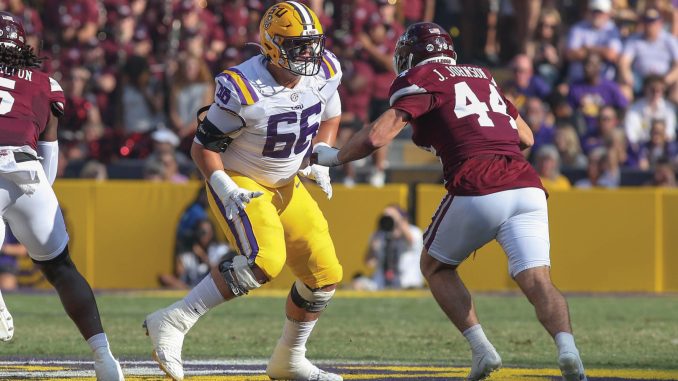 LSU offensive tackle Will Campbell was appreciative of the adulation but wasn't deterred from the main goal.
The 6-foot-6, 325-pound Campbell was the exception to the rule in college football in 2022, a freshman offensive so talented, so driven and prepared that redshirting wasn't an option.
The state's former No. 1 rated player graduated early from Neville High in Monroe, enrolled at LSU where he started the spring at left tackle and remained in that role throughout his true freshman season.
Part of LSU's rise to a 10-4 team that won the SEC Western Division, and is ranked No. 5 in the first coaches' poll in 2023, is due in part to the development of an offensive line with bookend tackles such as Campbell and Emery Jones Jr.
Campbell earned Freshman All-America honors from College Football News and the Football Writers Association of America. He was voted to the All-SEC second team offense and was a part of the SEC's All-Freshman team.
Moreover, Campbell was named LSU's Offensive Lineman of the Year.
But there was something missing, a void Campbell and the Tigers are in pursuit of this season.
"It made me excited to get some recognition," Campbell said. "Before I leave, I want to be a consensus All-American first team. That's really what I have my eyes set on and becoming a national champion. We're all focused on really getting a ring this year.
"I feel like I did pretty well," Campbell added. "I can always improve and want to improve in every aspect of my game until I quit playing football forever. There are definitely more strides to be made. I had some days where I didn't play as well as others. It's trying to make every game a lights-out performance and prove that I'm the best offensive tackle in the country."
After starting in 13 of the team's 14 games, Campbell's reputation has grown into one of the more promising SEC interior lineman. He was named to the conference's preseason first team during Media Days in July.
"It was really a no-brainer for me," Campbell said of his choice to enroll early. "I've never been big into prom and that type of that stuff. It didn't hurt my feelings too much that I was missing out. I was ready to get here. This is really what I worked my whole life for and dreamed about since I was a little kid."
LSU offensive line coach Brad Davis was quick to remind Campbell and Jones what's lurking in '23. They're both sophomores, battle tested against some of the best defensive linemen in the nation where they more than held their own, helping provide the Tigers with greater stability and experience this season.
Campbell made the leap from Neville to LSU with great aplomb, getting an early introduction to college football in the spring from eventual second-round NFL Draft choice of Arizona, BJ Ojulari, eventual third team All-America tackle Mehki Wingo and projected first-round pick in next year's draft, defensive tackle Maason Smith.
"Coming in early, it benefited me in so many different ways," Campbell said. "Getting those few extra months going against those guys makes the biggest difference in the world versus just coming in during the summer and not having a lot of time. Going against Maason Smith was no joke at all. He's the best defensive lineman in the SEC and he's harder to block in practice than anybody I had to block in a game. We were prepared and got quality reps every day."
Davis made Campbell aware of his starting status in the days leading up to the season opener with Florida State, a 24-23 setback that also resulted in the first of three sacks Campbell allowed in 882 offensive snaps last year. He was also involved in 75 snaps on special team's protection units.
Only an illness against Tennessee derailed Campbell's freshman year in which he incurred one penalty against Ole Miss. He bounced back, along with LSU, in a 45-35 road win over Florida and was named the SEC Offensive Lineman of the Week, playing in a season-high 79 snaps and helped the Tigers gain 528 yards.
LSU's four-game conference winning streak, capped by a 13-10 road victory over Arkansas, resulted in the SEC West title and sent the Tigers to the SEC Championship Game where they fell 50-30 to Georgia.

LSU concluded the season in record fashion with a dominating 63-7 win over Purdue in the Citrus Bowl, but Campbell made it clear that a repeat trip to Orlando would clearly fall below this year's objective.
"We don't work every day of our lives and dedicate the time, and the time the coaches dedicate in that building, to go win in the Cheez-It Bowl," Campbell said. "We were super happy that we won the bowl game, but we want to win it all the next year. The day we came back and went back to work, everybody had it on their mind that this (national title) is what we're going to do. That's what everyone's common goal is from the coaches to the players. That's all we're working for."