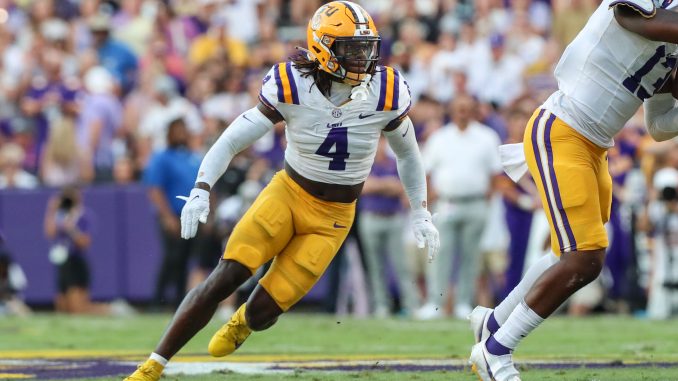 For the second straight season LSU football is 4-2 overall under coach Brian Kelly with polar opposite strengths over a year ago.
The Tigers entered the second half of the 2022 season with a road trip to Florida with a non-descript offense behind first-year quarterback Jayden Daniels. The defense, with future NFL draft picks BJ Ojulari, Jaquelin Roy and Jay Ward, played a large role in four come-from-behind victories that resulted in a 10-win season and victory in the Citrus Bowl.
When No. 22 LSU (4-2, 3-1 in SEC) hosts Auburn (3-2, 0-2) in Saturday's SEC West Division encounter at 6 p.m. in Tiger Stadium, the homestanding Tigers have a much different look in a series that will cease after 31 straight years.
The game will be televised by ESPN and carried locally by 98.1-FM.
"We were working diligently on the offense and making sure the offense was growing and we were playing pretty good defense," Kelly said of his '22 team. "The Auburn game (21-17), we won on defense, and we were playing really good defense. Now the shoe's on the other foot. Our offense is playing at a high level. We've got to get our defense to be more in sync with what we're doing.
"I think we took a step in that direction," Kelly said of last week's 49-39 win at Missouri. "I'm not saying it's a leap in any fashion. We took a step in that direction, and we need to continue to do that. That's really the charge here and still play complimentary offense, defense and special teams. We need more of that moving forward in the back end of this season."
Statistics tell a contrasting story of LSU's two divergent units.
LSU, which averaged 31.8 points and 478.8 total yards through six weeks in '22, has improved those numbers to 44.8 points and 548.3 total yards – both of which lead the SEC and rank fifth and third, respectively, on a national basis.
Daniels has transformed himself into the type of quarterback that's garnered inclusion in this year's Heisman Trophy race. He's raised his completion percentage to 72.9% (131 of 182) and his 1,969 passing yards are 754 more than at this point last year, and his 19 TDs are 12 better than a year ago at the midway point.
"I think their offense is the most explosive I've seen in a long, long time," Auburn first-year coach Hugh Freeze said. "I wasn't coaching when they had their run with (2018-19) Joe Burrow and them but this quarterback, if he's not in the Heisman discussion, there's a problem. He's playing at an incredibly high level with dynamic receivers. There's not a weakness on that offense. It's impressive to watch. It's going to be a great challenge for our kids and a great college environment."
The significant leaps statistically don't stop at Daniels. His top two targets – Malik Nabers (46-771, 6 TDs) and Brian Thomas Jr. (37-603, 9 TDs) – have combined for 83 catches and a nation's nest 15 touchdowns.
At this time a year ago, they had 44 receptions and three TDs between them.
"J5 is a guy who can do it all," LSU offensive tackle Emery Jones Jr. said of Daniels. "He gets knocked down, you pick him up and he's smiling. He's looking for the next play. Sometimes we tell him to go out of bounds, but we're never worried about him. We always know he's going to pop back up with that smile on his face and keep being Jayden."
LSU's defense, though, remains a work in progress. A week after yielding 706 total yards and 55 points in a six-point loss at Ole Miss, the Tigers appeared to be on an identical pace against Missouri before coming up with a pair of interceptions, getting a couple of sacks and allowing 527 total yards.
LSU, which returned four starters on defense, went from a unit yielding 19 points and 328.5 yards through six games in '22 to one of the nation's worst units. The Tigers rank 109th in scoring defense (32.33), 121st in total defense (445.7), 126th in red zone defense (.958) and 94th in rushing defense (163.0) – the latter categories ranking them last in the conference.
Auburn features the league's No. 3 rushing offense (202.0) behind running back Jarquez Hunter (50-202, 2 TDs) and Michigan State transfer quarterback Payton Thorne (45-198, 2 TDs). Thorne has completed 59 of 94 passes for 643 yards with four interceptions and 4 TDs.
"When the D-line plays at a high level, the whole defense plays at a high level," LSU defensive tackle Jacobian Guillory said. "When the D-line's playing better, the whole defense plays better, and we win games. It's not that hard of a formula to win games. The offense is going to go out and do what they do. If we do what we know what we can do week in and week out, no one's going to be able to mess with us."