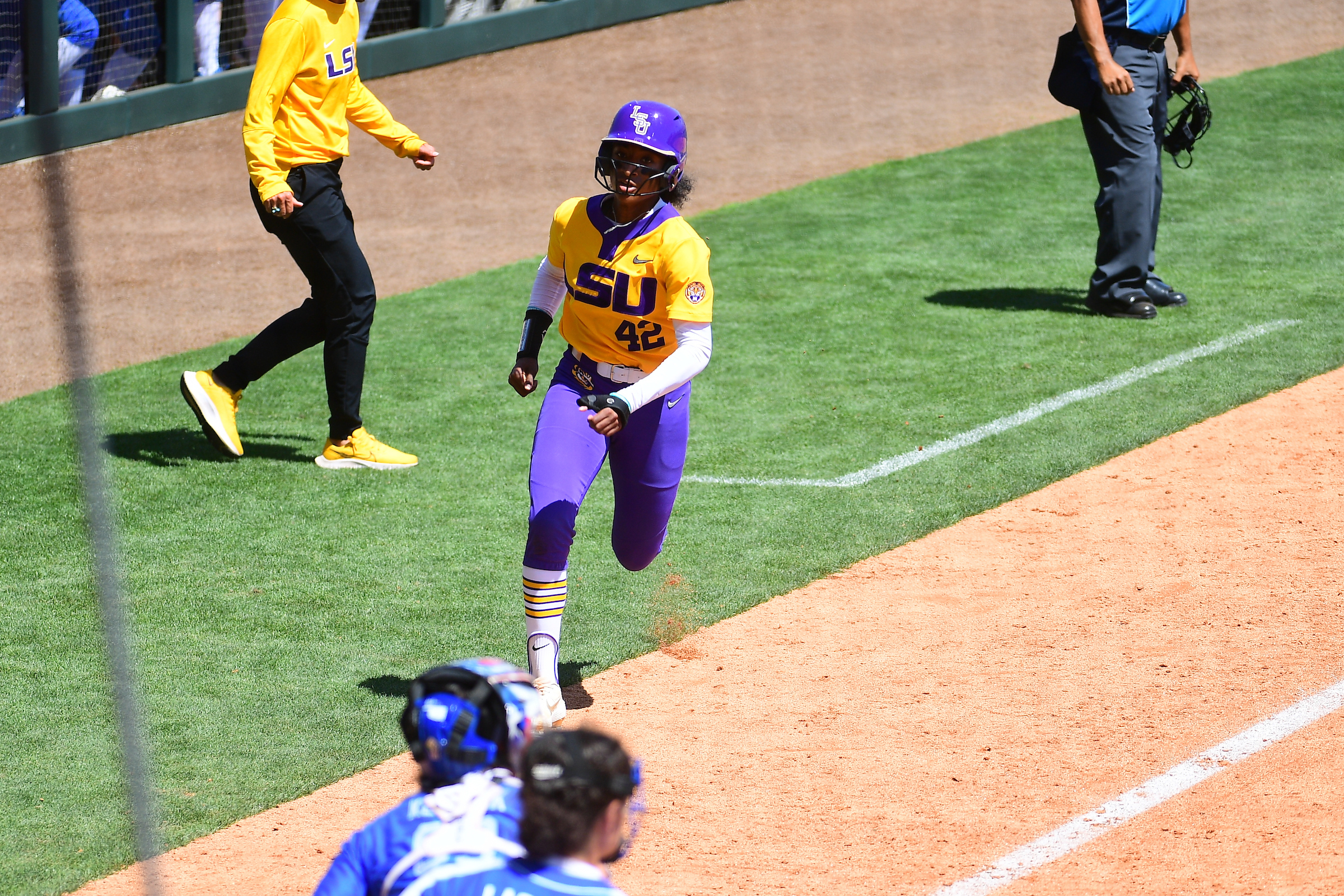 This one cut the deepest.
In a weekend of agonizing setbacks LSU's softball team may have reached a new low, watching No. 8 Kentucky rally from a two-run deficit with a four-run seventh inning for a 5-3 victory Sunday to wrap up a three-game sweep over the No. 20 Tigers before a crowd of 2,283 at Tiger Park.
"We just have to execute better," LSU junior first baseman Georgia Clark said. "You're playing a Top 10 opponent and we gave them three games this weekend. That's really frustrating when you're playing at home in front of a great crowd. It's really frustrating to give games away and we're going to do a better job of that going forward."
LSU (22-15, 3-6 in SEC) fell to 11th place in the SEC. The Tigers, which led in all three games, took a 3-1 lead into the top of the seventh when the Wildcats (25-8, 6-3) exploded for four runs on four hits and took advantage of two errors for their first sweep at Tiger Park since 2016.
"I think we need to play the last inning the same way we play the first few innings," LSU softball coach Beth Torina said. "It seemed like those things are sneaking up on us at the end of the game. We need to attack the game the same way we played early."
LSU appeared to have position itself to make amends for the weekend, taking a two-run lead with a pair of runs in the bottom of the sixth.
Pinch-runner KK Madrey, who replaced catcher Morgan Cummins after she was hit by a pitch with one out, scored from first base when lead-off batter Danieca Coffey drove a full-count pitch into the left-center field gap. Madrey's head-first slide beat the relay throw of shortstop of Erin Coffel to catcher Kayla Kowalik to snap a 1-1 tie.
Ciara Briggs (2-for-4) increased her team's lead to 3-1 with a run-scoring double down the line in left field, scoring Coffey.
Torina, who brought in senior Shelbi Sunseri to get the final out in the sixth, re-entered freshman Raelin Chaffin to start the seventh. She held Kentucky to one unearned run over 5.2 innings, scattering nine hits, when the Wildcats picked up back-to-back doubles from Coffel and Renee Abernathy, drawing to within 3-2.
Kentucky scored its third come-from-behind win of the weekend, facing Sunseri (5-4) who re-entered in place of Chaffin. A two-run single from Meeko Harrison, who was batting for the first time in the eighth spot in the lineup, got a grounder up the middle and past a diving Taylor Pleasants. The Tigers also contributed two of their four errors that led to another run.
"We thought what Rae throws, was a better matchup, and what Shelbi throws (was a better matchup)," Torina explained of the seventh-inning strategy. "Just trying to play the odds, trying to find a way to get outs."
Chaffin allowed 11 of Kentucky's 13 hits, three runs (two earned) with two strikeouts and no walks.

"I made a lot of pitching errors that were crucial. … 0-2 strikes that shouldn't be hit," Chaffin said. "It's hard but hoping we bounce back."
Kentucky's late response enabled relief pitcher Tatum Spangler, already in the game at designed player, the rare opportunity to become the team's winning pitcher in all three games. The left-hander allowed a one-out walk to Sunseri in the bottom of the seventh but got Ali Newland to bounce into a fielder's choice and struck out freshman Baylea Brandon swinging to end the game.

Spangler (4-0) worked a total of nine innings, yielded five hits, one run, walked four and fanned nine. The Wildcats also didn't commit an error over the weekend.
LSU took lead in its third straight game in the series with a run in the bottom of the second.
Newland, who led off with a single, moved around to third on a pair of outs and scored on a wild pitch from Kentucky starting pitcher Stephanie Schoonover, which was the fourth ball in a walk to Coffey. Kentucky tied the game with an unearned run when Rylea Smith (3-for-5) beat out an infield single with two outs in the fourth.
"This team has still so much left in us, so much left in the tank," Clark said. "We're playing Top 10 opponents and giving games away. This team just has to keep working hard and we will."