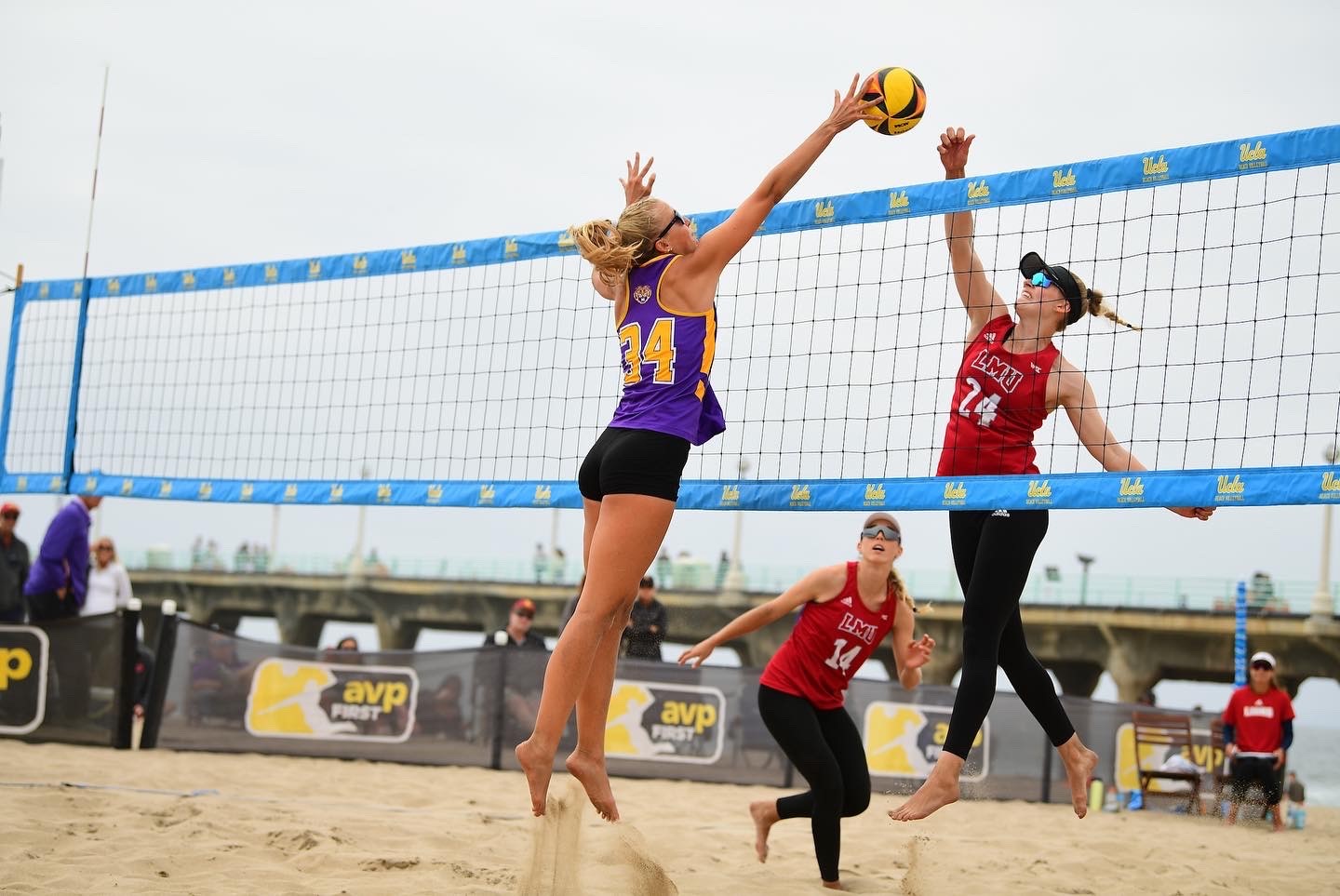 Manhattan Beach, Calif. – The No. 6 LSU beach volleyball team split its Saturday matches at the UCLA Invitational in California.
The Tigers dropped a 4-1 decision to No. 3 USC, but rebounded with a 3-2 won over No. 5 Loyola-Marymount University.
"I loved the battle we had against USC," LSU beach volleyball coach Russell Brock said. "Obviously we'd love to finish that, but if they're playing well and it's that tight across the board, we can hang our hat on that and understand where we are and continue to improve. Loved the way we played against LMU. To get another win against a great program like LMU is a great result."
LSU (20-5) returns to action Sunday at 10:30 a.m. against No. 9 Hawaii and at 2:30 p.m. against No. 1 UCLA.
LSU won on Court 4 with the duo of Grace Seits and Kelli Greene-Agnew, winning the first set, 21-16, dropping the second, 22-24, and winning the third, 15-10. The Tigers went to three sets on Courts 1, 2 and 5, but ultimately lost to the Trojans in each match.
In the second game against LMU, the Tigers won on Court 3 with Kylie Deberg and Kelli Greene-Agnew, 21-19 and 25-23, on Court 4, Melia Lindner and Ashlyn Rasnick-Pope (21-17, 21-15) and Court 5 with Grace Seits and Ellie Shank (21-19, 21-15).
No. 6 LSU 1, No. 3 USC 4
1.Tina Graudina/Hailey Harward (USC) def. Holly Carlton/Reilly Allred (LSU) 20-22, 21-19, 15-13
Megan Kraft/Sammy Slater (USC) def. Kylie Deberg/Parker Bracken (LSU) 21-15, 21-23, 15 12
Julia Scoles/Delaynie Maple (USC) def. Melia Lindner/Ashlyn Rasnick-Pope (LSU) 21-18, 21-17
Grace Seits/Kelli Greene-Agnew (LSU) def. Audrey Nourse/Nicole Nourse (USC) 21-16, 22-24, 15-10
Sunny villapando/Mollie Ebertin (USC) def. Allison Coens/Ellie Shank (LSU) 15-21, 21-17, 15-10
Lara Boos/Sierra Caffo (LSU) vs. Caroline Schafer/Shannon Scully (USC) no result
No. 6 LSU 3, No. LMU 2
Megan Rice/Reka Orsi Toth (LMU) def. Bella Bauman/Parker Bracken (LSU) 21-17, 21-19
Avery Poppinga/Marine Kinna (LMU) def. Holly Carlton/Reilly Allred (LSU) 21-15, 24-22
Kylie Deberg/Kelli Greene-Agnew (LSU) def. Selina Marolf/Abbey Thorup (LMU) 21-19, 25-23
Melia Lindner/Ashlyn Rasnick-Pope (LSU) def. Vilhelmiina Prihti/Macy Gordon (LMU) 21-17, 21-15
Grace Seits/Ellie Shank (LSU) def. Isabelle Reffel/Jacinda Ramirez (LMU) 21-19, 21-15
Allison Coens/Lara Boos (LSU) vs. Cassie Chinn/Madi Firnett (LMU) no result